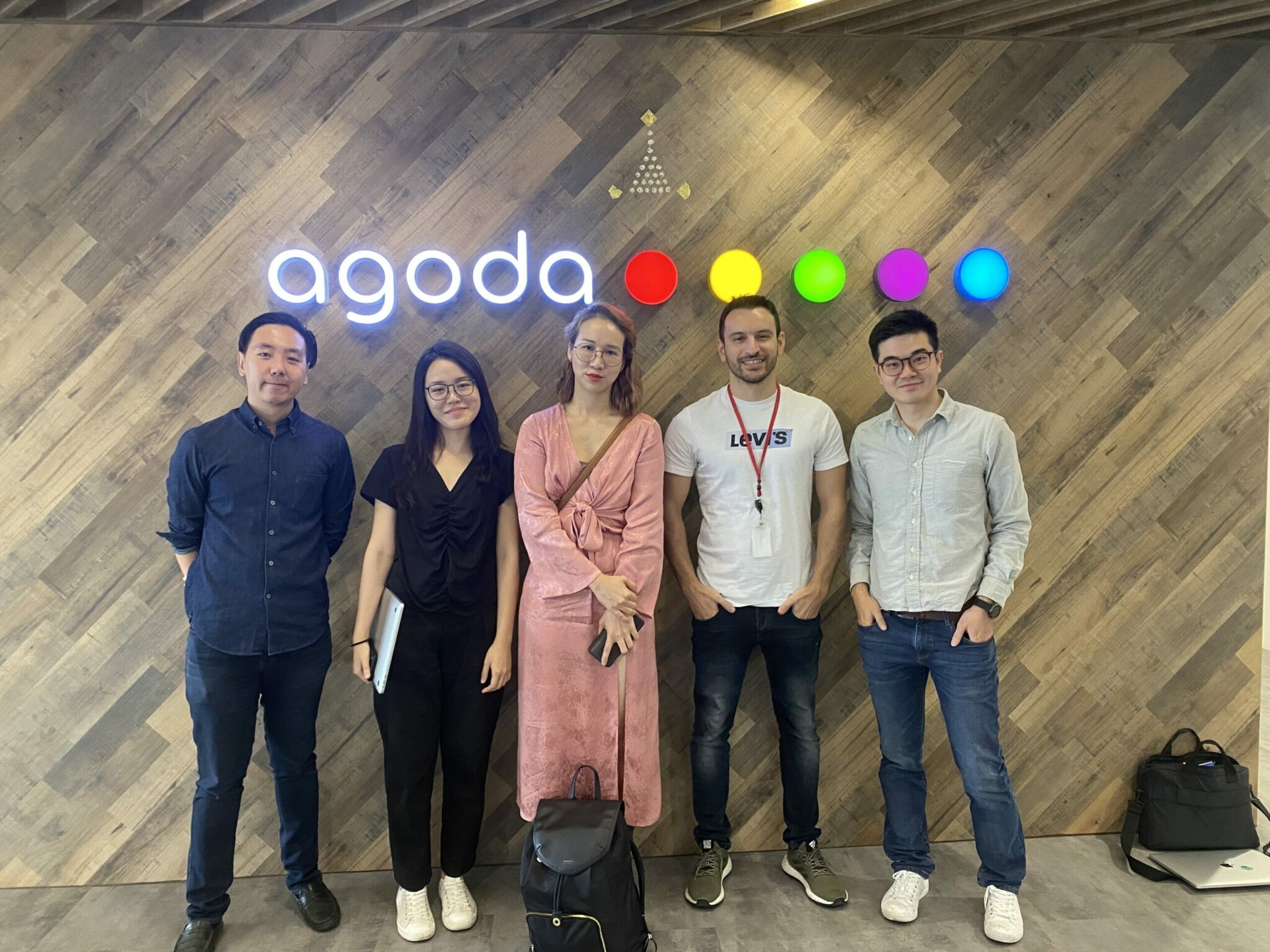 From left: Omo (student), Salie (Agoda), Kate (student), Massimo (TDC) and Jeremy (Agoda)
Agoda partners up with Thammasat Design Center in Bangkok to help shape the next generation of UX/UI Designers.
The background
Agoda Design team is committed to bridging the gap between education and real-life experience and contribute to the design community. In the past, we'd provided talks and mentorships in different events and, recently, we took a step further into a longer-term collaboration. Early in 2020, we partnered up with Thammasat Design Center (TDC) in Bangkok to not only coach and mentor talented aspiring designers, but also to onboard our future colleagues.
Our approach
A key skill for UX/UI designers is the ability to think about usability and apply insights from behavioral and motivational science into the design process. So our partnership is focused on the Behavioral Design and Gamification Design programs led by behavioral design experts Massimo Ingegno and Samuel Salzer.

In each batch of the program, we propose a 4-week design challenge that students can take up. During the period, Agoda designers give mentorship to selected applicants. Individuals who excel in the challenge will be rewarded a full scholarship and an opportunity to interview with Agoda design team.
The challenge
We cultivated two different challenges: one about user-generated content and the other one about chatbots. Both tasks were designed on how to make our product more playful and enjoyable. Like every design challenge in a job interview, we didn't give too many instructions upfront. A simple problem statement was provided, and mentors would simulate mentees to ask the right question during this period.

So far, we've run two batches and had the pleasure of mentoring five UX designers. In the latest batch, we coached Chathurapat, Farhana and Bantita remotely.
Yet, within 4 weeks, the mentees managed to conduct several pieces of research and design activities to understand the problems they're trying to solve — such as user interviews, surveys, usability tests, and eventually prototypes that can help them articulate how they make their design decisions that not only help users but also achieve business goals.
Two-way learning
While coaching the students, our mentors have also been learning. The mentorship experience has developed our designers leading and coaching skills. Through their differences in background and time constraints, our designers have learned to inspire and guide mentees by means of questions and feedback.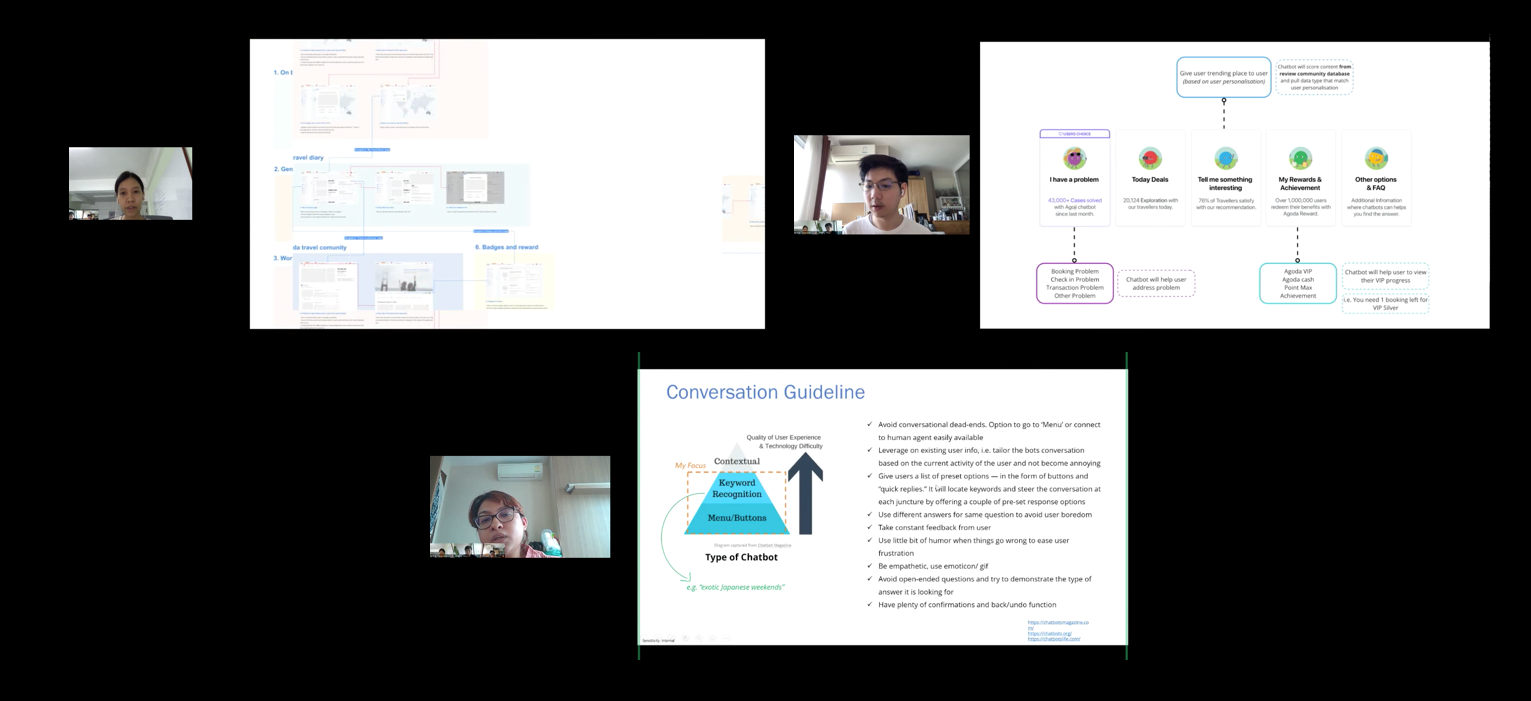 "Every mentee only has 15 minutes to present the weekly assessment. It's not only challenging for them but also for us mentors. We need to quickly provide feedback that they can take action on and improve their works for the next session, while also considering their current level of competency," said Jeremy Hsu, Senior UX Designer at Agoda and a mentor.
And since we aim to provide an interview opportunity to winning students, our mentors also had to put on recruiters' lenses to observe mentees as candidates, assessing how they receive feedback and their communication and craft skills. It's a longer and deeper journey to know a designer than a normal recruiting process.
The results
In addition to providing learning opportunities for both our designers and the students, the program has also identified talent. Bantita Treepong won a full scholarship for her gamification design course and an opportunity to interview for a full-time position on our design team.
The positive feedback around the learning opportunities and great mentorship experience lets us know how to improve this collaboration. Spotting talent and having them join the team is a bonus. Here are some comments from those who took the challenge:
"This challenge gave me an opportunity to conduct research and validate these insights to motivate users to create content."

"I'm grateful to have had the chance to be mentored by such knowledgeable people and UX experts in the industry."

"Discussion opportunity is one of the best benefits when working on any challenges."

"The mentors from Agoda are extremely helpful and provide constant support and detailed feedback with supporting resources that have helped me broaden my knowledge as a UX designer."
The collaboration is still running, with new batches of aspiring Gamification Designers and Behavioral Designers starting every other month. We look forward to meeting more talent and sharing our experience with them in the program.
If you're interested in learning more about our design team, visit agoda.design
Special thanks
Agoda Design mentors: Salie Chien, Jeremy Hsu, Ciara Green
Program mentees: First batch- Kate, Omo. Second batch- Chathurapat, Farhana and Bantita
About Thammasat Design Center
Thammasat Design Center is a Thailand-based design institution that provides various design-related courses to upskill designers and aspiring designers. Visit their website for more information.
Featured Jobs
At this moment we have 1 jobs you might be interested in.
View more jobs