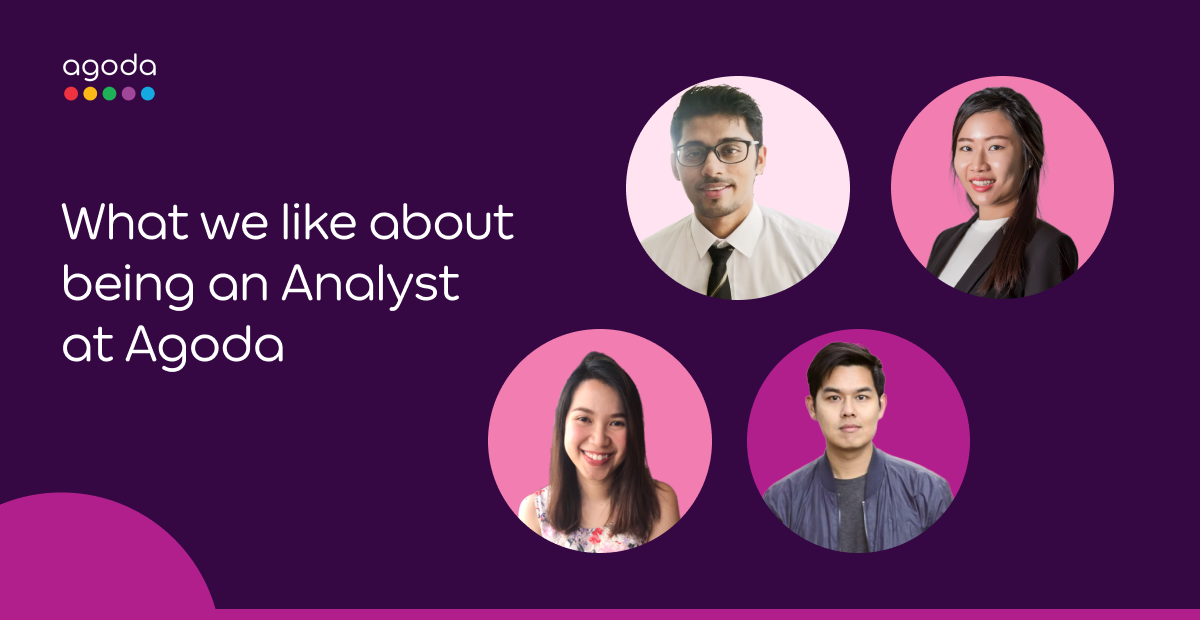 At Agoda, analysts play an important role to provide insights that inform us to take the right actions as a tech company.
Here, four analysts from different teams share what makes Agoda a special place for their analytics career.
The mature and accessible data and tools
"Working in a tech company like Agoda means the data and tools required to do your job as an analyst are very mature and accessible. As someone who came from an industry that was slightly behind in technology adoption, this was a massive un-blocker for getting things done.
An analyst at Agoda is expected to move fast and independently, while also improving their technical skills along the way. The organization is very flat and open—one can reach out to someone two levels above for a quick check-in without hesitation. I enjoy being at the heart of the department, understanding problems from all our markets and teams and working on solutions for them. It is challenging and not repetitive.
My role involves a close relationship with the business, and I can see my analysis being turned into action by other teams. This is rewarding, while also means there is a responsibility to produce high-quality recommendations."
Marc Parrikal
Analyst, Partner Development
Learning opportunities and challenging work
"At Agoda, every decision is made based on data, not a personal judgment. Sometimes we feel that we know the correct way to solve an issue. But data might suggest a different way.
As an analyst, I mainly focus on programming (SQL, Python) and learning statistics to support decision-making. The role helps improve soft skills like communication and dealing with different stakeholders. I've learned to explain complex data topics in a way that is easy to understand. Here in the team, you can go for a job rotation to expand your interests and learn new topics. That helps keep things challenging here."
Supasit Chalermchaiwat
Analyst, Strategic Partnerships
Tackling tough problems with talented colleagues
"When I planned to transition to the travel industry, I was still very much looking forward to the perks of the consulting world, especially opportunities to 1) tackle tough problems the client cares about, 2) learn a lot and quickly and 3) work with talents across teams. After a year working at Agoda in Marketing Strategy, I have ticked all three boxes.
As an analyst, you'll have hands-on experience crafting data-driven recommendations. These analyses then go on to drive truly amazing things like helping the leadership team shape decisions, product experiments, and solutions to customers' pain points.
Move Fast is in Agoda's DNA – and I'd say one of the biggest differences from consulting. Gone are the days of spending hours just to get data points in pdf from a client, let alone trying to figure out if your recommendations will ever get implemented. At Agoda, you'll get to see how teams execute the recommendation and even track results in real-time. During the process, you'll get to learn a lot, fast, almost out of necessity. But fret not; you'll be supported by a network of brightest talents with world-class expertise in tech, data science, design and even some ex-consultants!
With Agoda's sense of ownership and richness of data, I feel empowered."
Nutnicha ManeeIn
Senior Analyst, Marketing
Everything you need to be successful in your career
"I have been working at Agoda since 2019. Although it was not an entirely smooth journey due to the pandemic, I have never regretted that I chose to work here. Every day we work with agility and data-driven culture where
we move fast, take experiments and measure consistently. Additionally, people here are encouraged not only to learn while we work but also to give and take feedback regularly as part of professional development.
Overall, I think this place is a great workplace which is just full of learning opportunities, talented people, diversity, amazing tools, and everything you need to be successful in your career."
Chanipun Chatrungrueangchai
Senior Analyst, Business Development