As a travel company, we know by heart the beauty and importance of community-based tourism. And with the skills of our diverse workforce, we're constantly seeking ways to contribute and create a sustainable impact.
That's how this volunteering opportunity started. Our CSR and Sustainability team partnered with the Tourism Authority of Thailand (TAT) and Hivesters, a social enterprise specializing in community-based tourism, to lend a hand to the Talad Noi community, right in our home city Bangkok.
What's special about this volunteering opportunity is how Agodans got to use some skills outside of work and really created long-term results. We focused on helping four businesses run by the neighborhood locals: a pillow shop, a hostel and two restaurants. Most of them faced similar challenges in creating an online presence and digitizing their businesses. And these are what Agoda Volunteers could sure help.
"The tourism hospitality industry continues to show its resilience and hunger to welcome tourists back with the very best experiences. Through this initiative, Agoda's teams in Bangkok offer a diverse range of skills, backgrounds, and experiences and provide guidance, support and ideas to help these small to mid-sized enterprises in Talad Noi to flourish," said Greg Wong, Managing Director, Agoda.
Around 15 Agodans from different teams came together to get their hands dirty. Now, let's hear from some of them.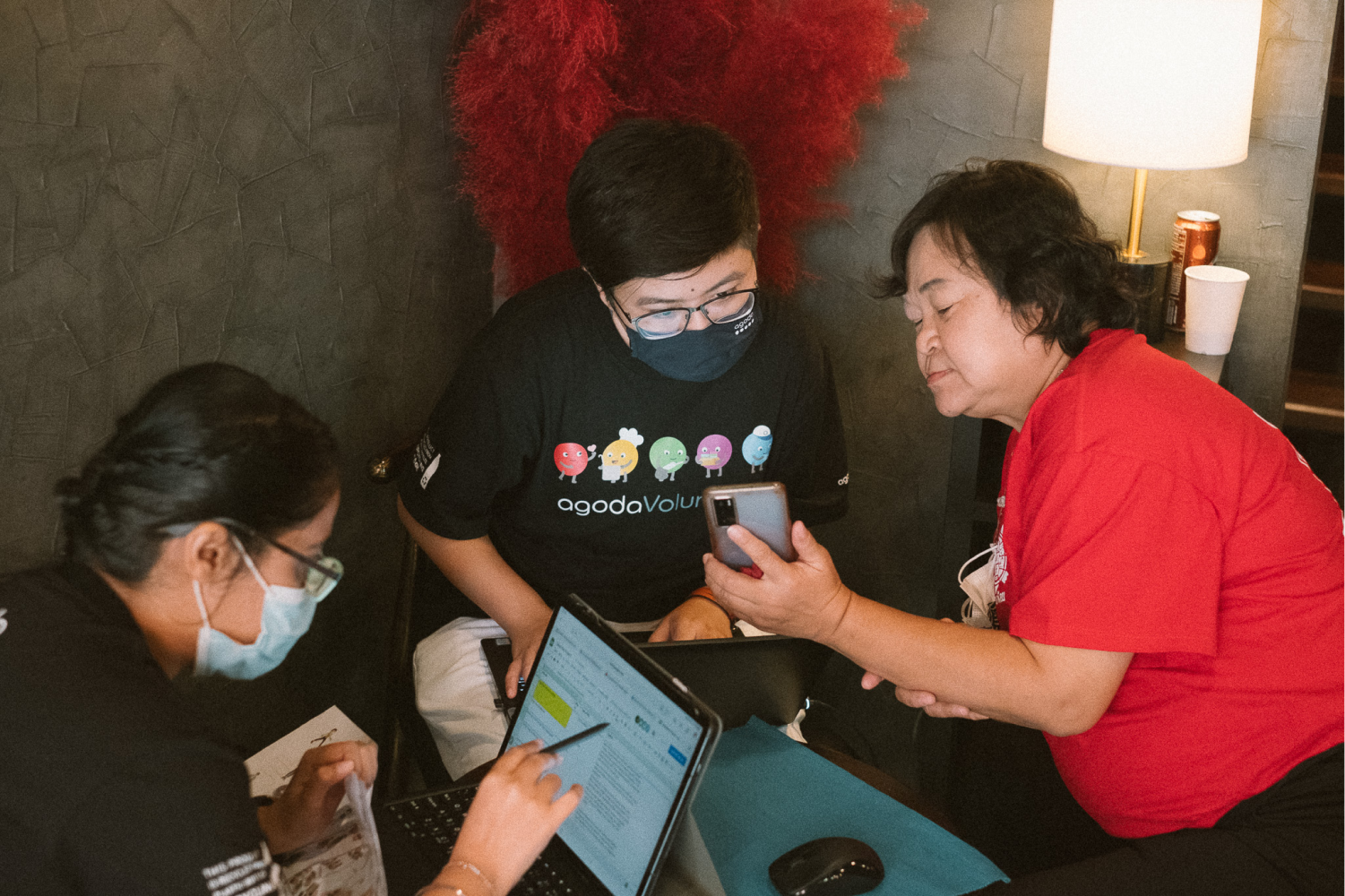 Jing Zhuang
Language Specialist – Traditional Chinese
"I've always been interested in learning about cultures from local people and I like volunteering. So when my teammate shared this volunteering opportunity with me, I signed up right away.
During the activity, I teamed up with Amika from the People team to design a simple community walking tour brochure for Auntie Rung, the Talad Noi community leader. She gave us an insight into including what places or businesses would be helpful for visitors. We also showed her how to register social media accounts and publish posts to share about the community, and created an event calendar template to help her share cultural events. 
 I'm happy and grateful to be part of this. It offered a gateway for us to know and learn from colleagues from different cultures and career backgrounds; it also encouraged me to put ideas, creativity and design skills together to showcase the community and its culture. We are so lucky to get to know the life stories of various owners of the businesses, which helped us learn more about the local community and Thailand."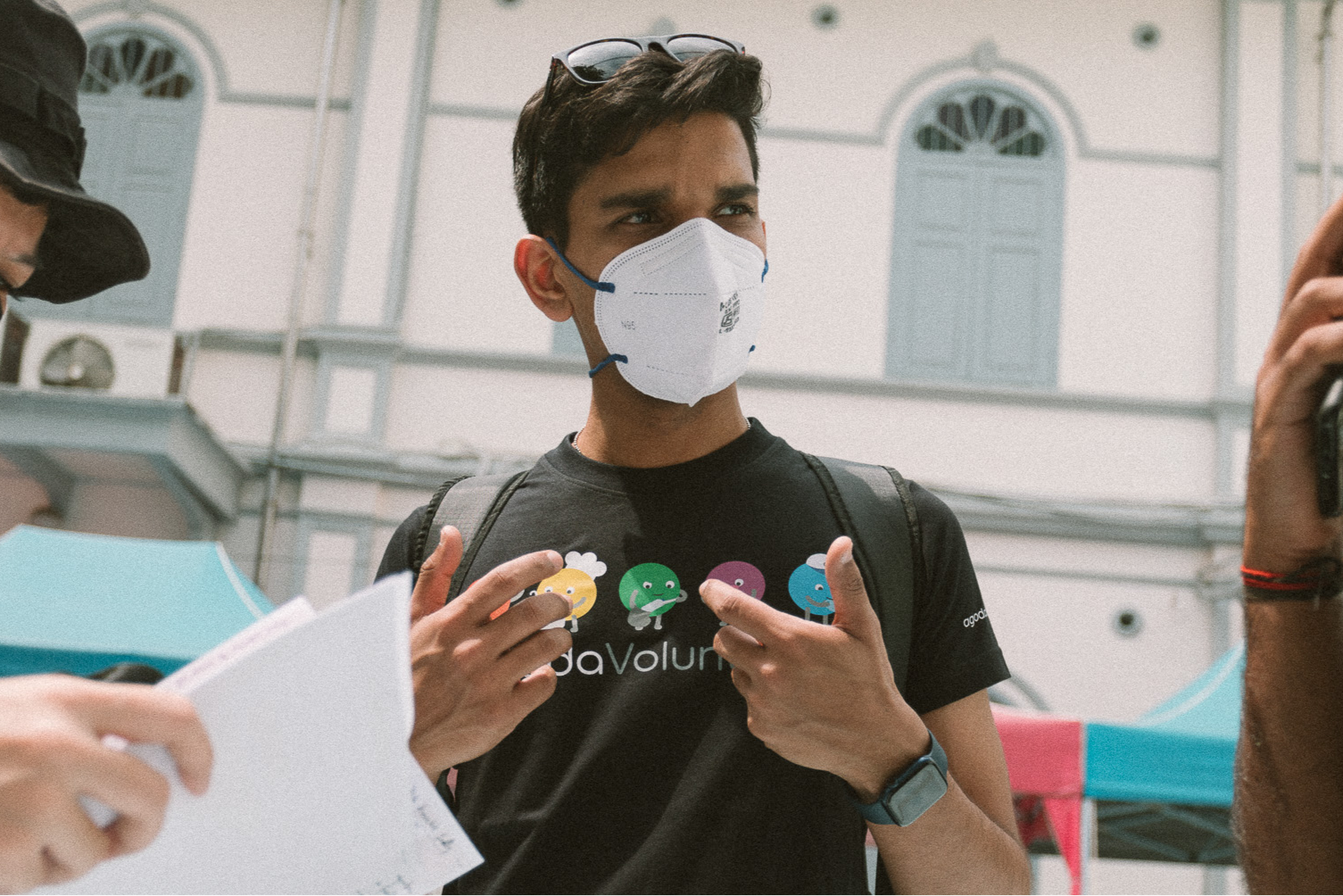 Ashwin Johri
Global Affairs Strategic Communications Lead
"I found this volunteering opportunity particularly interesting because of its connection to the tourism industry. Businesses in Talad Noi have been hit hard in the wake of the pandemic. This meant we'd be trying to achieve impact in our industry and an iconic hub right here in our home city of Bangkok.
Our team helped design menus and signages for a pork knuckle jelly restaurant that is over 100 years old. We put our graphic design skills to good use here, working with the restaurant owner to achieve her vision. We also digitized their presence on Google Maps and food delivery apps to help bring in more patrons.
Meeting new colleagues and collaborating with them towards a shared cause is a great way to learn from the various backgrounds of Agodans. I'm proud to be a part of an organization that empowers its people to initiate and lead such efforts. At Agoda, anybody can create such opportunities, take ownership and make things happen beyond our workplace!"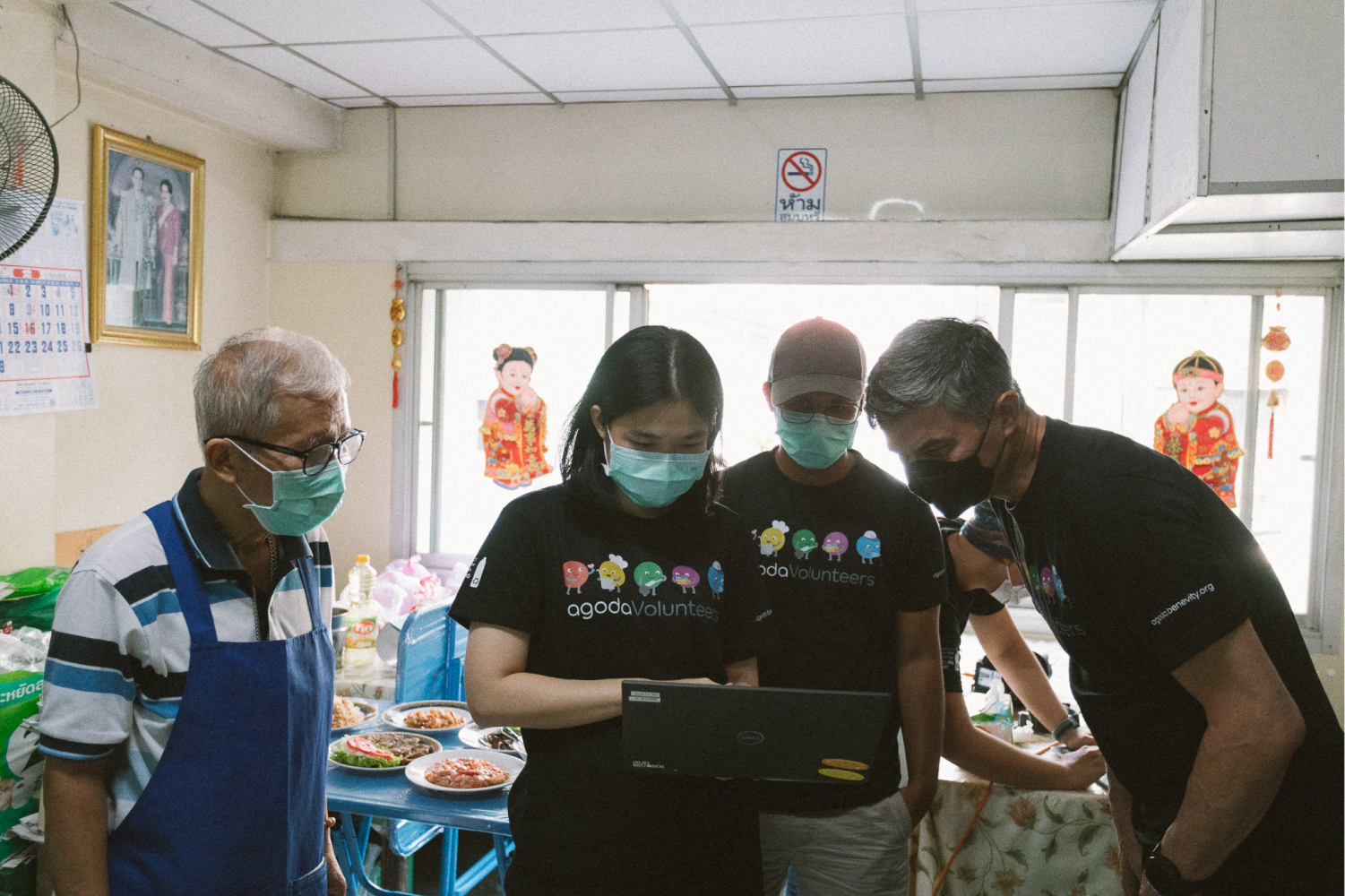 Natcha Sanguankiattichai
Associate Project Manager, Recruitment Marketing
"Our team worked with a local restaurant to create its visual branding for the first time in its over-half-century-long life. None of our group was a graphic designer by trade, but I have self-trained some basics of using creative programs. So, this was our first time working with business owners to create a logo and menu design for a restaurant.
Unlike many other volunteering activities with a set target, this left a big room for our creativity to fill. It was fun discussing design directions with the restaurant owners, a friendly auntie and uncle couple, and creating some artwork from the brief, all supported by professional photos taken by Pang from the Design team. I'm glad we could also help them get onto a food delivery platform and claim a presence on Google Maps and Facebook.
I grew up in this part of Bangkok, so I was super excited to do something for the neighborhood. Besides that, the fact that Agoda provided a space for me to build on my hobby and contribute to the community is very meaningful and rewarding. Also, thanks to the Agoda volunteer time off and my team for their support!"
Corinna Comerci
Associate Director, Global Accounts Operations
"I have been willing to take part in a CSR activity for a long time and finally had the opportunity to join, not only an activity to help the community, but also to use some of my skills. I helped take photos for the menu of the Pork Knuckle Jelly Restaurant and the catalog of the Talad Noi Community Based Tourism Guide and learned so much from the guide/translator who accompanied me during the photo sessions.
Although I am not an expert photographer, I have enjoyed the opportunity to contribute to a very meaningful initiative. I have learned a lot: the history of Talad Noi, the local businesses perpetuated in multiple generations, the resiliency of the families and what makes this historical area of Bangkok unique.
I feel grateful and lucky about the opportunity to give back to the local community since Thailand welcomed me and my family 7 years ago with no judgment and always a bright smile on the face."
This is just a way the Agoda team gives back to the community while also supporting the industry. If what we do resonates with your values, join us in making positive impact.