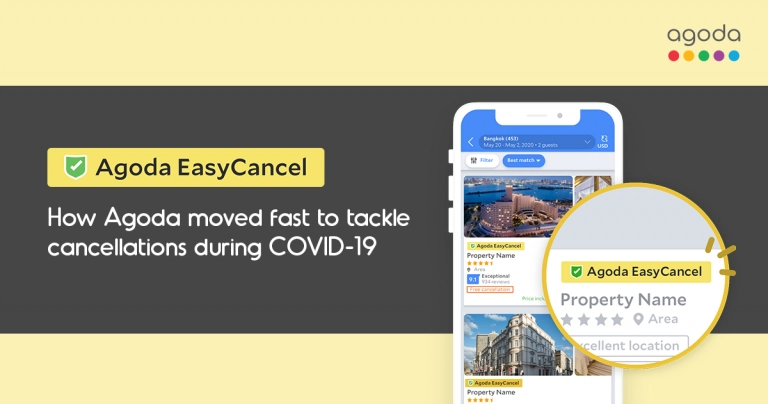 Since the COVID-19 pandemic emerged, travel plans have been more disrupted than at any time in living memory. For a travel booking platform like Agoda, this meant a huge surge in the number of contacts for booking adjustments and cancellations — and in turn, the need for timely support from our staff.
Agoda's response to the situation was EasyCancel. It allows participating partner hotels and properties worldwide to offer their guests greater booking flexibility and the option to cancel as late as 24 hours before arrival. EasyCancel was the result of cross-team collaboration between our Product, Partner Services, and Customer Experience Group departments. In less than two weeks we managed to launch the feature live on our platforms.
Agoda Careers sat down (virtually) with Varuntida Varutbangkul, Ido Hertz, and Errol Cooke to discuss the work behind EasyCancel.
Addressing the surge in customer support needs
"Since late January, we saw travel restrictions being put up in different countries on a daily basis.  Our customers were understandably concerned and needed to cancel or postpone their bookings.  As a result, we received a sustained flood of customer contacts that were 2-5 times the typical contact volumes for two months in a row.  This was truly unprecedented," recalled Varuntida Varutbangkul, VP, Customer Experience Group at Agoda.
"This led to average call wait time being as long as 30 minutes at the peak, and email backlog as long as 20 times the normal size at its worst, which meant many customers needed to wait over a day for their email to even be responded to (and sometimes longer for their requests to be fully resolved).
"For many of these bookings, we were able to extend a cancellation for our customers because of travel bans. However, we were still receiving many contacts about bookings that were far out in the future or not yet directly impacted by a travel restriction, which meant a waiver didn't apply. In those cases, it would take longer to handle since we needed to call the hotel to ask if they would waive."
Coming together to innovate for a solution
As the situation evolved into a global crisis, it was clear that Agoda needed a solution to assist customers with cancellations. "We needed to come up with a quick solution that would allow them to cancel bookings for free without any coordination with the property, to cut down the handling time," said Ido Hertz, Senior Product Manager.
Kickstarted by an email from our Chief Operation Officer, Omri Morgenshtern, a project team got together teams from different functions across the company, such as Partner Services, Destination Growth, Product, and Customer Experience.
Ido explained the team's focus: "We were shooting for the same goal–signing up properties to a program that allows us to cancel free of charge for any booking within a specified stay date period, regardless of the original terms that the property loaded into our systems." Needed forces were summoned from supply-side, back-end, front-end, including web, app and mobile teams, to quickly build the new feature.
In addition to reacting to the cancellation situation, Agoda decided to make the program proactive to support our accommodation partners. "In order to get the most out of the program, it was designed to apply cancellation to both existing and future bookings."
"And to help our partners drive more bookings, we would add a badge to properties that joined EasyCancel in different places in the reservation funnel. So the properties would stand out and our guests would have better visibility to the program as well as more ease of mind when making a booking."
Moving fast and making it easy for everyone
After intensive product development, the project was relayed to Partner Services, the team that works closely together with our accommodation partners. When we asked Errol Cooke, VP, Partner Services, about the rollout of EasyCancel, he shared, "Our Partner Services team set a Big Hairy Audacious Goal to sign up more than half of our properties globally by end of April."
"So we approached this in two ways: a mass communication to our accommodation partners, and our first ever 'global blitz' where all countries came together to focus on EasyCancel. When we got in touch with our partners and explained about how the program would give customers the flexibility needed for them to make a booking right now, most of our partners understood the need for such product. While some of our partners had a hard time accepting that EasyCancel would also apply to existing non-cancellation bookings, all who joined the program agreed to the terms and saw the overall benefit, for their guests and for themselves. At this point in time, we already hit our goal in some markets and had more then 70k properties signed up to the program. And we're continuing to onboard more partners into the program."
From the Customer Experience side, Varuntida saw immediate efficiency. "EasyCancel so far has saved over 8,000 man-days worth of work for our Customer Support staff. It has reduced workload in two ways: first, more customers can cancel the bookings for free by themselves via our self-service tool both on-line or over the phone.  Secondly, in case customers contact us, our agents can work much more efficiently because we already know that the hotel waives the cancellation fee for past bookings via the EasyCancel program, so we can refund the customers right away rather than having to contact the hotel to check."
Even in a time of crisis when working styles and communications have shifted, Agoda has managed to showcase its 'Move fast' value through the quick creation and launch of EasyCancel. Through the collaboration of multiple departments with hundreds of people involved, we were able to develop a feature within two weeks and roll it out quickly and widely to support both our travelers and partners.
Read more about EasyCancel from Agoda Newsroom here.
For properties seeking partnership with Agoda, visit https://connect.agoda.com.