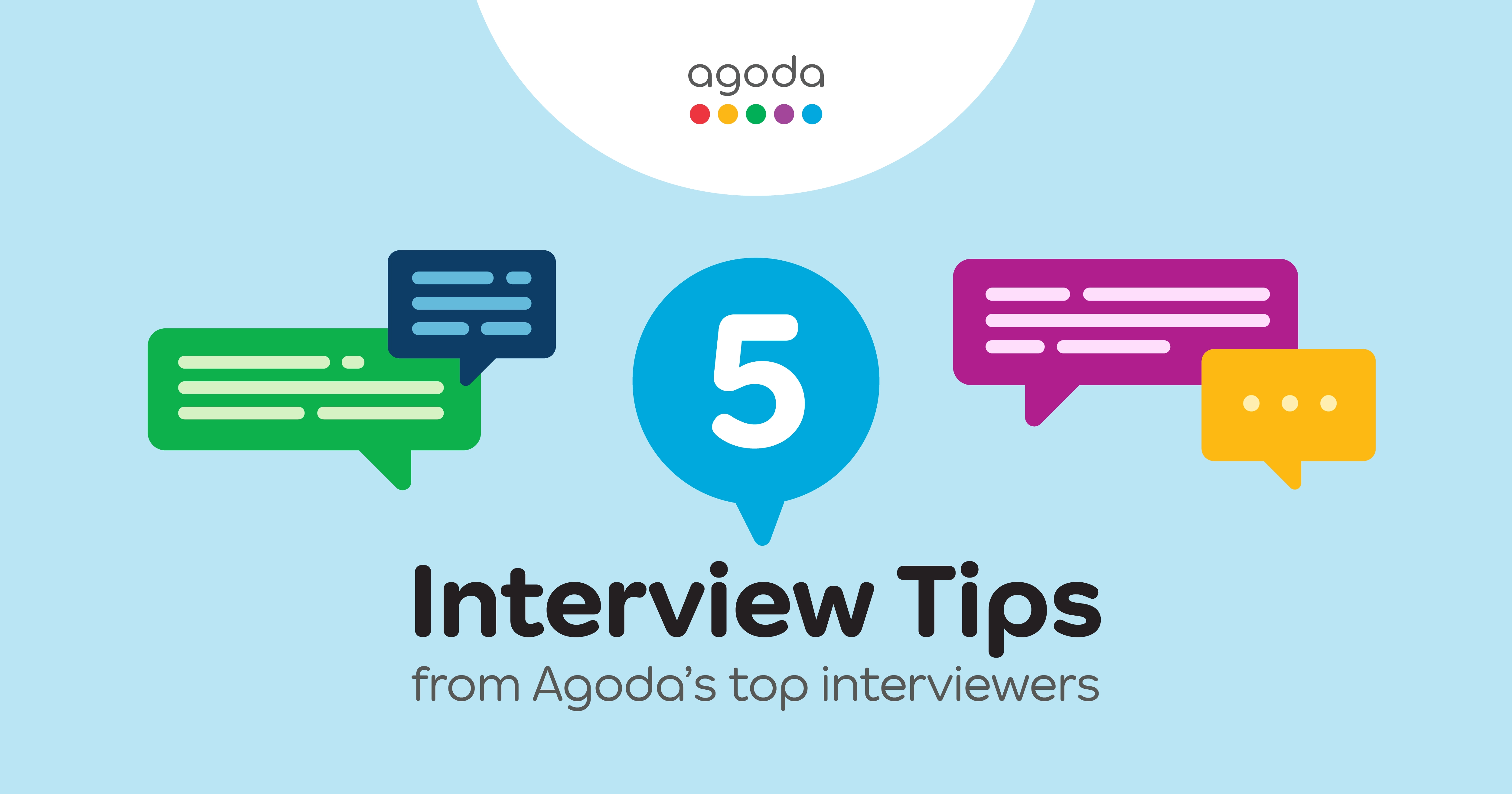 Your resume looks great, and now we're excited to talk to you. What can you do to prepare for an interview with Agoda?
Agoda Careers chatted with Adam Hu (Senior Product Lead), Avneesh Phillip (Accommodation Services Regional Manager), Jaspreet Singh (Senior Market Manager), Jeffrey Krebs (Director of Talent Development) and Preeda Payattakool (ex-QA Manager), five of our top interviewers as rated by our candidates for a few tips on what they believe helps set up a candidate for success when they interview with Agoda.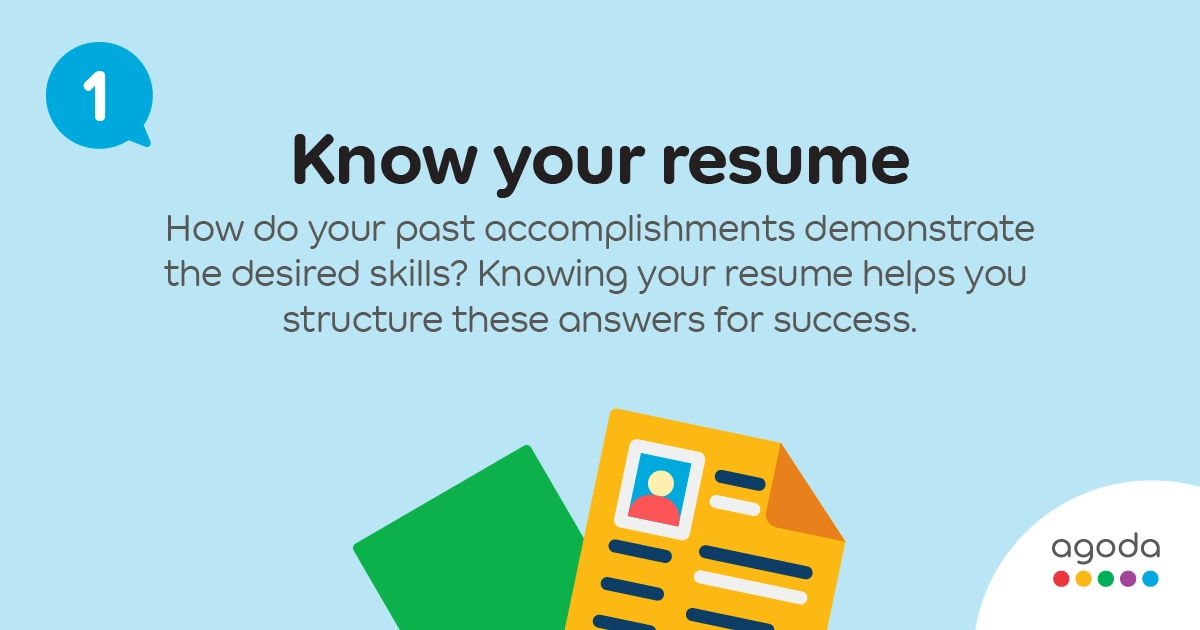 Know your resume through and through
More often than not, your interview conversation starts from your resume – so make sure you know every detail in and around it. "I interviewed a candidate who hadn't updated his resume before coming in. And a lot of what he talked about that day wasn't in his resume. To me, this means the candidate is not ready to be in the hiring process yet."
Make sure you can articulate the things you wrote on your resume with examples and details. Failing to do so can lead the interviewer to doubt.
"It's even better if you can answer situation-based questions with some real-life examples. Try thinking about how your key accomplishments demonstrate the desired skills like creativity, problem solving and result-orientation."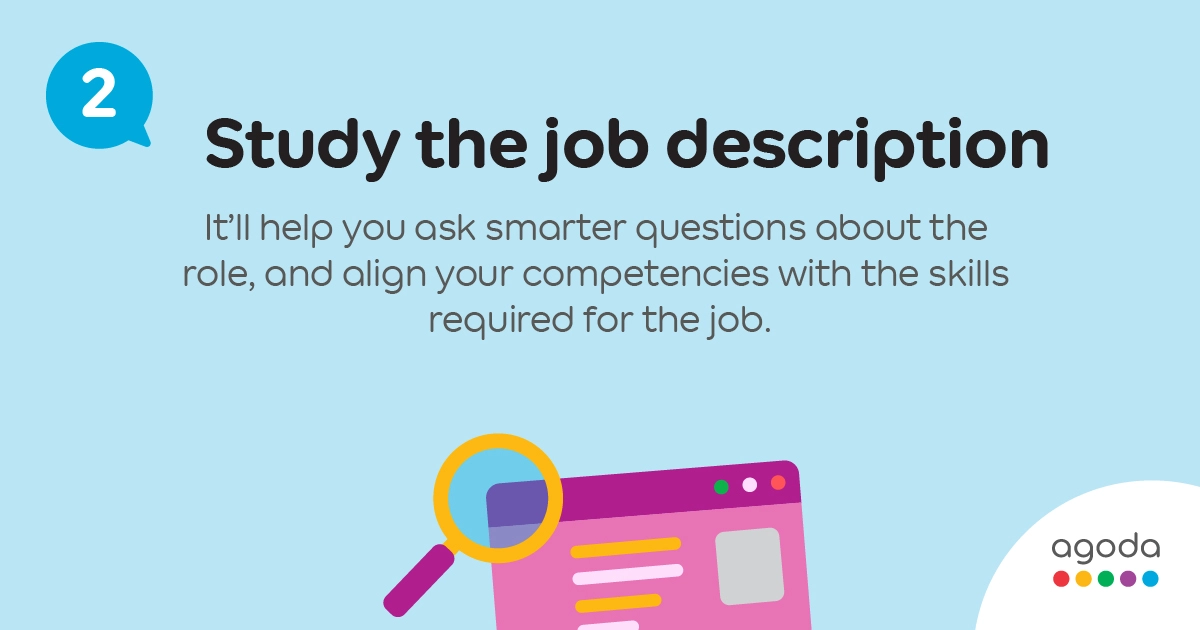 Study the job description for which you are applying
"Even if we advertise for a role that has the same job title as another company, we may be seeking different candidate qualifications than they are. It's important for you to read through our job description and understand exactly whether it matches what you're seeking."
If interviews start with knowing your resume, then the next step is knowing the job description. Take a thorough look into the job description before the interview, even if you think you know it. This saves you from wasting time on discussing the role to have a more interesting conversation about how you can grow in it.
"Some of the most interesting conversations I've had during an interviewing is when the candidate comes prepared. They've studied the job and thought about what's important to them. They ask honest questions about qualifications, how things work and how they can optimize their previous experience in the role."
This helps our interviewers understand what you're looking for, and gauge if you're interested in the specific job, not just trying to get a job.
In most cases, you'll get to speak with one of our recruiters at least once before entering the interview stage. And they are a great source of information, be it about the role or about the company. Our tip is to ask them as much as you can to understand the role.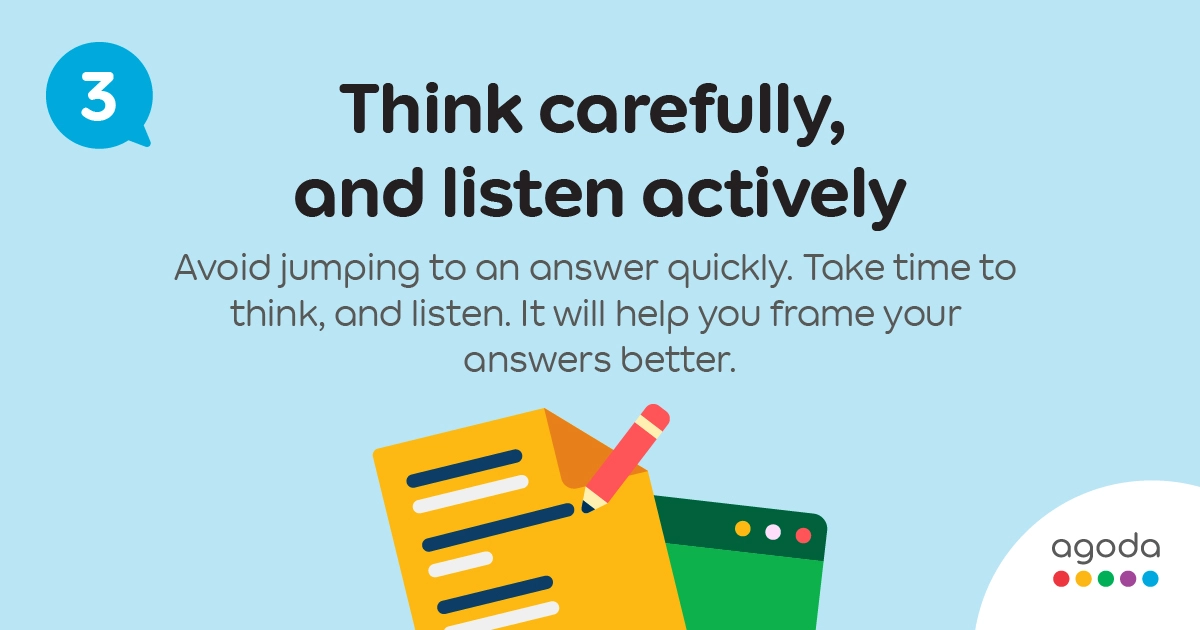 Be prepared
"We hear from candidates that our interview process is rigorous," says one of our interviewers. To find out if you are the right person for the role, we would like to know about you beyond your knowledge skills and experience. So, depending on the position, you might have to go through multiple rounds of phone or video interviews.
And when you come in for face-to-face interviews, you will have a chance to talk to your stakeholders. When you do, it's important to think carefully and listen actively. Avoid jumping to an answer quickly. It will help you frame your answers better and showcase your preparedness. That's also when we make a deeper evaluation of cultural fit.
"People often come expecting to talk about their fluffy work history, but in reality, we also ask serious questions, sometimes including math problems." For a Product role, for example, you'll be challenged with not just product cases, but also numerical tasks on top of other experience and skill-related questions.
"It's like a filter. Everybody's asking different questions. And the only person that comes through is the person that can do all these things."
At the end of the day, you might be exhausted, especially if you fly in for the on-site round. But if you also find it fun and exciting, that's probably telling you that you're at the right place.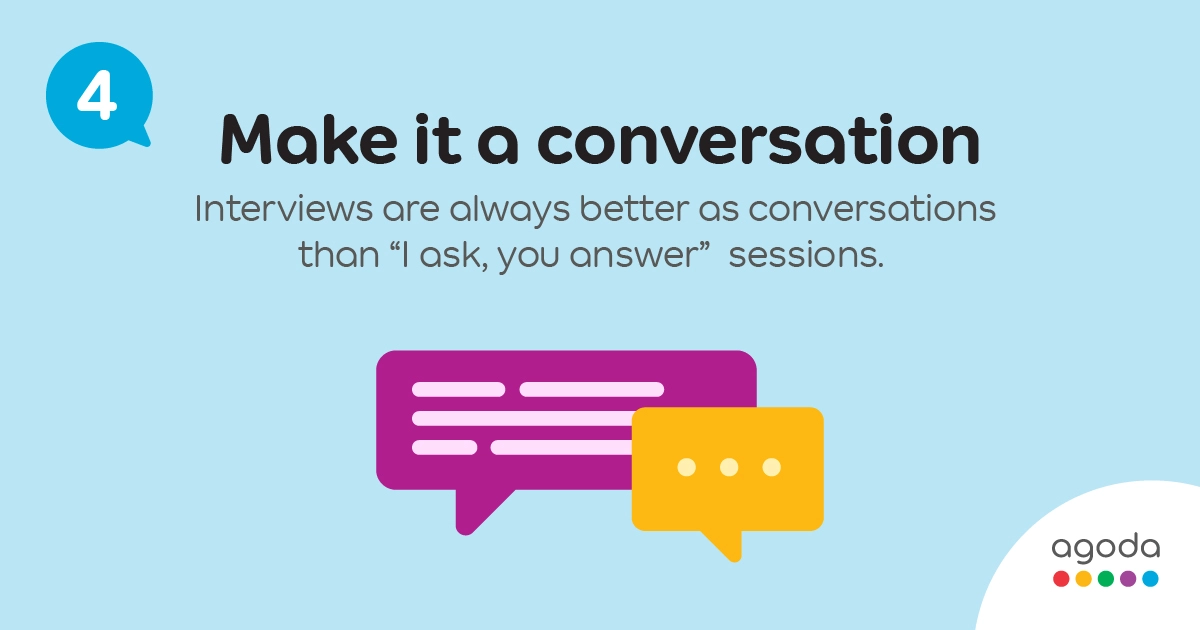 Make it a conversation
According to one of our top interviewers, one of the most common mistakes among candidates in their early careers is not asking questions. Interviews are better as conversations than "I ask, you answer" sessions. It creates a conversational environment that reflects the real work environment.
You'll want to keep it relevant. Browse through the internet and you'll find plenty of question banks. But think twice before memorizing a list of generic questions and throwing them to your interviewers.
"Some people ask questions just for the sake of asking, while others ask because they want to learn more about the job and if it's a good match. That's a very different intent. And it comes up, clearly."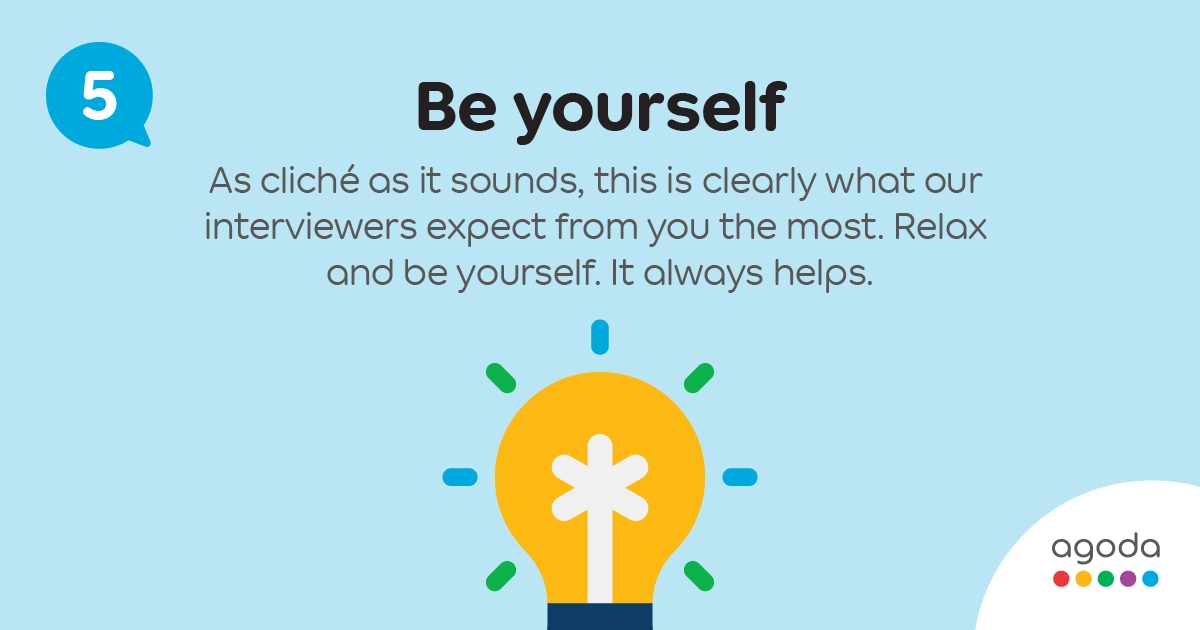 Be yourself
As cliché as it sounds, this is clearly what our interviewers expect from you the most. Don't try to be what you read online or what your friends or your parents tell you to be.
"And the less pretending, the better. One classic case is when I ask a candidate if they've ever worked on something, and they say yes. They may have worked on that project as a supporting member, not leading it, and that's ok. But when somebody tries too hard to present as if they were doing something bigger than they were, then it starts sounding like they're not telling the truth. I start digging in, and it becomes clear. And then I'll ask the question 'what was your role?' Sometimes they try not to tell me."
Even if you can fool the interviewer, it's not going to help you in the long run, because you want a job that fits you.
Relax and be yourself as much as you can. "What's the worst thing that can happen? You won't get the job. It's better that it's because you weren't the right fit rather than you were nervous and not communicating well."
If you're ready to put this advice into practice, apply for a job here.
Last updated: May 2021