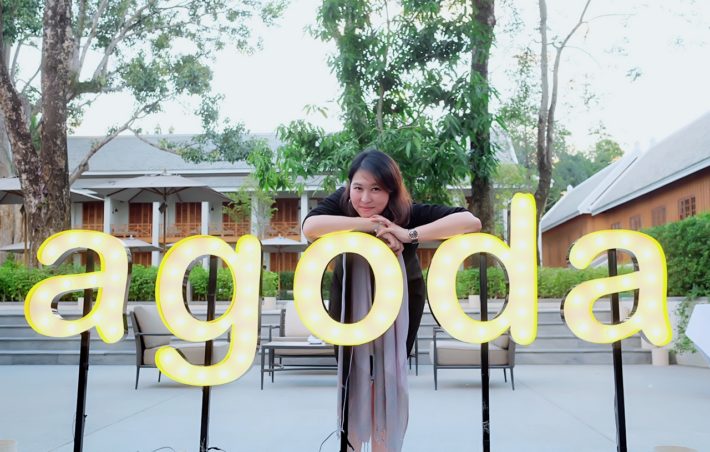 Kung celebrates her 11th work anniversary at Agoda this year.
Over a decade ago, if you wanted to book and pay for accommodation you did it through reservation calls and paperwork instead of a few easy clicks on a website or app. Jitwadee Ananpanyasuk ("Kung"), who joined Agoda in 2007 and now oversees Agoda's Partner Programs in Thailand, Cambodia, Laos, and Myanmar as a Regional Manager, vividly remembers how things were like when she first joined the company. "Back then, customers used to call or just walk in — booking a hotel online was neither familiar nor popular. No one around me really knew what Agoda was, but I knew the trend would change with a diverse and fast paced team like us."
Agoda now versus then
When Kung first joined Agoda, the company was a compact startup with 150 employees squeezed into one half of a floor in central Bangkok. "Everyone from customer support to the C-levels shared the same space. So it wasn't out of the ordinary for senior leaders to walk to my desk and share their ideas with me, even though I was just a junior-level employee at the time," recalls Kung.
Today, Agoda is a leading online travel brand across Asia operating in 40+ countries with 3,500+ employees. Although the journey there wasn't always smooth sailing. "In 2010, there was a political unrest in Bangkok that affected the area where our office was." reminisces Kung. "Instead of stopping operations, we moved as many servers as we could into a hotel meeting room which became our temporary office. For the next couple weeks, we worked side by side all night in a tiny room cramped with servers to help our partners and customers in crisis. That day still remains in my heart after all these years and inspires me to always do my best under any circumstances."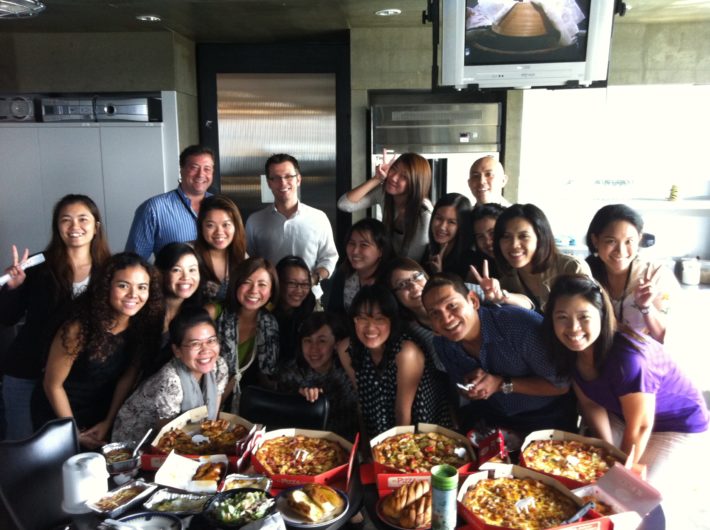 Kung (in the middle row center) and Agoda's Partner Services team in Bangkok having a pizza party in 2010.
Growing business, evolving roles
Kung's first job at Agoda (and also the first ever in her life) was a Market Executive for Hong Kong and Macau. Since the company didn't have a local office in Hong Kong and Macau at that time, she went on regular business trips to research and negotiate with Agoda's hotel partners. "I took on a lot of responsibilities that wouldn't usually be given to someone fresh out of college, and, as a result, I learned and grew a lot," says Kung.
From moving to Tokyo to build out a local team to managing the Indochina region, Kung's roles at Agoda have dynamically evolved over time. "Working at Agoda for 11 years feels like I've worked at 11 different companies, with new experiences everyday. Keeping up with the changing environment is definitely challenging, but it's exciting and rewarding at the same time to see our partners and teams quickly growing and succeeding."
The veteran's advice on careers
Kung's long and ongoing tenure at Agoda might seem surprising and even overwhelming to those just starting their careers. While Kung finds herself lucky to have landed her first job at Agoda, a workplace that gives people opportunities to grow and prove themselves, she highlights that understanding and adapting to differences has helped her overcome the challenges along the way.
"When I started working in Japan, my Japanese colleagues had hard time memorizing my nickname. So I explained to them that Kung (กุ้ง) literally means shrimp in Thai (as in Tom Yum Kung) and that my parents picked the nickname because they wanted me to swim well and survive the frequent floods in Bangkok. True story," laughs Kung. "After that, everyone remembered my name and we really got along as a team. It's important to lend your ears to understand other people's challenges — even ones that seem as trivial as remembering a nickname."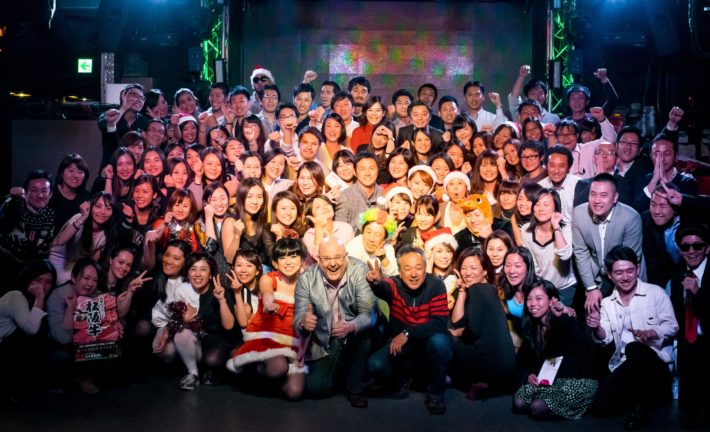 Kung (at the center of the third row from the bottom) and Agoda's Japan team in their year-end party in 2015.
Inspired by Kung's story? Join her team now!