Joy Sun (top-left row in a gray shirt) and her team at Agoda's annual party 2017.
Joy Xiayun Sun is a Development Manager who leads one of the data engineering teams at Agoda. "The problems we solve here are interesting," says Joy, "Because they're not just about technology or business – we take into account the entire market dynamics."
Starting out at Agoda as a software engineer three years ago, Joy now heads up a team of eleven engineers building and maintaining microservices and machine learning models. From providing the technology perspective in business meetings to supporting marketing campaigns, Joy's role as a development manager goes far beyond simply managing development cycles.
"We're not treated as coding monkeys at Agoda," shares Joy. "We're empowered to challenge features and decisions, even the ones driven by business goals. And that's what really sets us apart from others."
When coding, you define your own purpose
Contrary to what some might assume, Joy's first job after graduating from college was in risk management. "I went straight into investment banking," recalls Joy. "I studied my Bachelor's degree in Hong Kong, where banking and finance are considered the main pillars of economy so the path was somewhat paved for me all along. First, a degree in Actuarial Science, and then a job in investment banking."
After more than two years in banking, however, Joy took an unconventional leap to pursue a career in tech. "When I was in banking, I felt like a tiny part of a huge organization where I had to do what I had to, whether or not I agreed with its purpose," explains Joy. "But when it comes to coding, I feel like I can define my own purpose. I can build what I believe in, all by myself."
Coding is also a process of creation
Just like Xi Li, our software engineer in Singapore who taught herself Java and Scala, Joy is also a self-taught developer who learned programming through books and projects. "I take coding as more of a creative process, just like writing or painting," shares Joy. "It has objective standards, but I can still create something very beautiful. That's what's kept me going."
Joy also says that the process of creation doesn't just stop there at Agoda. "We're not what I would call a "pure" tech company – we design our tasks and priorities to fulfill both technical and business needs. This means that as software engineers we can create a more visible impact on the business and Agoda's customers."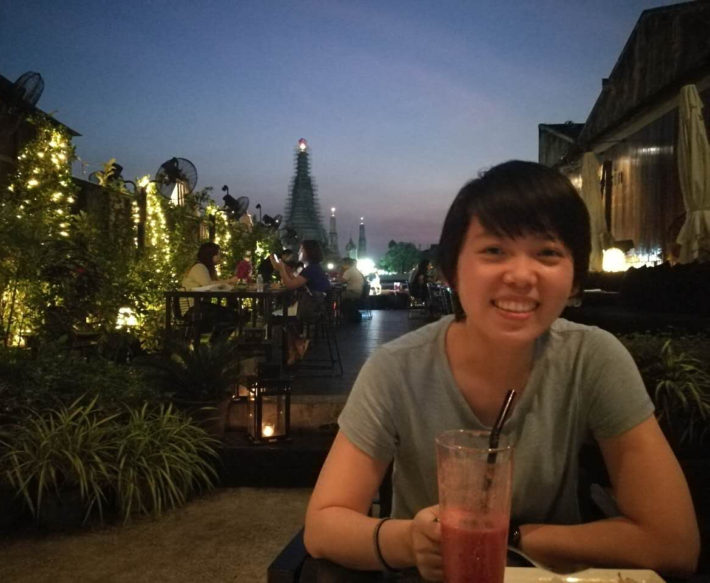 Joy Sun and her favorite iced Thai milk tea.
Rethinking the gender gap in tech
Having spent the past years interviewing and hiring developers in a tech leadership role, Joy believes that simply hiring a certain number of female engineers won't bridge the gender gap in tech. "As a hiring manager myself, I don't think we should hire just for the sake of gender. We might end up impacting quality and efficiency if we're simply fulfilling a number."
Rather, Joy believes that action taken at a more macro level could help alleviate the issue. "I think education and society have a big role to play," says Joy. "That's why, as a fellow Chinese female, I'm part of STEM Girls for China which is a group that aims to increase the awareness of science and technology among Chinese teenage girls. Initiatives like this can really help make a difference wherever you are in the world."
Inspired by Joy's story? Check out our latest technology vacancies.