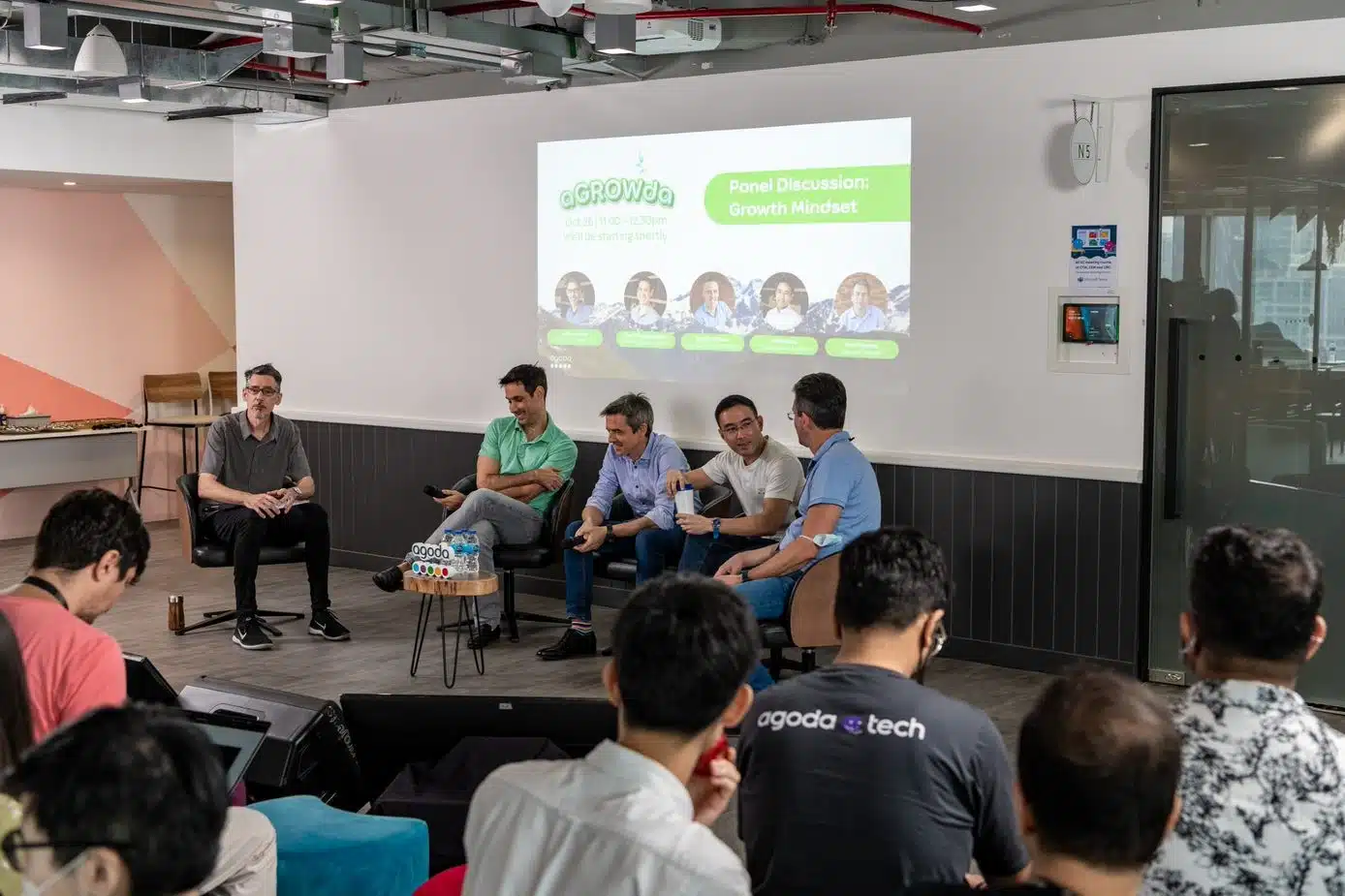 At Agoda, we're big believers in continuous learning. Whether it's taking up a career-enriching secondment or using our learning platforms to acquire new skills, there's no shortage of opportunities for Agodans to invest in their development, and we're always finding new ways to learn. Our Learning & Development team thinks deeply about each person's journey, encouraging them to grow holistically and gain skills that will help them at work and in life.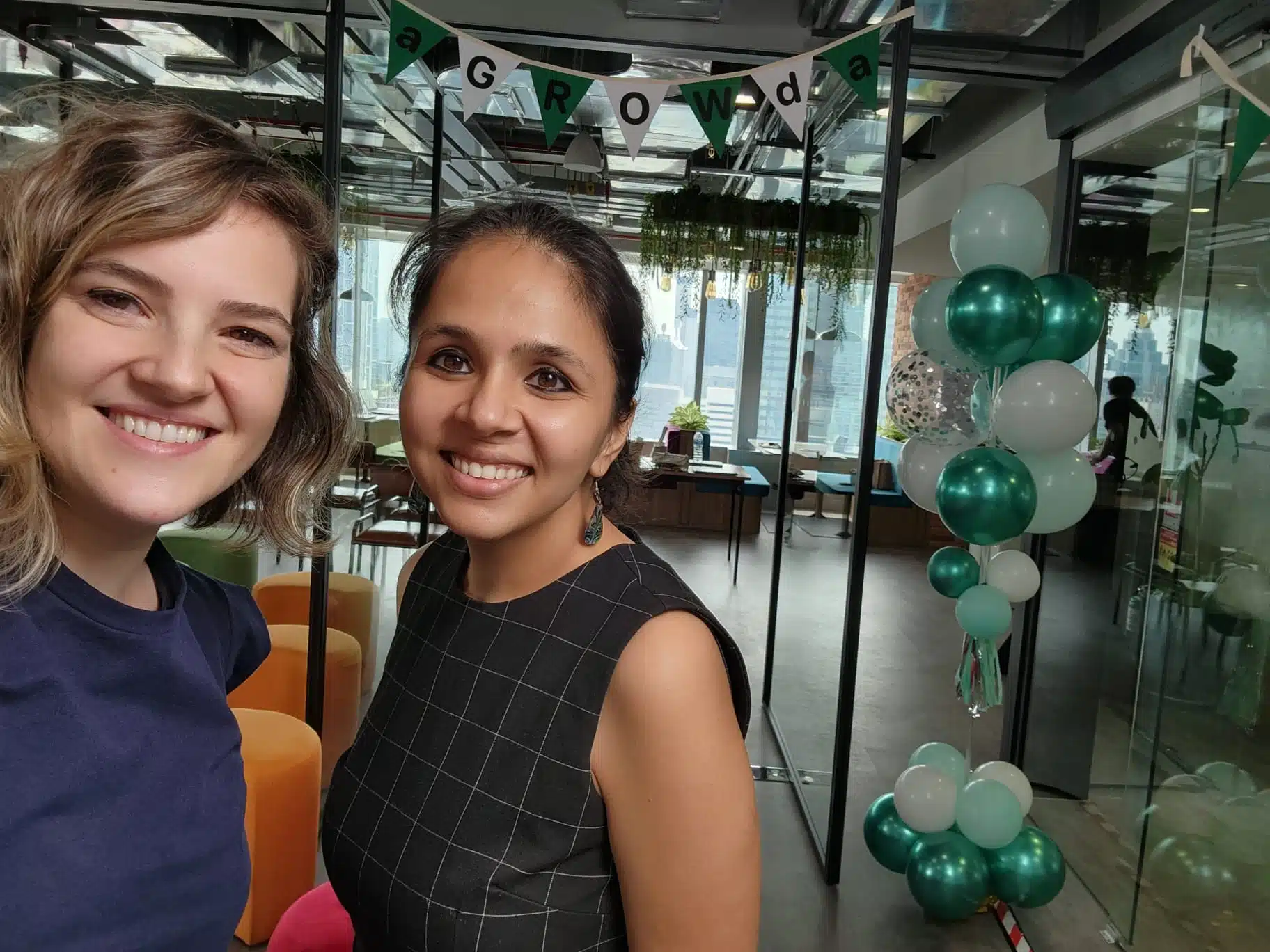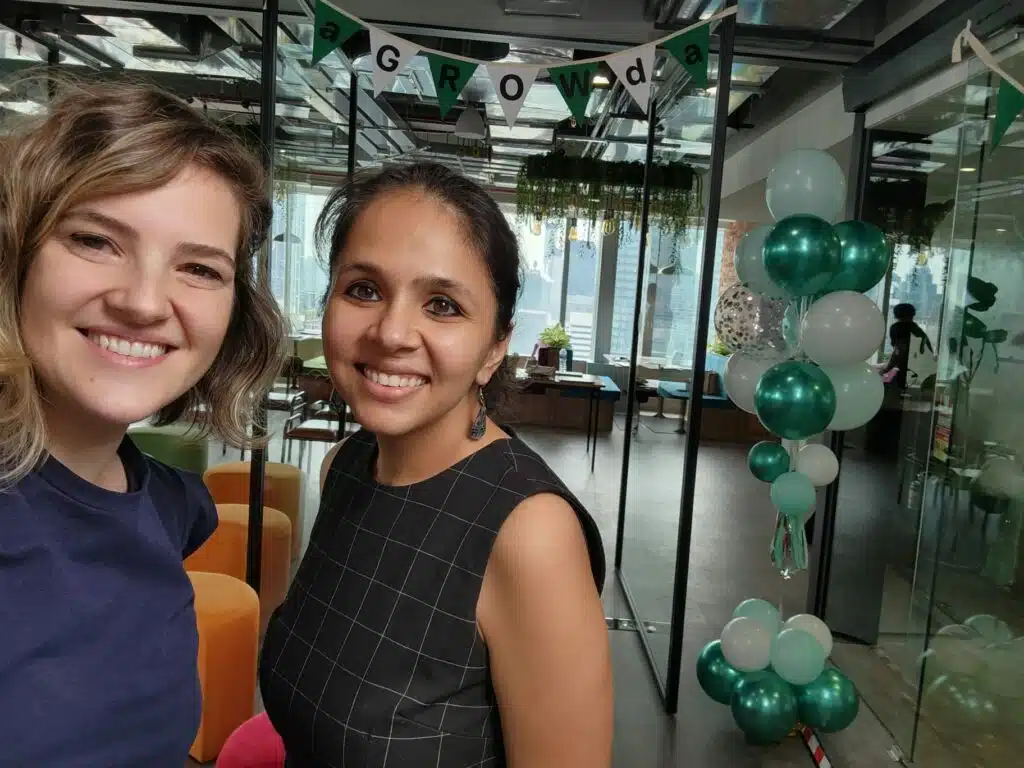 Karin (left) and Jasmine (right)
In October, we hosted aGROWda, our first-ever global learning event. For three days, we came together as a company to learn what makes Agoda unique, the mindsets and skills that can help us grow in our career journey, and the different tools and opportunities available to us. From the outset, aGROWda was envisioned as an international event, with sessions happening in multiple time zones. We decided to host the event in a hybrid format, weaving together in-person and virtual events so Agodans worldwide could join. Some offices even held watch parties with delicious food and lively discussion sessions. "Agoda is a huge organization, and people don't always know all our available resources. We wanted to create an intimate and communal learning environment that would encourage everyone to ask questions and explore the tools at their disposal," explains Karin Biran, an Organizational Development Specialist on our L&D team, who planned the event.
Each day of aGROWda had its own theme, which we explored in various sessions. First up were hybrid town hall-style panels with Senior Leadership Team members, where we got to hear their stories, career journeys, and how they practice learning and growth in their day-to-day work. Then, in virtual workshops led by each department, we discussed the themes in greater detail and unpacked what they mean for our roles. "Our leadership panels talked about their experiences at a very high level, which might not be relatable to all employees. The afternoon sessions were about connecting with our departments and understanding how each team puts these high-level concepts into action," says Jasmine Bakshi, an Organizational Strategy and Development Senior Manager who also steered the event.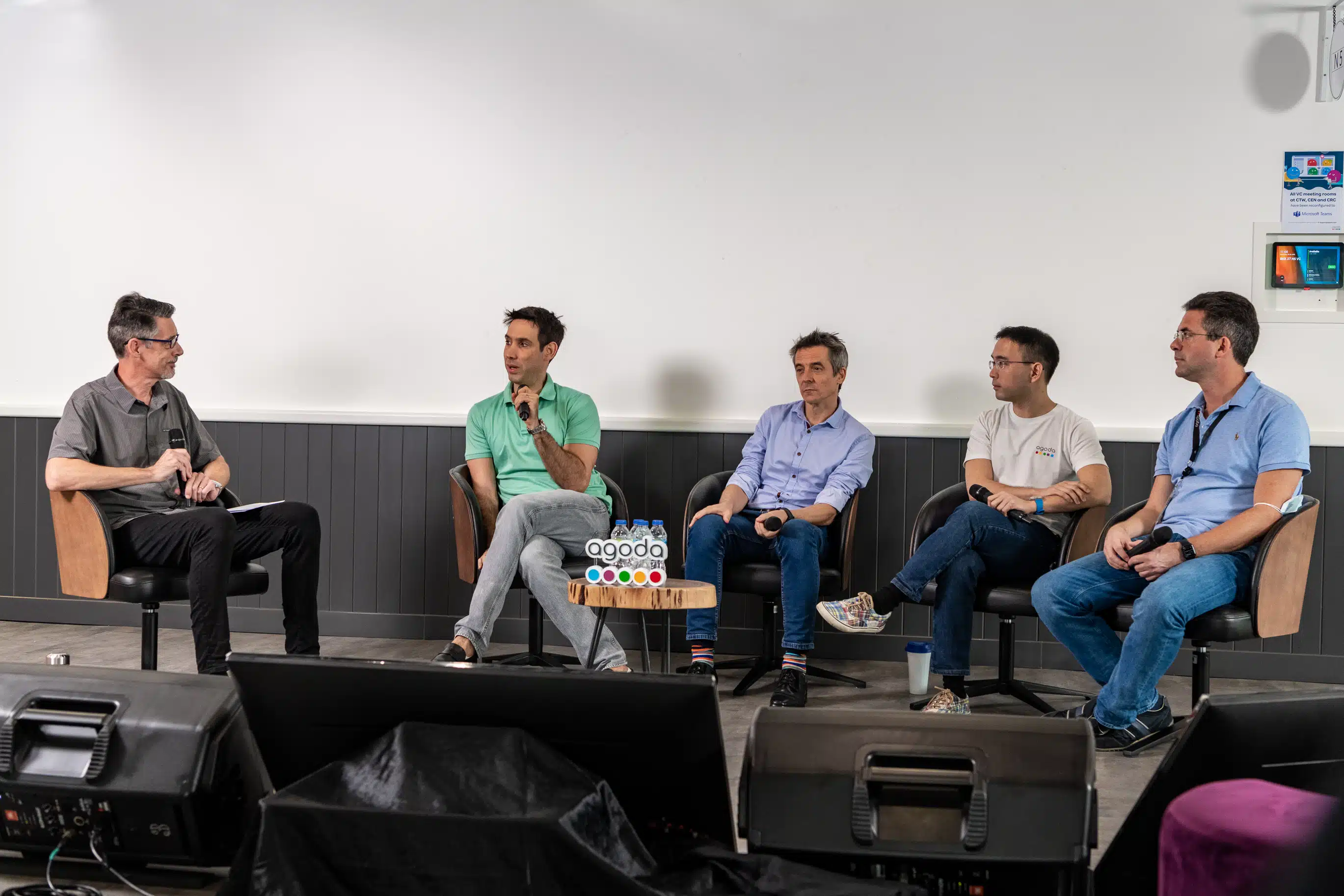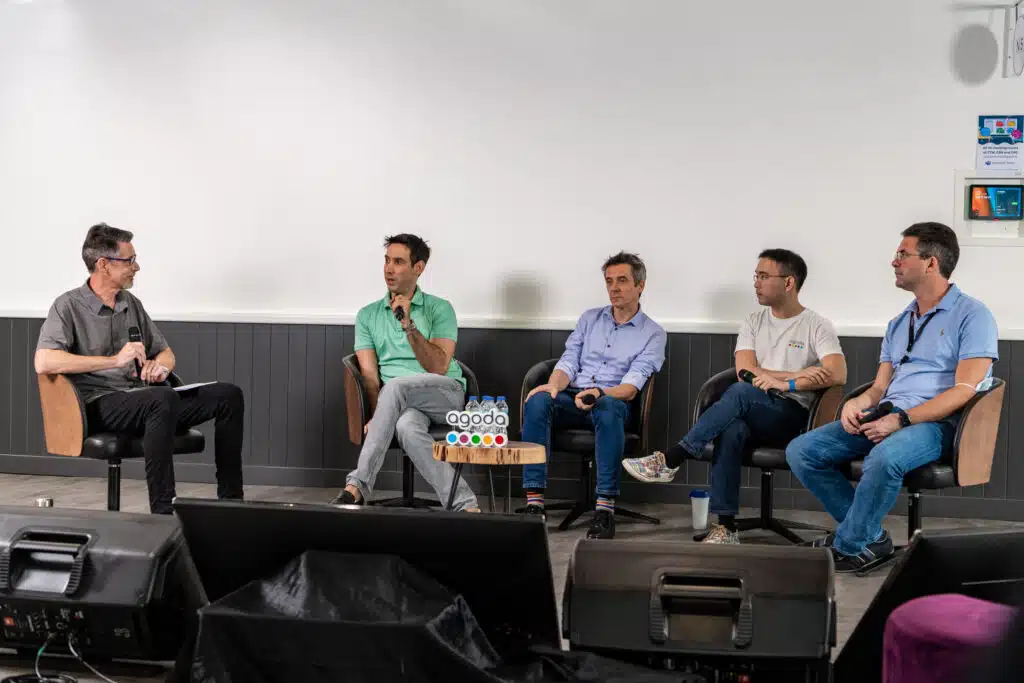 Day One – Cultivating a Growth Mindset
A growth mindset is a belief that one can continually improve one's skills and intelligence with effort and persistence, and it is at the heart of Agoda's culture.
We kicked things off with a panel discussion with Omri Morgenshtern (CEO), Tom Thomas (General Counsel), Jeff Lee (VP of Customer Experience Group), and Damien Pfirsch (Chief Commercial Officer), moderated by Jeffrey Krebs (Senior Director of Talent Development). It was eye-opening to hear our leaders speak openly about navigating various roles and how having a growth mindset allowed them to embrace and learn from challenges. Later, we tuned in for a webinar with renowned speaker and management thinker Herminia Ibarra, who shared insights on what it means to be a lifelong learner.
We learned that a growth mindset could push us to new heights, help us move outside our comfort zones, and reinvent our career journeys. Anjida Sripongworakul, Assistant Manager of Partner Programs, shared that she "loved Herminia's core message on what it means to act as a bridge – with one foot in my department and one foot in other relevant areas". "In the future, I will orient my strategic plans and coordination based on Herminia's helpful guiding questions: 'What bridging role could I take on? How can my group get what it needs to succeed? How can I be a contractor to the outside world?'"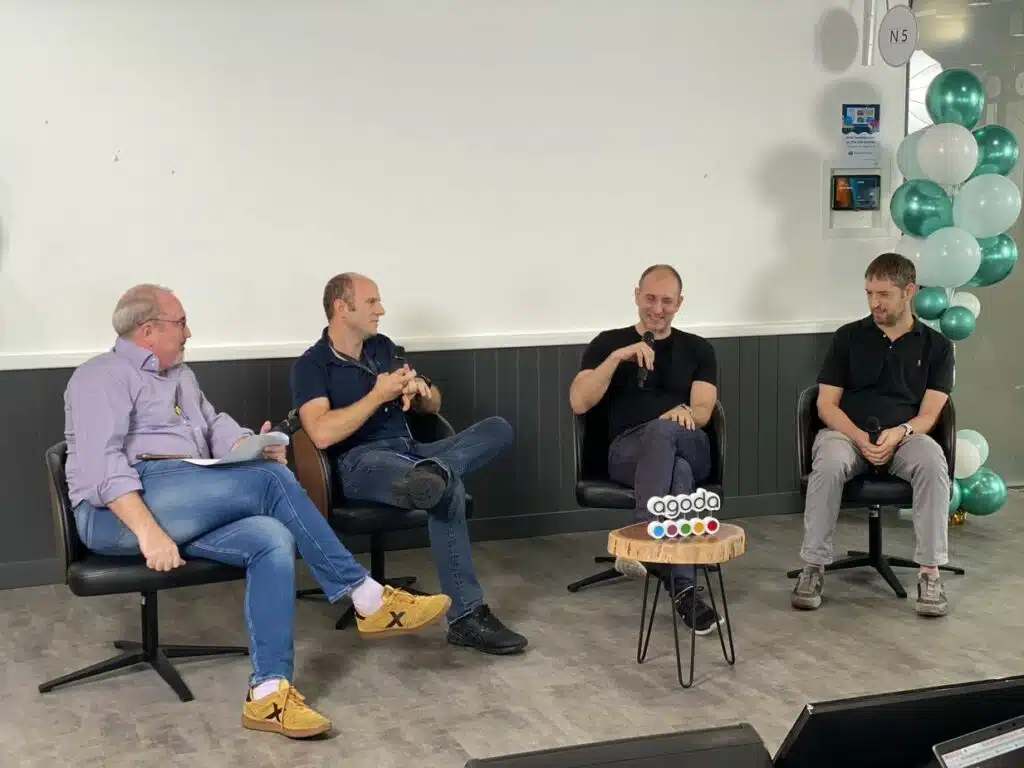 Days Two and Three – Harnessing Power Skills
Power skills – also known as people skills – have always been important for professional success, but they are now indispensable in today's working world.
At our panel discussion, we heard from Idan Zalzberg (Chief Technology Officer), Ittai Chorev (Chief Product Officer), and Matteo Frigerio (SVP of Marketing), with Tim Hughes (VP of Corporate Development) facilitating. Our leaders got candid about their career journeys and shed light on the skills that helped them to flourish at work. From building trust to developing communication and empathy, we discovered that power skills are at the heart of Agoda's success and allow us to achieve extraordinary results together.
After the panel, we split up for department workshops on self-awareness, building relationships, and leadership growth journeys. These sessions were full of laughs and lively discussions as we came together to learn, connect, and deepen our knowledge of these crucial skills. We learned about self-awareness tools such as the Johari Window and contemplated questions like, "What is unknown to you about yourself but known by others?". Thanks to everyone's willingness to be authentic about their struggles and successes, we came away from the department workshops with a greater understanding of ourselves and each other.
"For me, the most memorable part of aGROWda was working with new people and listening to our senior directors share personal wisdom that we hadn't heard before," recounts Amaranggana Galuh, a Partner Development Specialist who attended the Self Awareness session.
Creating something new 
Agoda's learning culture is as dynamic as the company itself. In keeping with our core values, we always want to better ourselves – not just to acquire promotions and professional accolades, but because that's how we grow as people. When asked about what sets aGROWda apart from our other learning opportunities at Agoda, Karin explained: "Typically, we run very skill-based learning programs and continuous training throughout the year, so we wanted to create something more mindset-focused. It's okay to fail and not to know everything right away. Ultimately, the most important thing is to learn, and aGROWda celebrated that."
Interested in growing with us at Agoda? Visit our Jobs page to see what roles we're hiring for.