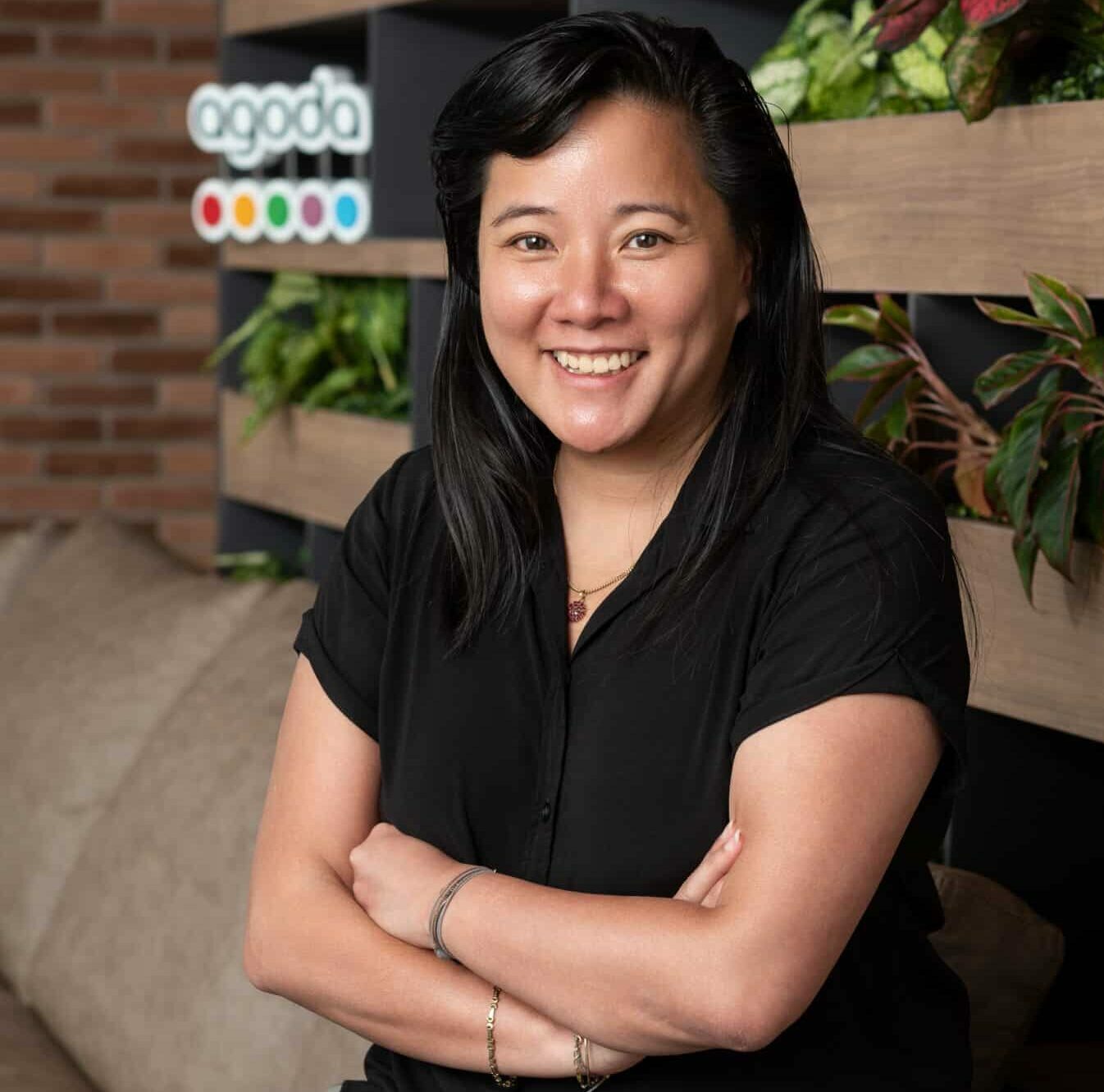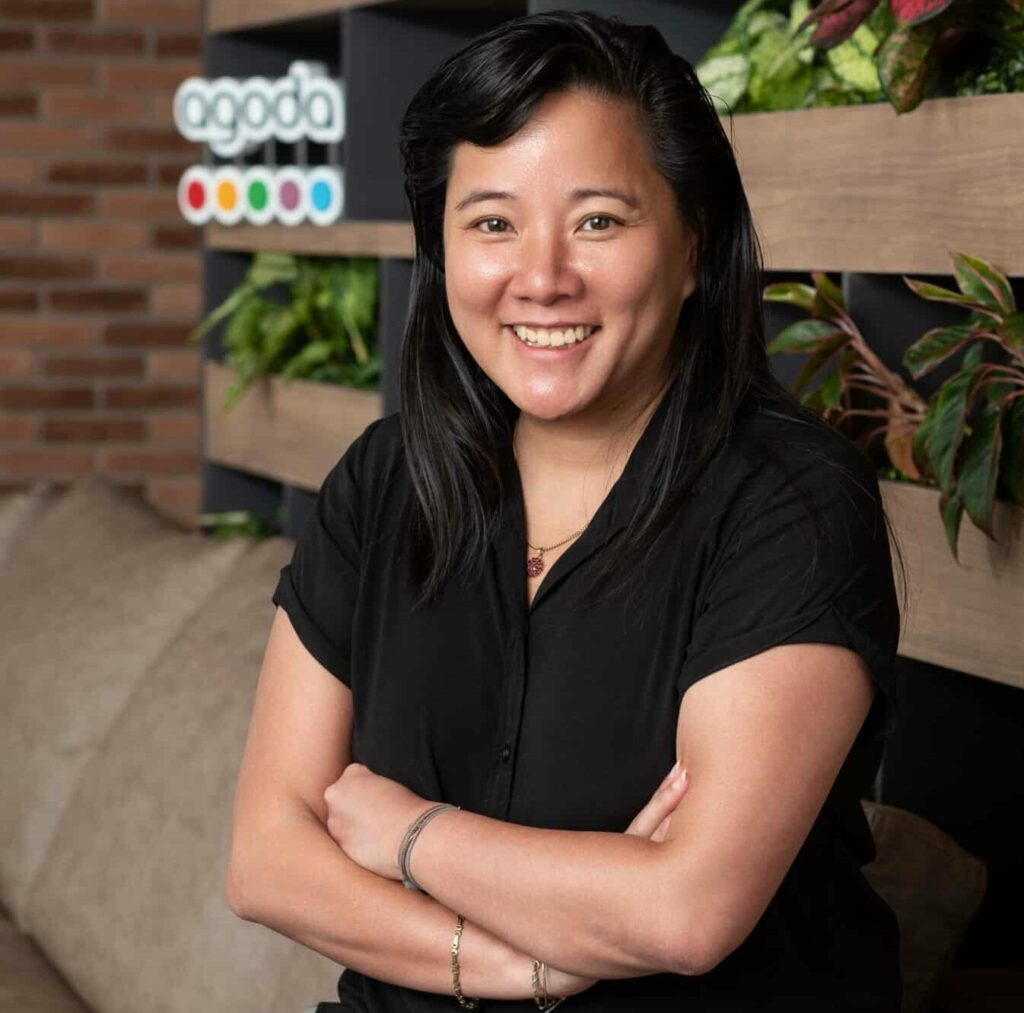 Mai-Linh Bui, Agoda's Chief Financial Officer, joined Agoda in 2022. She leads Agoda's Finance team, guiding the team towards success and overseeing functions that include accounting and controlling, payments, credit risk and collections, and more. We sat down with Mai-Linh to learn about her unique journey, approach to leadership, and the advice she wished she'd had earlier in her career.
Could you tell us about your career path and what drew you to Agoda?
I was at my previous company for over twenty years. Within that timeframe, I moved roles over ten times, holding a variety of roles in several countries in Europe, in both B2B and B2C industries. I knew I wanted to move on and return to the fast-paced world of B2C, so I'd come up with a list of companies I was interested in working for, including Booking.com. At that time, a headhunter contacted me and said she had a role at Agoda, explaining that the company is part of the Booking Holdings family.
I decided to meet the team and immediately felt that there was a good click. Agoda's values matched what I was looking for: a fun, fast-paced, data-driven company where you can take ownership of your work. After more interviews, I solidified my decision and jumped in. I'm a French national from a Vietnamese family, and this is my first time living in Asia. I'd only been to Bangkok once, when I was nine or ten, but now that I live here, I absolutely love it.
What excites you about Agoda's Finance team? 
The scope of our Finance team is what sets us apart from other companies. At Agoda, we have traditional functions like tax, treasury, accounting, FP&A, and so on. But in addition to that, we have functions that do not typically belong to Finance, such as commercial payments, which is more of a business function where we negotiate with partners. We also have projects and financial systems, like a mini-Tech team within Finance.

What excites me is that our team is diverse in scope and content: I have twelve direct reports, each leading a particular function. The team itself is also super diverse: there are eight nationalities in my leadership team, along with diversity in backgrounds, personalities, ways of working, and ways of thinking. It's fascinating to learn from everyone, and in each of our discussions, the content has a real richness, which I love.
How would you describe your approach to leadership?
In my first managerial role, my approach was: "I tell you what to do, and I review your work, and that's my job." Now, it's quite different. My role now is to create the conditions for my team to be successful, making it much more scalable than if I were an individual contributor. My objective is to understand my team, so I spend much of my time in discussions with them. What are their needs? What do they want? What motivates them? What are their talents, and what are their challenges? By knowing these things, I can adapt my approach to help them succeed. 
I used to spend a lot of time with my direct reports, but now I ask these questions to people in the levels below them, too. In the past, I spent a lot more time on business content, thinking, "How do I influence this person so that we make the right decision business-wise?" and now it's much more a question of, "How do I help my team to do that work themselves?"
 Of course, there's still the Senior Leadership Team part of my job, where I represent the Finance department and must play a role as a finance professional, but this takes up less than half of my time. I've evolved over my career, and the balance has shifted more than ever in this role, where I mainly focus on helping my team. It's more daunting, but it's also more effective. Not only that, but I really enjoy this way of working. You're at your best when you do what you like, so this is my sweet spot. 
What is your vision for the Finance team?
I want to have a diverse, skilled, and engaged Finance team because it makes me happy when they're happy. Next, I want to have a financial system landscape and processes that are scalable. I want us to be the best business partner, the one that everybody wants to work with. What makes us unique compared to other finance organizations is that we have fintech in our scope, so I would love to innovate in the fintech space. And finally, I want to keep everyone out of jail, including me and our CEO, Omri. If we do all the other things and then we go to jail, that's not cool, right? 
Do you have any advice for finance professionals reading this?
The best finance professionals are able to leverage their expertise with finance and numbers but also understand the business side of things. My advice is for people to try to see things from the perspective of a CEO. Ask yourself, "If I were a CEO, what would I do here?" It helps you think like a business partner, not just a finance professional. That makes the difference between a good finance professional and an excellent one.
What do you wish you'd known earlier on in your career?
I have several pieces of advice. The first is, "Be a player, not a victim." It's a mindset I wish I'd had when I was younger. Then, "Focus on impact." That means you choose your battles and focus on the impactful things. It's easy to get busy being busy and forget about being strategic. You can easily spend 10 hours a day just doing stuff. Our role as professionals is to know where we're most needed. 
The third piece of advice is "Cultivate self-awareness." Even as a leader, you've got to continue learning about yourself and how you can improve. Listen to feedback, be introspective, and have a growth mindset. Next, there's a Lao Tzu quote I like to remember: "To lead people, you must walk behind them." You've got to understand your people, serve them well, and help them to achieve their potential.
This last one is very important: "Never, ever give up." It might sound cheesy, but this is something that I've had to learn. I've had times in my career when I was ready to give up, but I didn't, and that changed me as a person and a professional. Resilience greatly affects who you are and how far you can go in your career.
 Feeling inspired to take control of your own path? We're hiring!