Agoda's Summer Internship program is always a highlight at our Bangkok office. Each summer, we look forward to welcoming a new cohort of students who infuse our teams with fresh ideas and lots of enthusiasm.
This year, we had the biggest batch of interns, with 117 students joining us from top universities across Thailand and abroad. With Agodans worldwide embracing hybrid work, our interns also had the flexibility of working remotely and joining coworkers in person. Over their two-month paid internships, our interns gain hands-on experience, work on impactful projects, and participate in a curated learning program.
Here's the recap of our 2022 Summer Internship.
A robust training and engagement program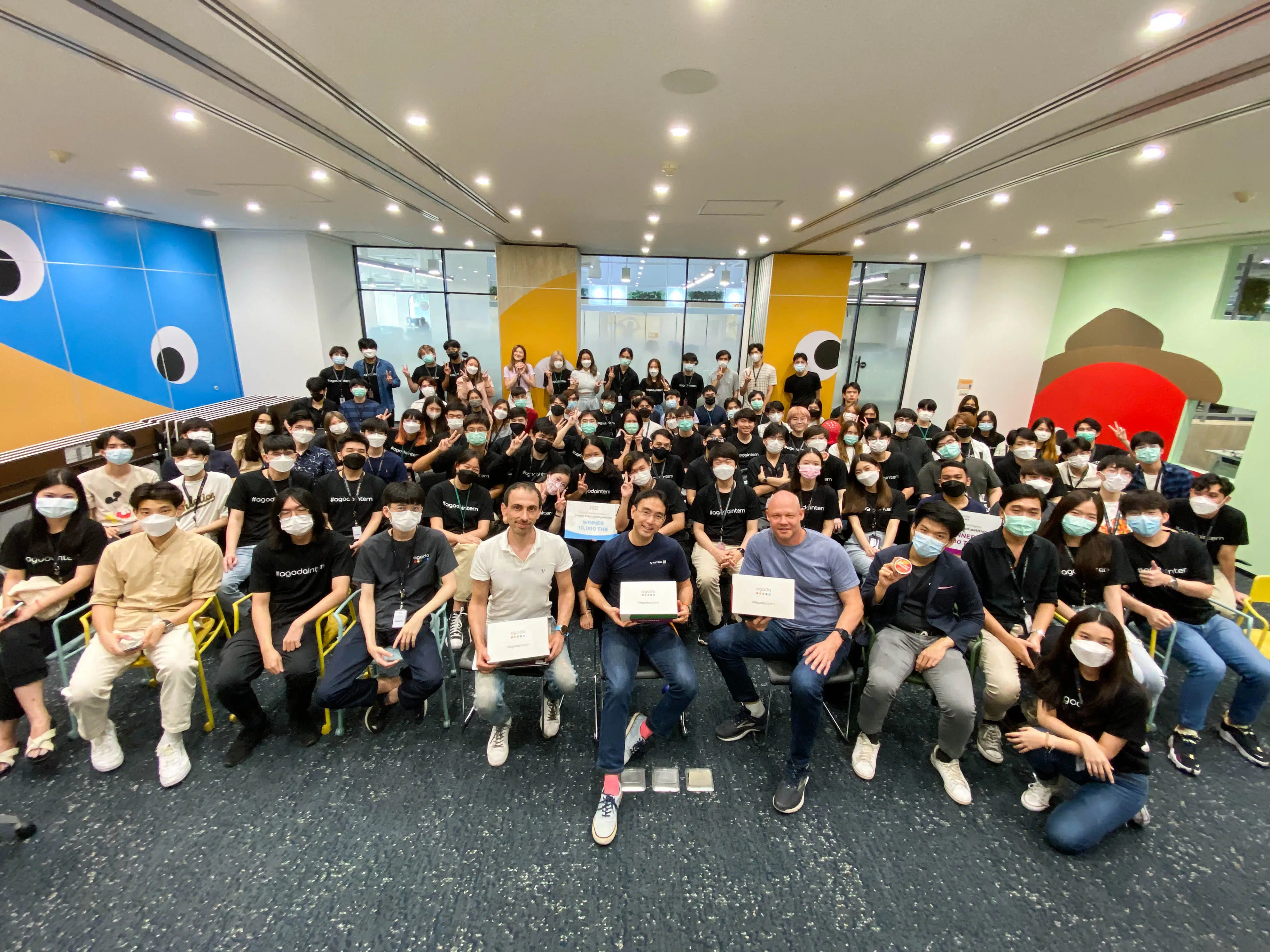 The internship program was designed to kick-start our interns' careers and enrich their skills well beyond their daily job duties. Throughout the summer, we put together a full schedule of talks and activities to share valuable career lessons and keep our interns engaged. On their first day, our CEO Omri Morgenshtern, former intern Aaditya Ugale, and the Employer Brand team greeted the interns with a fun welcome session.
Other talks included Design Thinking with Stefano Bertani (Senior Product Manager), Project Management with Alexander Kemmer (APAC Program Director), Different Work-style Preferences with Jasmine Bakshi (Senior Manager, Organizational Strategy and Development), Presentations and Storytelling with Varuntida Varutbangkul (VP of Product – Core Supply & CEG), and Introduction to CSR and Sustainability with the CSR team.
On top of these sessions, we made sure the interns got a special welcome box, had time to connect with their cohorts, and took home a bag full of good experiences and memories. We collaborated with the Bangkok-based craft ice cream brand Guss Damn Good to create a flavor that portrays life at Agoda and launched the "Your Best Journey" ice cream first with our summer interns.
Showcasing the best through the Intern Pitch Competition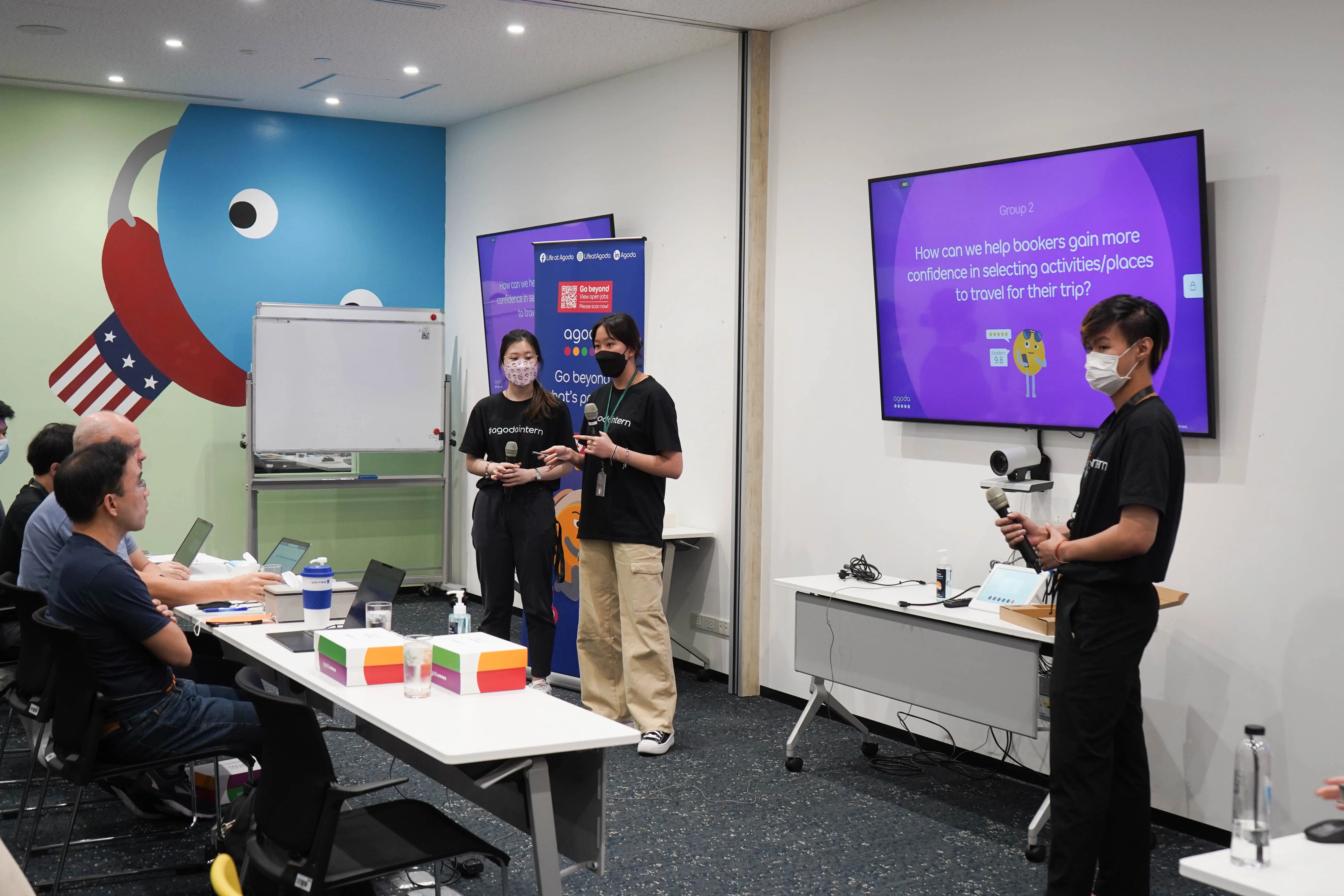 Cross-team collaboration is a big part of life at Agoda, so it was natural to include it in our internship program. We ensured our interns could get to know their peers and network with employees from other departments by hosting an intern pitch competition with the prompt: "How do you envision Agoda as a one-stop travel app?" In the lead-up to the competition, the intern teams were mentored by Agodans from the Product, People, and Strategic Partnerships teams. These mentors met with them one-on-one, advised them on their presentations, and were there to answer any questions along the way. Finally, the interns presented their pitches to a panel of senior leaders.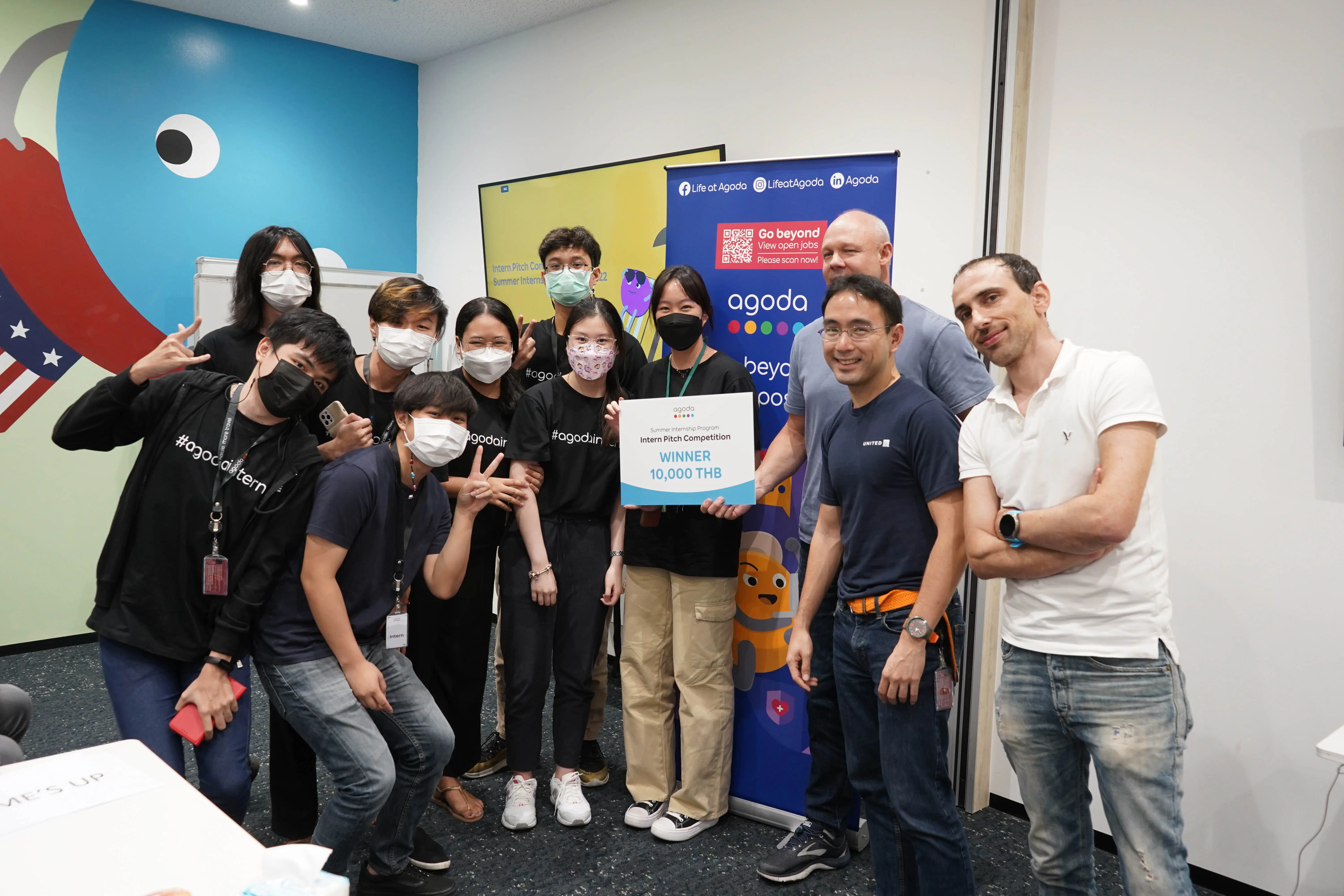 The pitch competition was a day to remember. Spirits were high, and Guss Damn Good and Red Diamond Coffee were also on hand with delicious ice cream and coffee to keep the energy up. Phil Wong, Senior Director of Marketing, shared that he was "extremely impressed by the storytelling and data-driven insights of the pitches" and noted that the program was "well-designed for interns to grow and ensure that they will make a big impact on the world." He wasn't alone in his praise. Jeff Lee, Vice President, Customer Experience Group, also complimented the interns, remarking that "the quality of the intern pitches and presentations blew me away. No way I could have done that as an intern!"
More photos from the pitch competition
Read on to hear more about Agoda's summer program from the interns themselves.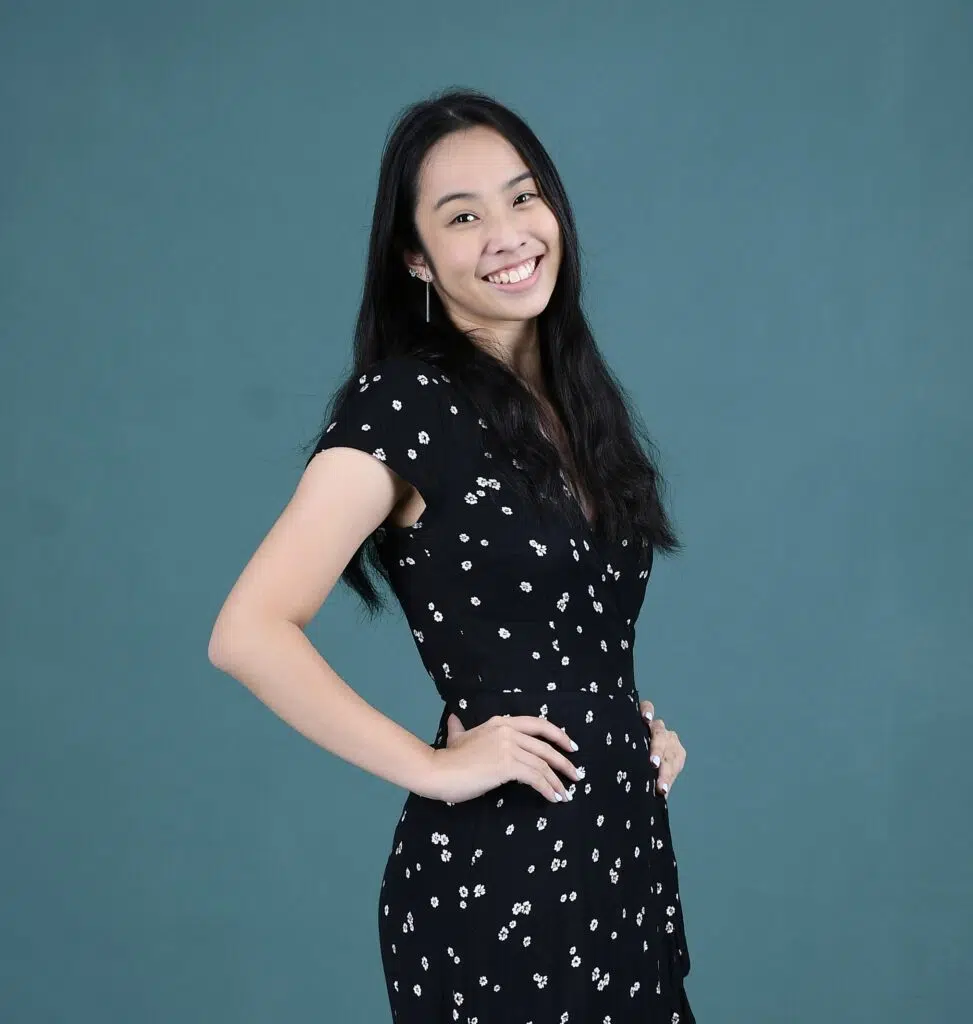 Sani Manomaiphibul
Role: Advertising, Sales & Operations Intern, Agoda Media Solutions
Department: Partner Services
Studying: Economics at Barnard College, Columbia University
I worked on launching ads, generating leads, and starting new initiatives for Agoda Media Solutions. During my internship, my main targets were outreach and generating extra revenue for Agoda.
My team was very welcoming and generous and taught me a lot about sales and managing pipelines. Most importantly, they taught me how to use and leverage data to make a real difference in communicating with users and clients. The most memorable parts of my internship were our team lunches and getting to know people on the wider Partner Services team. Overall, it was a great opportunity to work with people with experience in the field and provide valuable insight to better Agoda's sales pipeline.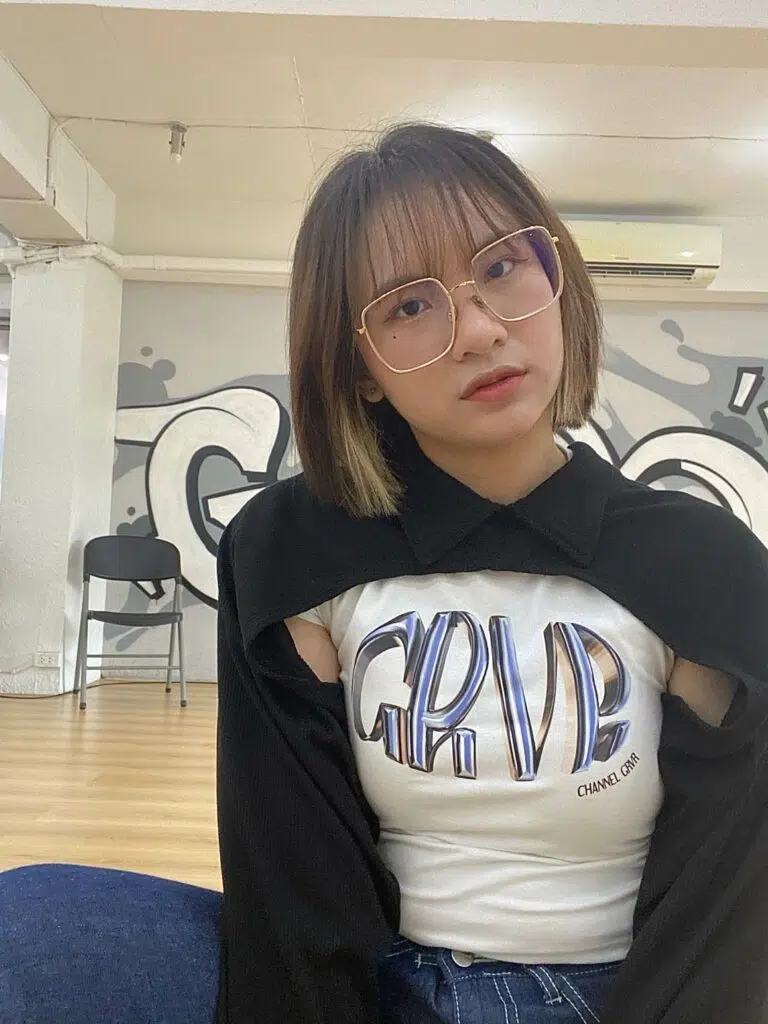 Chanyanuch Ingkayakul
Role: Supply, Innovation & Strategy Intern
Department: Partner Services
Studying: Financial analysis and Investment, Bachelor of Business Administration at Chulalongkorn University (International Program)
My work involved pulling data by writing SQL, cleaning and analyzing data using statistical approaches, developing use cases and strategies, creating presentation decks, and proposing them to stakeholders. I mainly worked on one major project with my manager to analyze the data and propose a strategy that could be leveraged from the output.
I would say that the team I worked with is like a dream team. Aside from the fact that everyone is an expert in their field, they are also friendly, funny, and supportive. They communicate well with each other and have good teamwork. Everyone helped me a lot throughout my internship. I learned to write SQL and gained analytical, statistical, and stakeholder management skills. Working in a flat and culturally diverse company allowed me to express my ideas, strengthen my abilities, and broaden my perspectives in both the business world and the real world.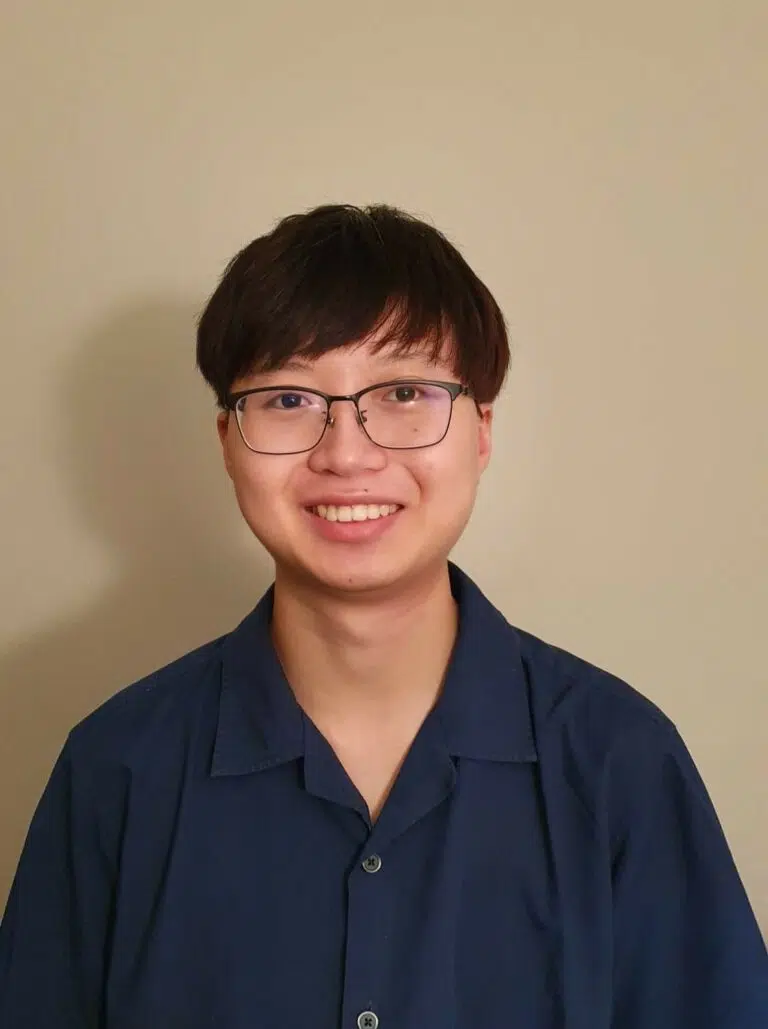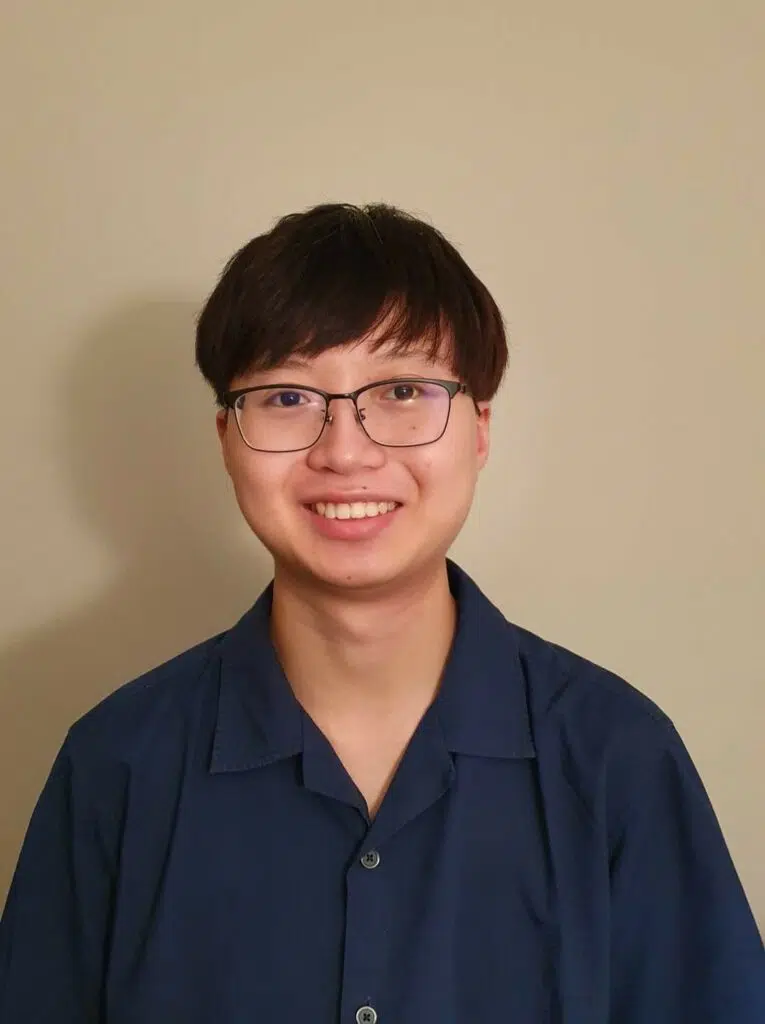 Krirk "Muang" Nirunwiroj 
Role: Software Engineer Intern (YCS Desktop)
Department: Technology
Studying: Computer Science, Data Science, and Mathematics at the University of Wisconsin-Madison
I mainly worked on backend tasks through the Scrum framework and cooperated with other teams as needed for each story. Occasionally, I got to work on the UI side, where I improved the clarity of descriptions on the YCS website.
Everyone on the YCS team was kind and helpful. They maintained professionalism yet were supportive and ready to help with any problem I faced. I was so glad to be a part of this team for my internship. My programming skills improved tremendously. I learned new programming languages and appropriate coding practices. More than that, I learned about website and application development processes within a real tech company. This experience helped to polish my abilities for future employment in this career path.
The Intern Pitch Competition was what impressed me the most. It was like working in a startup: with such a small group of people from different departments, everyone had the opportunity to contribute their unique abilities and talents.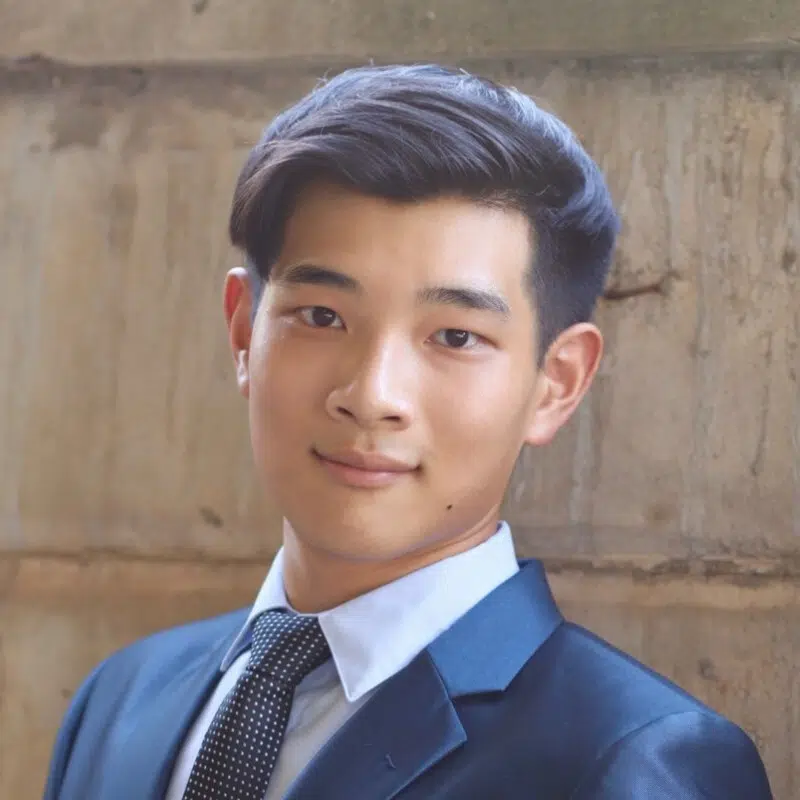 Asawin Leeanantsaksiri
Role: Finance Organizational Development Intern
Department: Finance
Studying: Bachelor of Commerce at the University of Toronto
During my internship, I was very fortunate to report directly to the CFO, Mai-Linh Bui. I worked closely with her on several projects, which sharpened my interpersonal, analytical, and creative skills. These projects included revamping the Finance Department's intranet site, creating slide decks for the department and executive meetings, and analyzing different teams' performance metrics to adjust the new quarterly team goals.
Working with Mai-Linh taught me how to utilize appropriate resources at the right time and for the right tasks. I also learned that being open to new ideas allows creativity and efficiency to flourish. The most memorable part of my internship was the Finance Department's social event to welcome our finance folks back to the office, where I got to meet many of my colleagues in person for the first time.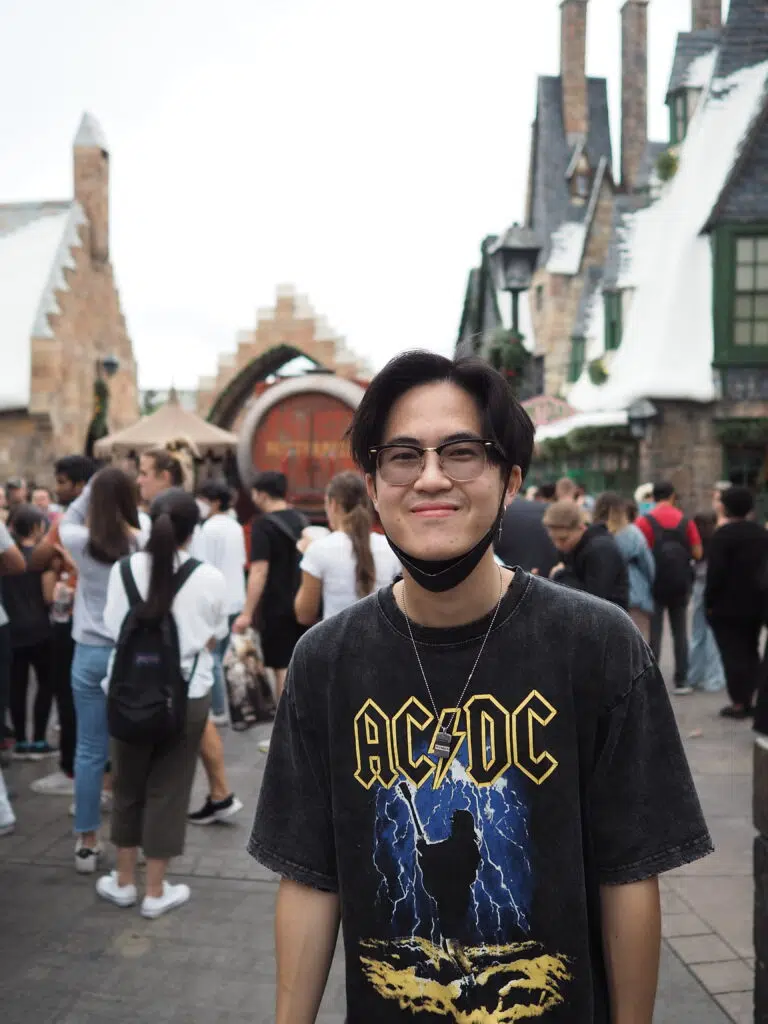 Sila Visutvatanasak
Role: Operational Excellence Project Management Intern
Department: Customer Experience Group
Studying: Accounting and Finance at the University of Illinois Urbana-Champaign
During my internship, I was in charge of migrating different CEG tools onto one centralized platform for our customer service agents. In this project, I had to analyze the various key functionalities that our customer service agents require to maximize their working efficiency, while making it as effortless for them as possible.
The entire internship period was exciting, with new things to learn every day. Agoda gives its interns the autonomy to grow and work directly on projects, which you don't see very often in other companies. The employees are really nice, and I was able to get to know lots of them both in and out of work. Overall, this internship has allowed me to learn many things, and I am very glad to have been part of the Agoda team over the summer!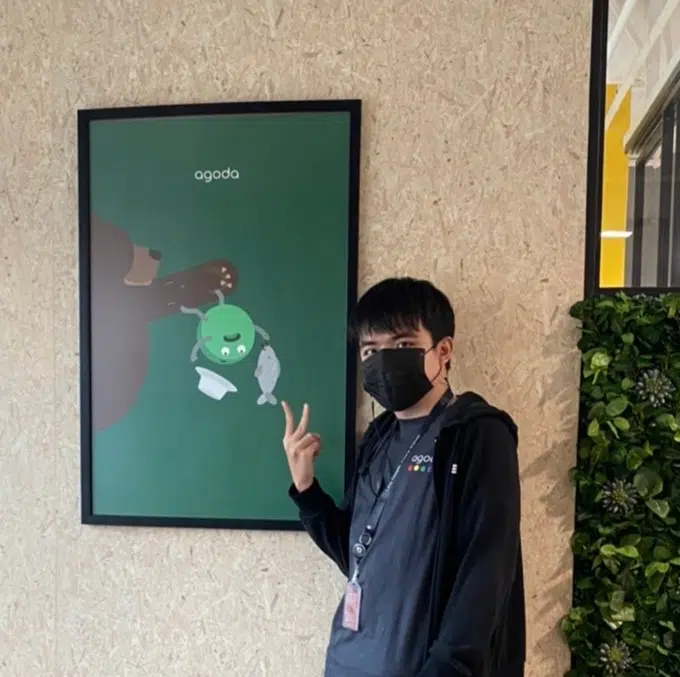 Pokkrong Pitukchonlasub
Role: Database Development Engineer Intern (DBDev Product Support)
Department: Information Technology
Studying: Computer Science at Chulalongkorn University
My primary focus was reviewing each new SQL function (stored procedure) to ensure it would run smoothly and efficiently on the real system. I also occasionally worked on creating SQL scripts to support my team's work.
I was the only person from my university faculty to join this internship program, but working here didn't make me feel alone at all. My team gave me a warm welcome from my very first day at Agoda, and they taught and helped me a lot during these two months. My fellow intern friend on the team was also supportive and full of positive vibes – I quickly felt like we'd known each other for a long time.
I want to thank Agoda for giving me this great opportunity and unforgettable memories. This internship experience taught me not only SQL and database management system skills but also many other things, such as communication skills and carefulness in every aspect of work. I really appreciate this moment in my life.
Stay tuned to our next Summer Internship Program on Agoda's LinkedIn page.