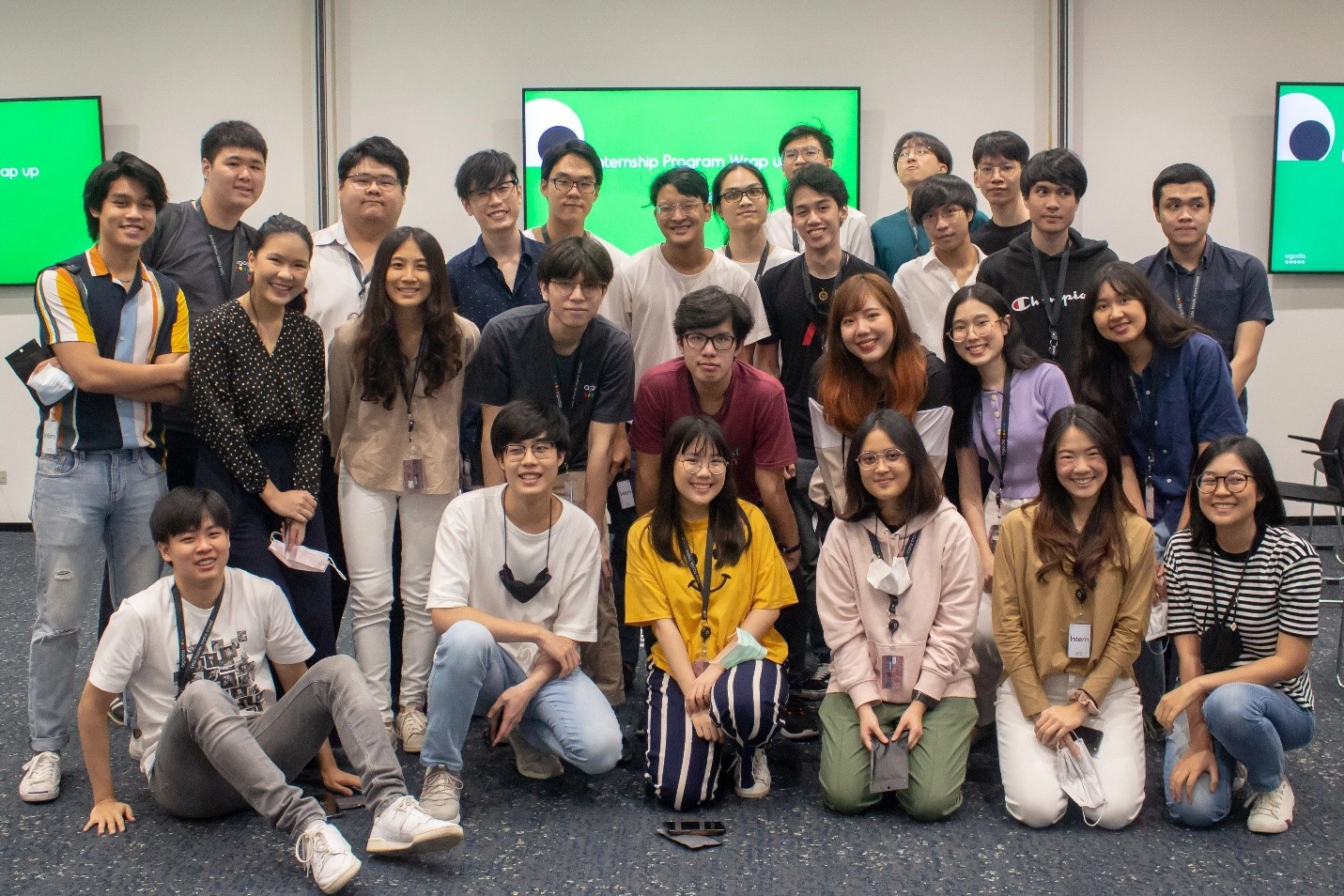 Agoda Internship is an annual Summer Internship program at our Bangkok office for undergraduate students, offering ambitious talent a chance to work in a world-class, collaborative environment and deliver real business results.
Throughout the internship program, students get a chance to attend useful workshops conducted by Agodans from all functions that will equip them with the skills to kick-start their career. By the end of the program, they also get to present a business case to a panel of executives.
Like any other plans in 2020, Agoda Internship had gone through a change. We could only hire Summer interns for the Tech team and they had to start their internship during our work from home period. Despite some difficulties, we were able to run workshops and trainings for our interns to finish up the program with their business pitch.
From having to start the internship from home to tackling a business pitch, here's what our 2020 summer interns have to say.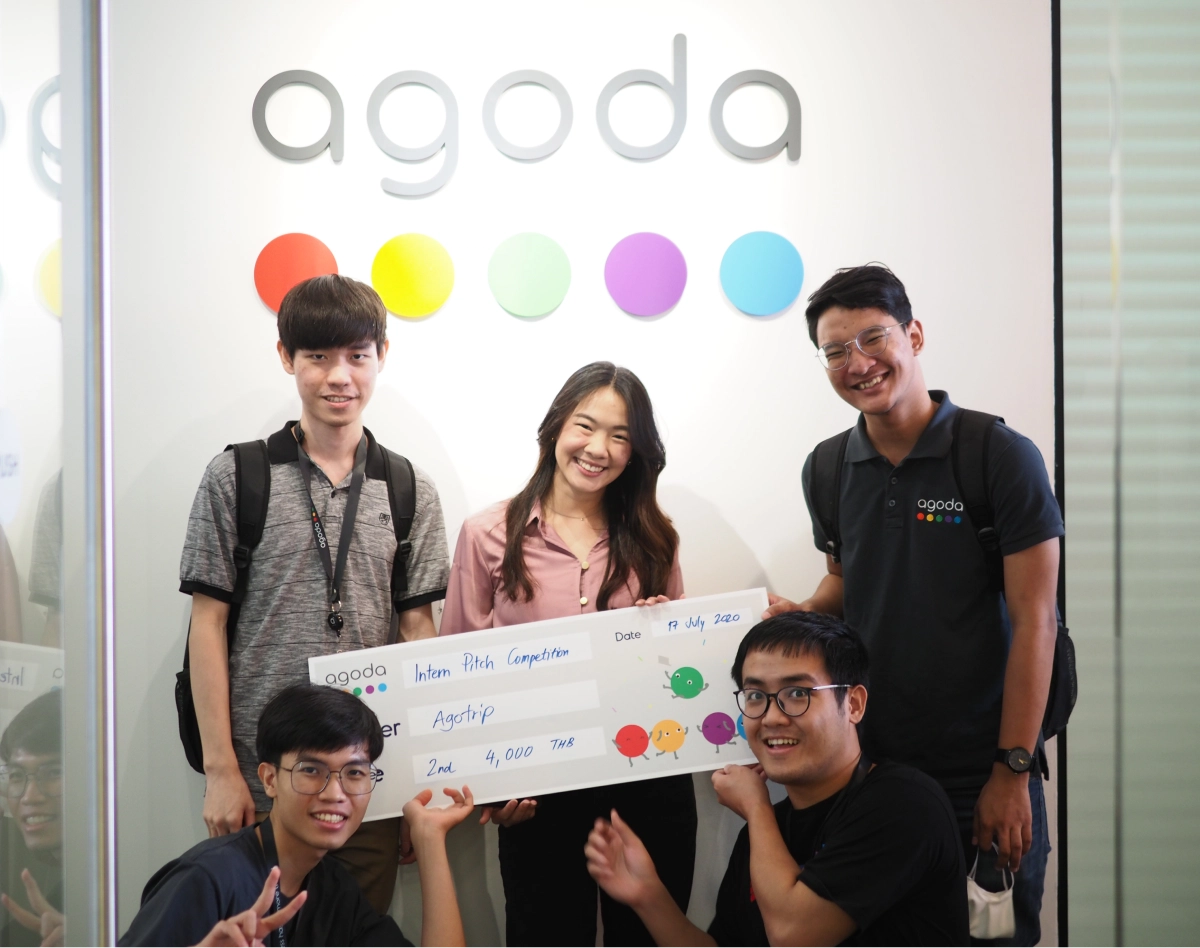 Bunyarit (bottom right) and his team awarded the 2nd price from the Intern Pitch Competition
Bunyarit Puangthamawathanakun
Computer Science, King Mongkut's University of Technology Thonburi
During the internship, I not only learned from working in the Full Stack team but also in several intern sessions. They were also opportunities to get to know other interns and learn about Agoda business from other departments' perspectives.
The main section was the Pitch Competition. It was a competition organized for Agoda interns to pitch their ideas about the things that would disrupt the world of travel. It seemed too big for me because I had no idea about the business.
At the end of the competition, our group won second prize. I have learned many things such as business such as pitching skills and presentation skills. The business presentations are different from other kinds. We talk with story, data, and calculation, plus ideas.
I have learned more than Tech during the internship at Agoda. Deep tech leads to less interact with people. However, I have collaborated with many people which improves me in many skills. I learnt how to keep the good environment for working and it will be so helpful for me in the future. In my opinion, I feel so lucky to do the internship at Agoda.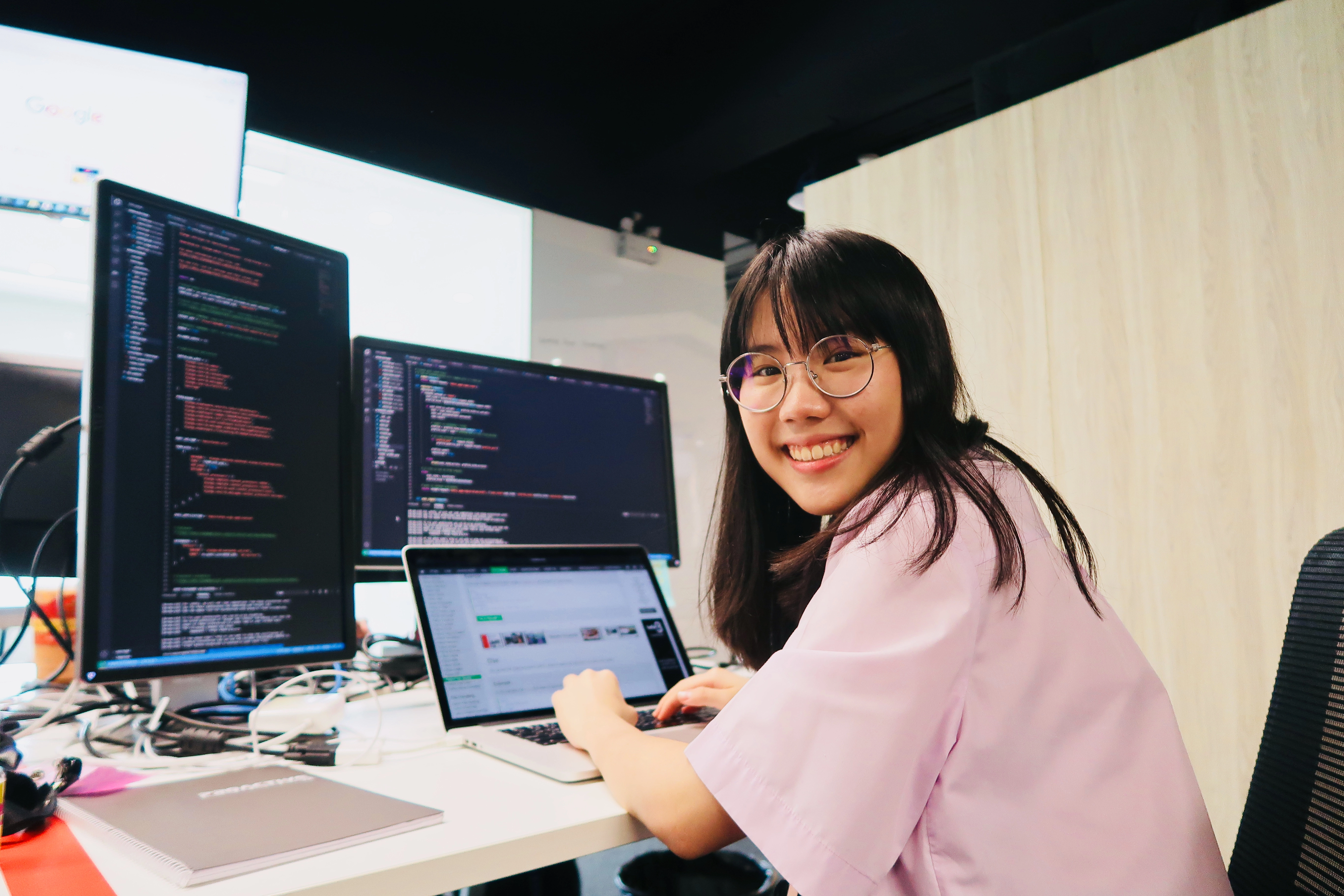 Nankamonporn Sirisakunngam
Computer Science, Princeton University
"I am in a team with four other interns: Gyo, Saint, Golf, and Tiger. Our first task was to write a simple website and dockerize it. Before my first day at Agoda, I used to think that I already knew a lot about coding. However, on the first day, while my friends were working hard on the task our manager gave us, I was sitting there completely blank.
Docker container. CRUD. JSON. JWT….?! What are these?
That was when I realized that what I know is not even 1% of what software engineers use in the real world and I still have a lot to learn. On that first day, I imagined my next two months to be super stressful.
What if I couldn't catch up with everyone in my team? What if I could not contribute anything meaningful to the company? However, two months here prove me wrong. There is nothing like that and there will never be.
In fact, here at Agoda, people love questions and they make sure that all our questions are answered! One time, I and my intern friends were about to deploy the website we were working on and wanted to know more about Kubernetes. After telling our mentor, P'Pum, she immediately organized a session for us and invited engineers who work with Kubernetes to come and teach us.
Here at Agoda, no one expects you to know everything. In fact, we learn while we work, and we learn from one another. This is what I like most about interning here! Everyone believes in you, which makes me believe in myself as well.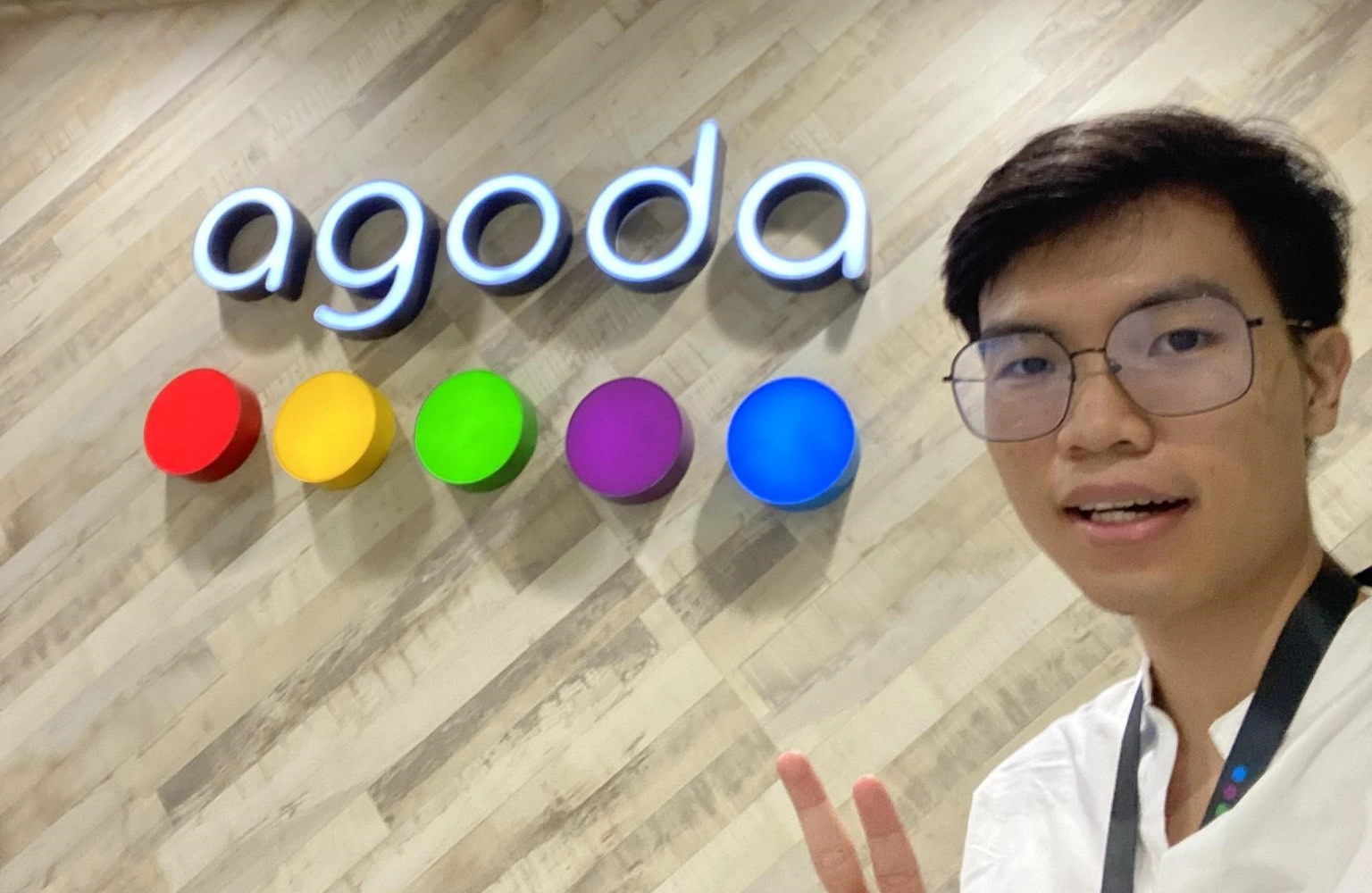 Korbboon Thuswongsa
Computer Engineering, King Mongkut's University of Technology Thonburi
I was assigned to the Agoda Homes team, which took care of non-hotel accommodations. We use agile and the scrum framework here. So, I got the chance to put what I learned into practice: backlog grooming, retrospective and standup meeting. Every morning, we update statuses with the product owner and within the team.
When we do backlog grooming with seniors in the team, it helps us evaluate what we have done and what we can develop. And we also track what we try to improve. All these are the experience I couldn't find in classroom which makes me understand agile a lot better.
What has also impressed me was when I had to start my internship during lockdown and couldn't go into the office because I was in my hometown, Agoda managed to send the laptop all the way there, with a nice welcome pack too.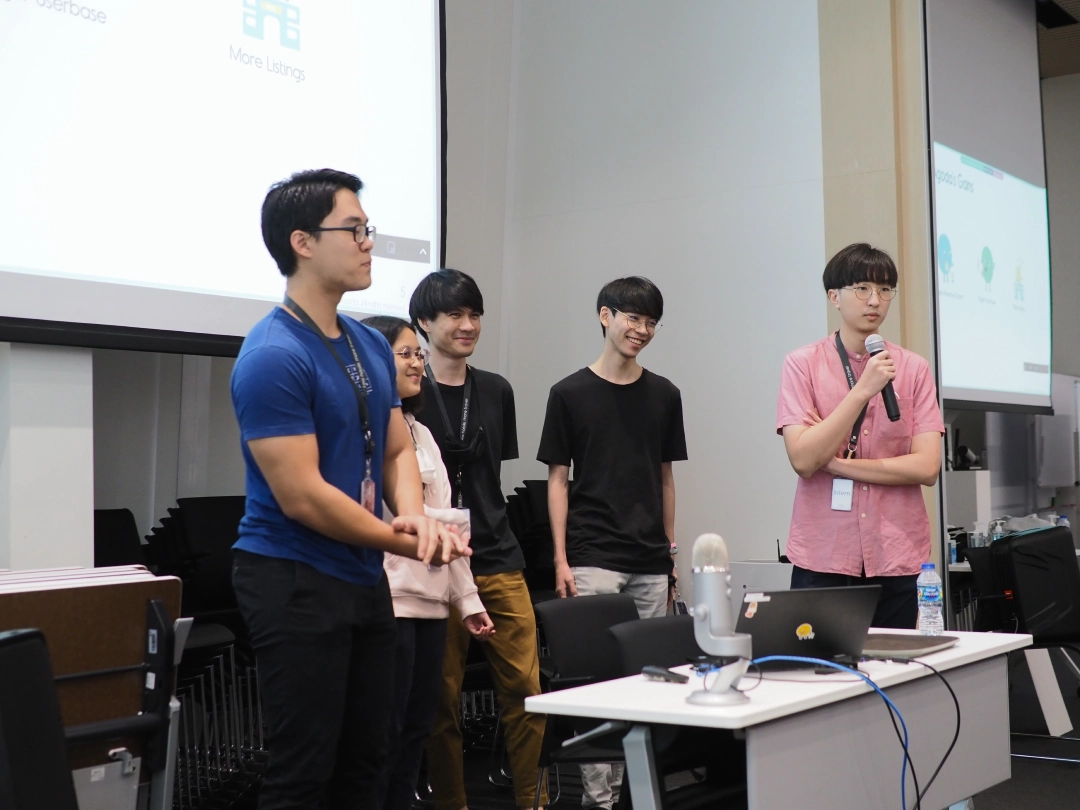 Krit (rightmost) presenting in the Intern Pitch Competition
Krit Cholapand
Computer Engineering, Chulalongkorn University
Agoda is a huge company. In an organization that has 1,000+ developers, the tools and the systems used here are advanced and a rare experience. There were also a lot of new stacks for me to learn about and it was super fun. Employees here come from many countries, so we use English to communicate.
When we had to do our internship from home in the first month, Agoda supported us by lending us laptop, a monitor and a dock so we could work efficiently.
But I liked it better when we were back in the office, because I was able to chat with my teammates in person and I get the cool workplace experience. What came with that were the intern sessions, from data driven workshop and business talks to the intern pitch competition. These were all insightful and great opportunities to meet interns from other teams.
Want to learn more about the Agoda Internship program? Visit our Students page.

Tantai Layluxsiri
Information and Communication Engineering, Chulalongkorn University
Strangely enough, the most significant thing I learned here is not complex libraries nor the application, but something much more fundamental that can be applied in any form of programming, such as the SOLID principles, clean architecture, dependency injection, or clean codes.
It may seem like a no-brainer thing to those more experienced than me. However, I felt like if I had utilized these concepts when I was making my own media player app two years ago, I probably wouldn't have as much headache trying to read the spaghetti codes, I made based on instinct alone and expansion of new features on those old legacy codes might have been possible.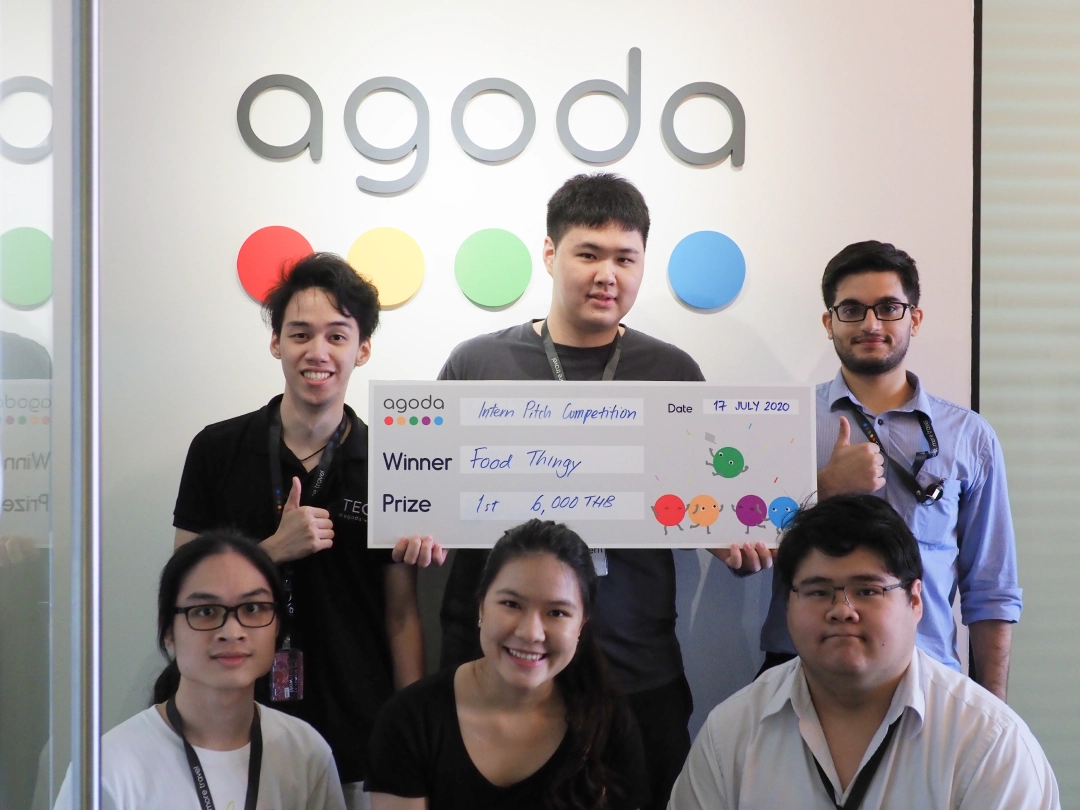 Worapat (top center) with his winning team at the Intern Pitch Competition
Woraprat Saelo
Computer Engineering, Chulalongkorn University
The team I'm assigned to is one of the most diverse teams I've ever work with–we have a European manager and engineers from many different parts of Asia.
They're all very responsible and highly skilled people. I've learned a lot from them not only technical things but also food, career, culture and many more. It is with them that I've tried my first Indian food and decided my first solo trip.
My favorite moment at Agoda is during one of my usual solo dinner after work when I was trying to eat a hamburger with wasabi, I was joined by my manager's manager and have a very good conversation with him.
He gave me a very good career advice that will deeply impact my decision making for a very long time even though I've read the exact same line before in a book but hearing it in person from the man who took them seriously make those advice exponentially more valuable.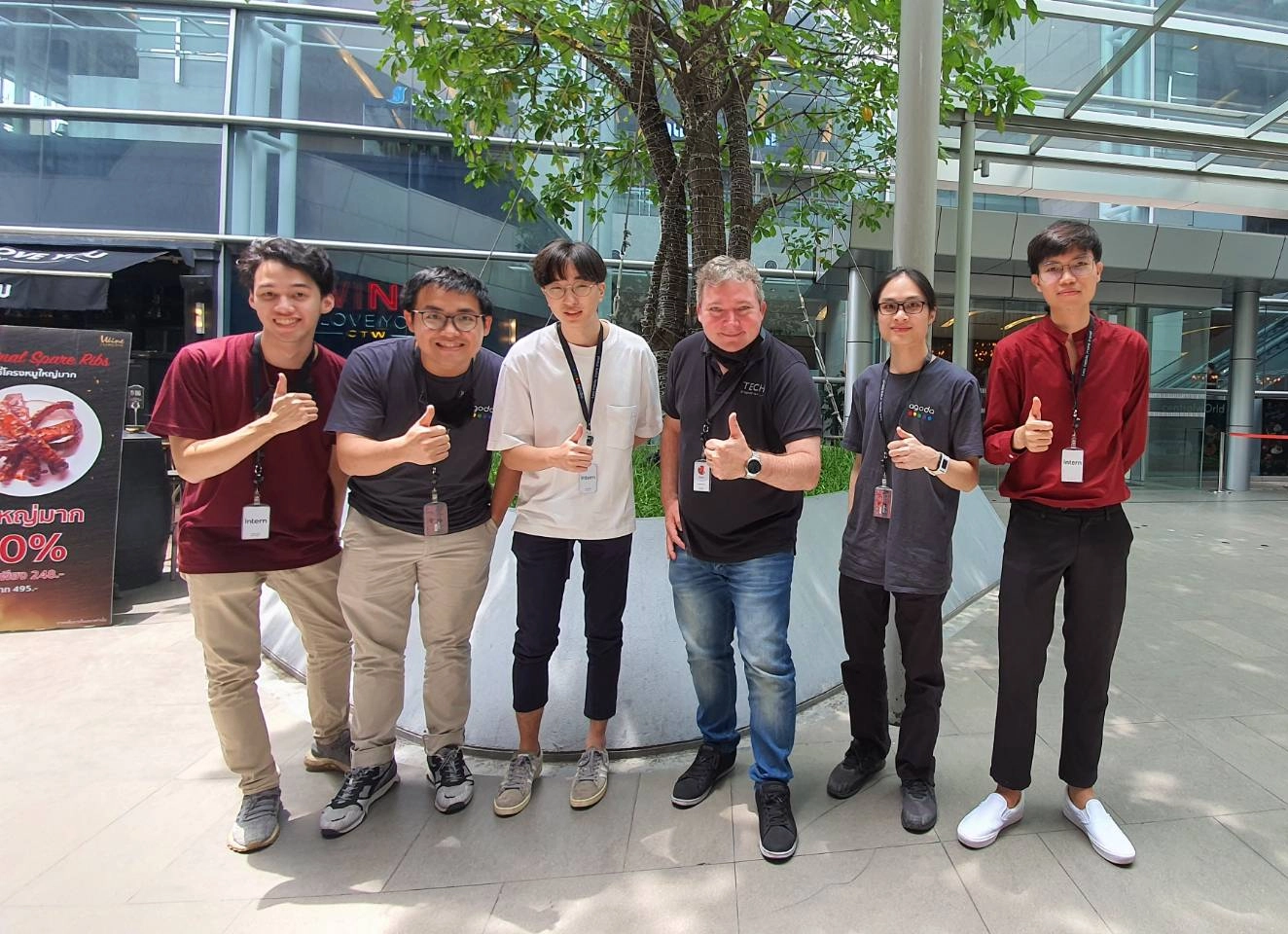 Thaweesak (leftmost), his intern team and manager 
Thaweesak Saiwongse
Computer Engineering, King Mongkut's University of Technology Thonburi
What has impressed me the most in the Agoda culture is how people take ownership. Here, we don't silo. Everyone sees the whole picture as an Agoda product that they want to develop it to be the best. When an urgent issue arises, teams come together to fix.
There was one time that we needed some resources from backend, but there was an issue going on with the resource. So, our team jumped in and pulled the request to fix it, instead of waiting for the resource owner to do. And that enabled us to move faster.
Read more on Thaweesak's own blog (in Thai).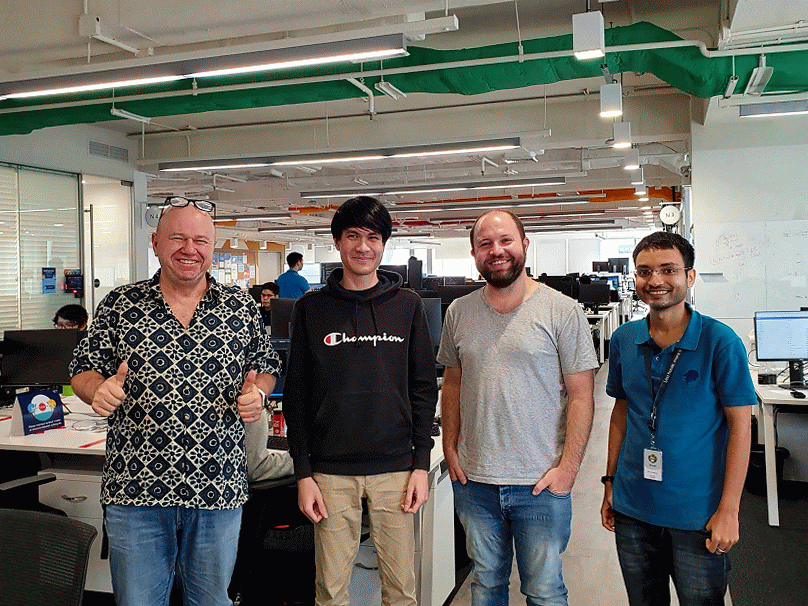 Nut (second from left) and his team
Nut Chukampaeng
Data Science and Business Analytics, King Mongkut's Institute of Technology Ladkrabang
I was assigned to the Personalization Data Science Team, where Mr. Shuki is the manager of the other 3 data scientists: Philip, Shwet, and me. I'm the only Thai in this team. Our team was in charge of personalization in Agoda users' experience, like giving them the hotels that they're looking for.
Our goal was to identify what people need and designing or producing services and products to meet customer's individual requirements.
During my internship, I owned a project about the Recommendation System. The goal is to predict hotels that the customer may have an interest in. I worked as a researcher, which was reading a lot of papers and trying to apply Reinforcement Learning for Recommendation System.
I also enjoyed the overall company experience here. Agoda has a lot of interesting internal tools that can help you to do your job. For example, Agoda customize Jupyter Notebook, which is a data analytics tool, to be own. It has many functions to help work easily. It's called 'Zoidberg.' And everyone here is always learning.
Each team and department in Agoda make sure to hold knowledge sharing sessions every week or month, so you can learn about things like newest tech tools and new projects in other departments. Moreover, the company also offers free online courses for employees to learn what they need.
In addition, Agoda's staff come from around the world. So, here you are not only learning about the work but also other cultures and languages.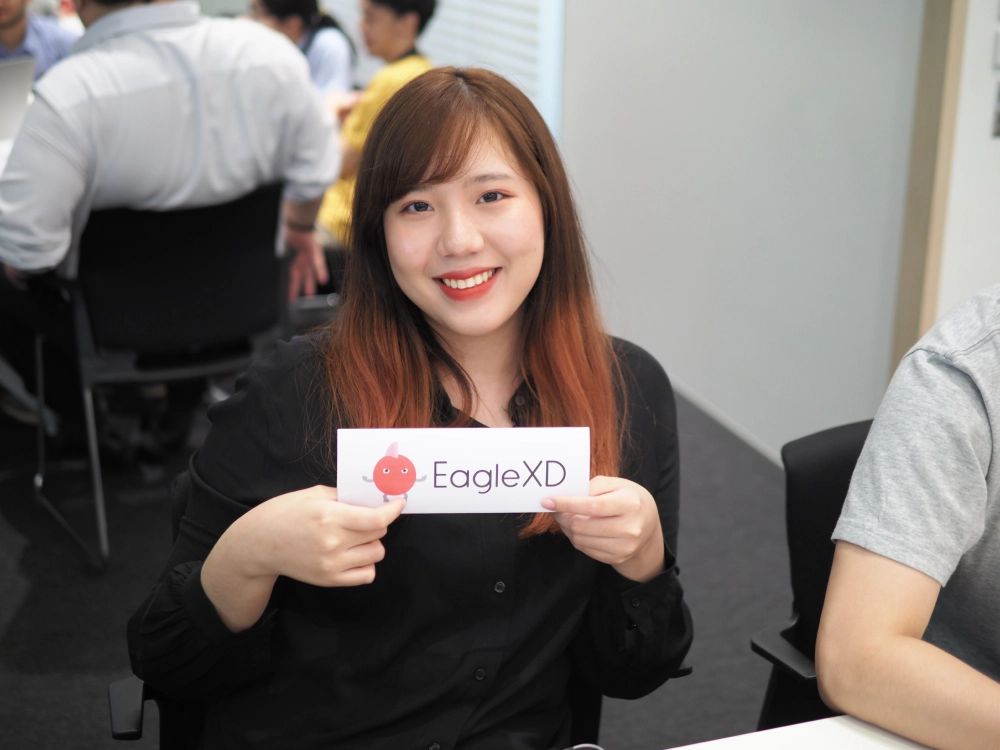 Samita Thongbut
Economics, Chulalongkorn University
During my internship, I have learned many things, both hard and soft skills, such as SQL (yeah, I'm economic student and I'm new to all IT stuff like this) and adaptability (Agoda is an international company, I feel like 50% of employees here are foreigners, so yes, I need to be able to adapt myself to this multicultural working environment).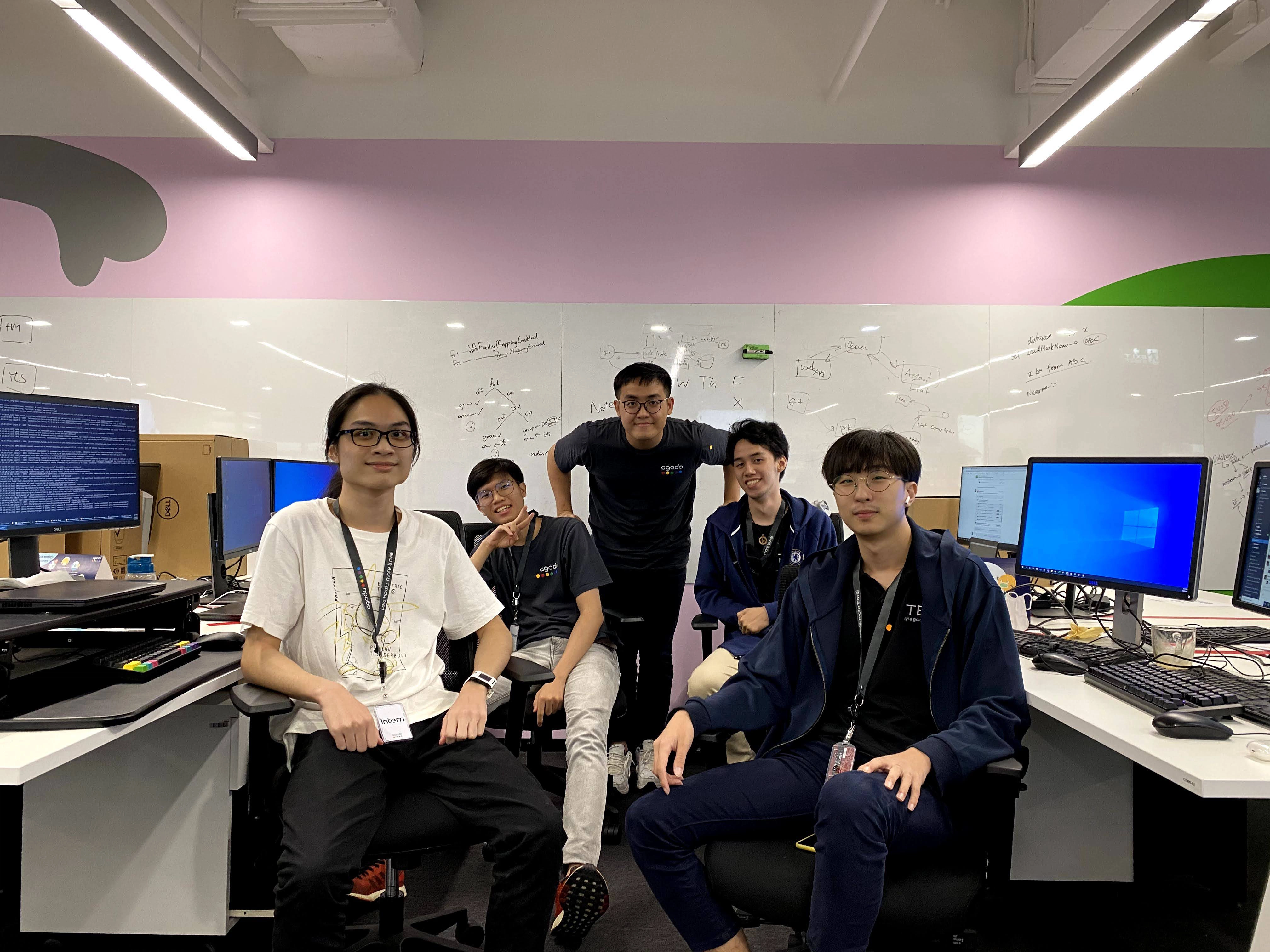 Nattawat (leftmost) and his intern team
Nattawat Jamlongrad
Computer Engineering, King Mongkut's University of Technology Thonburi
I had seen hosts of interns doing menial jobs in their internship, with no real learning progression. So when they mentioned during my interview was that I'd get to work on real projects, I got excited. I am happy to report that I not just had the opportunity to work on multiple real world projects, but also on a tech stack from frontend to database schema, or in other words, full stack.
I experimented and worked with React+, TypeScript, C#, .NET, and Microsoft SQL and my work also got deployed to production! However, there was one time that the deployment by our team suddenly failed. We then investigated the cause and found the issue.
In all this, there was something that I noticed that has since stayed with me: although we failed in production twice, our managers and team seniors didn't make us feel bad about ourselves. That was comforting and it brought upon a great learning experience that highlights the importance of rigorous quality and functionality checks before we switch on a new feature in our product.
Now, I'm proud to say the feature that we made is now up and running on Agoda!
Wish to intern with us for summer 2021?
Join us in Agoda Internship, Summer 2021.