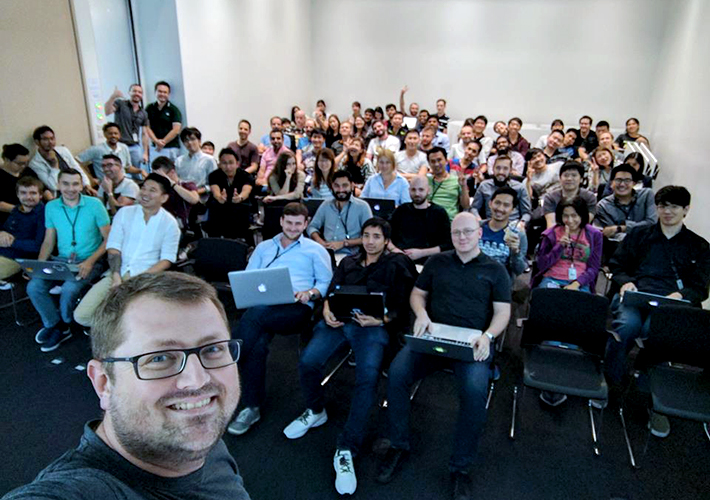 Leonid Olevsky (front-left) and Agoda's mobile team.
Leonid Olevsky is a Development Manager in Agoda's mobile team. He still remembers how different he felt when he first joined the team two years ago. "It was fun," explains Leonid. "I used to be the one who only works at work, but here is totally different. We go out, play games, and do cool things together; sometimes it feels like I'm back to high school again. We've grown from 20 to 100 people so far, but this culture still stays the same."
As part of the team that is responsible for building the best mobile app experience for Agoda customers, Leonid's job is to manage the development process and lead the team for the best technical and quality solutions. "We're a big team split into several scrums, with every scrum working on different parts of the app. With so many scrums, there needs to be someone who makes sure that stories are well defined, scrums have all they need, and the team as a whole is synchronized. And that's our job as development managers," describes Leonid.
From expectation to reality
Originally from Israel, Leonid moved to Bangkok with his wife and two kids in 2016 to work at Agoda. He admits that before he moved here, he had some wildly imaginative expectations about Bangkok. "I'd never been to Asia before, so when I was offered the job in Bangkok I thought that I'd be coding in the jungle," recalls Leonid.
To his surprise, the city was filled with modern skyscrapers, a sky-train network, and a tech scene that was rapidly booming. "I knew a lot about Europe, but I had never known anything about Asia. By working and living here, I learned a lot about the history and culture of different Asian countries. My teammates from all around the world have also been a big help."
Leonid couldn't be happier that life in Bangkok has surpassed his expectations. However, there was one thing that he felt was still missing: a sense of community amongst Bangkok-based developers. "I missed networking with developers to share, learn, and collaborate. So I teamed up with some of my colleagues to do something," says Leonid.
Building developer communities from the inside out
Leveraging his experience co-organizing GDG Beer Sheva back in Israel, Leonid played a key role in kicking off Tech@Agoda, a tech knowledge sharing meetup covering a wide range of topics from metaprogramming to Kotlin. "It's important to find and connect with the people working on similar problems as yours through on and offline developer communities. Otherwise, you'll struggle alone and might repeat the same mistake that someone else has already made," shares Leonid.
Initially a small internal event, the meetup has now grown massively into the community of 1,200+ developers. "We are the team behind one of the world's largest and fastest growing travel platforms," says Leonid, "And we have a lot of knowledge to share, so we always push forward to contribute to the community."
If you're living in or visiting Thailand, come join Leonid and teammates at the next Tech@Agoda meetup. You can also visit Agoda on GitHub to check out the team's open source projects like Kakao, Kotlin DSL for Android automation testing.
A little advice for starting developers
As a developer with nine years of experience, Leonid stresses the importance of open-mindedness in career development. "Now is a very exciting time because everything is dynamic. There is no magic equation because what you know now might not even exist after a few years. So forget what the world says about highest paying programming languages or most in-demand platforms. What you really need to consider when choosing a job is whether it helps you learn different technologies."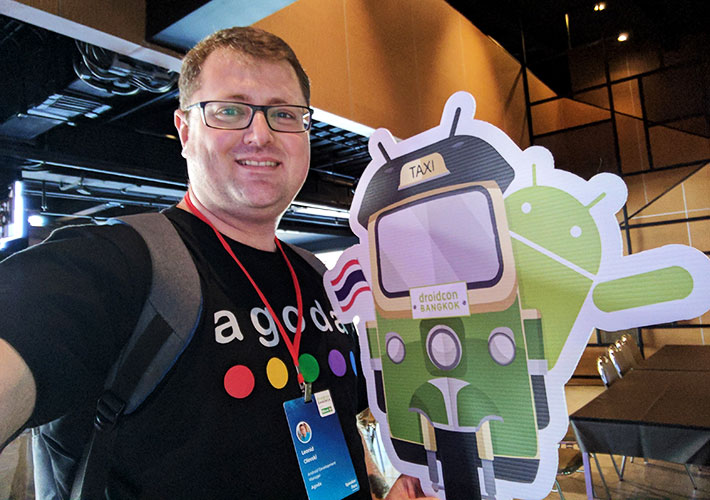 Leonid Olevsky attending Droidcon Bangkok 2017 as a guest speaker.
"It's true that many companies still prefer working in silos and sticking to conventional technologies. But in our team, anyone is welcome to bring up new technology and turn it into a new experiment. As a small community of techies ourselves, we grow from one another's perspectives and ideas."
Inspired by Leonid's story? Check out our latest mobile team vacancies.