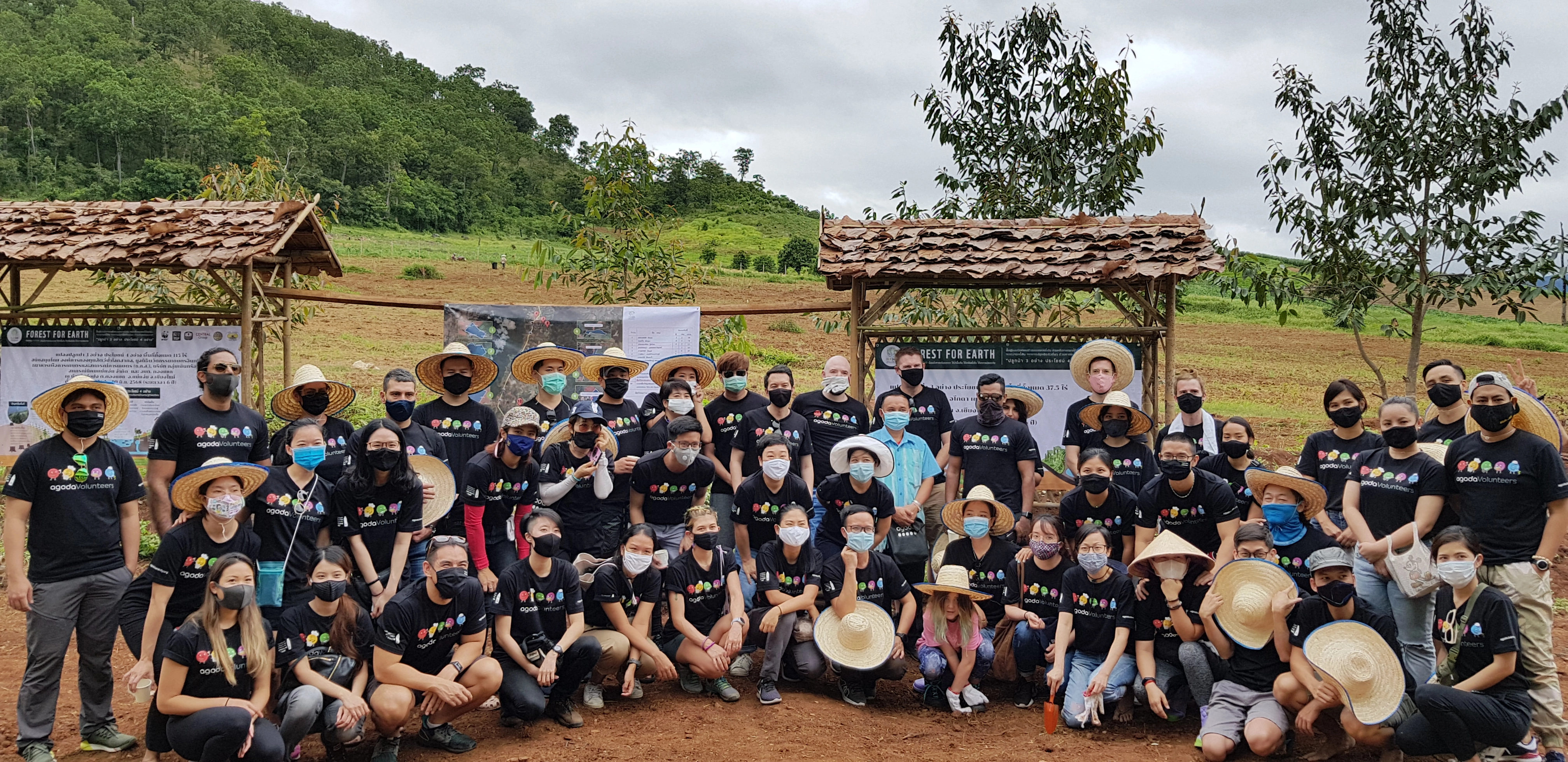 Last year, we kickstarted our partnership with WWF Thailand through a reforestation project on behalf of our Gold Circle Awards winning partners in Thailand and China. This year, we've taken a step further by inviting our employees and partners to come together and get their hands dirty.
On August 14, 2020, 47 Agodans from our Bangkok and Chiang Mai offices, including our CEO John Brown, went out to one of the project sites in Mae Chaem, Chiang Mai. There, we learned about sustainable farming and worked alongside some of our hotel partners, local community volunteers, and students from the School of Forest Industry Organization No. 13, to prepare fertilizers and plant seedlings.
Hear from our CEO, a WWF representative, our accommodation partner, our CSR team, and participating colleagues about why this project is much more than about planting trees.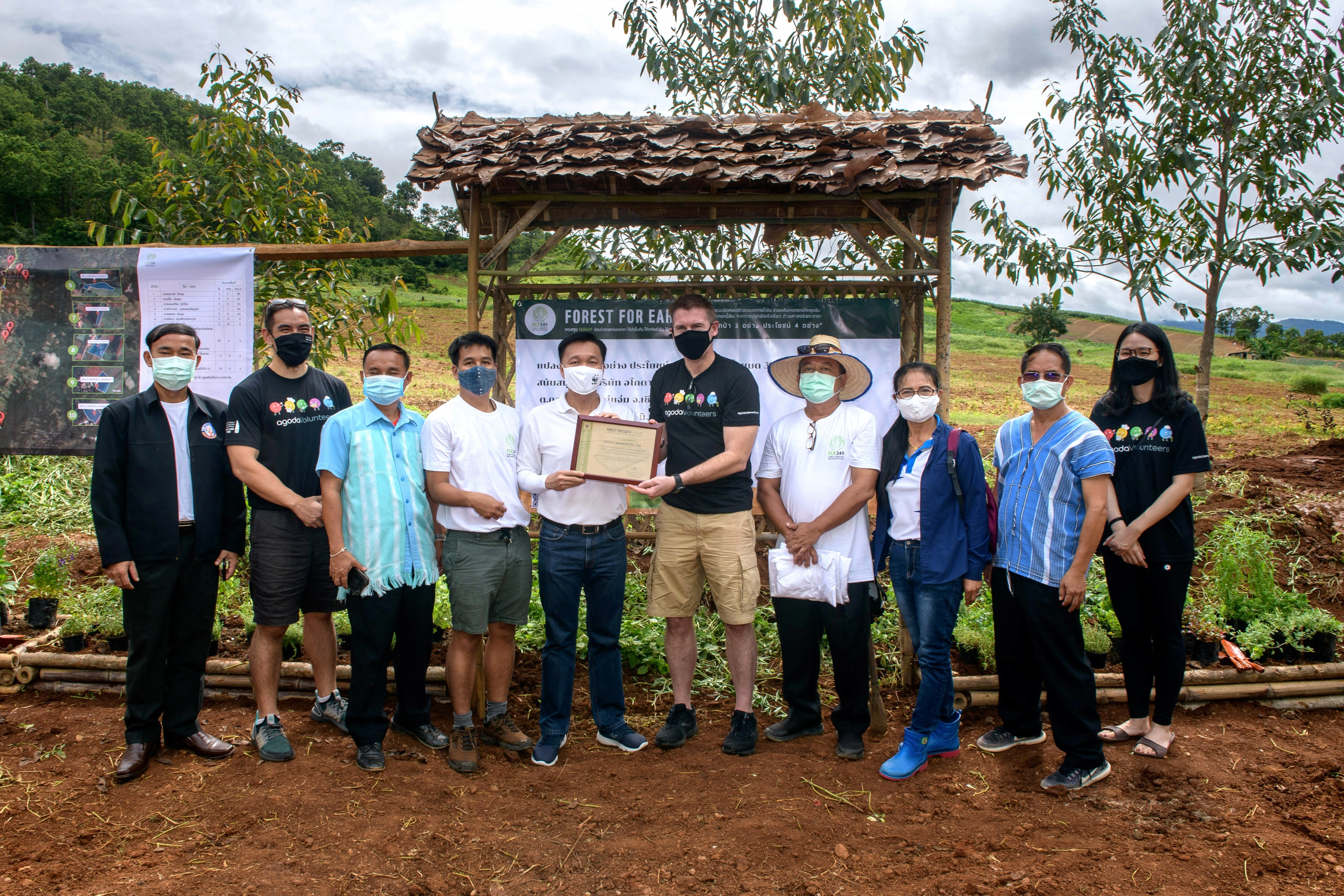 Three forests, four benefits: a sustainable model for reforestation
"We partner with an expert like WWF Thailand to build on top of the skills and experience that they have. One important thing that we wanted to make sure about this program was that it was sustainable. And that's exactly what the program is," said Agoda's CEO John Brown.
The project is part of WWF's Forest Landscape Restoration Fund 349 (FLR 349), an effort to bring back green spaces while also supporting smallholders and communities around them. This involves a mix of forest trees and various fruit and vegetable trees that generate four benefits: food, fuel, shelter and shade.
"By changing this plot of land from monoculture farming, which usually involves use of chemicals, to growing different types of plants, we're restoring the ecosystem, generating a value chain for the community around the area, and contributing to a better health for people. They will have food that is safe and surplus they can sell. The school right here can get safe food ingredients to cook lunch for students and reduce expense on food," explained Ply Pirom, Project Manager (Sustainable Consumption and Production) at WWF Thailand. "It is not just planting trees. We plant trees in a way that benefits both the ecosystem and communities."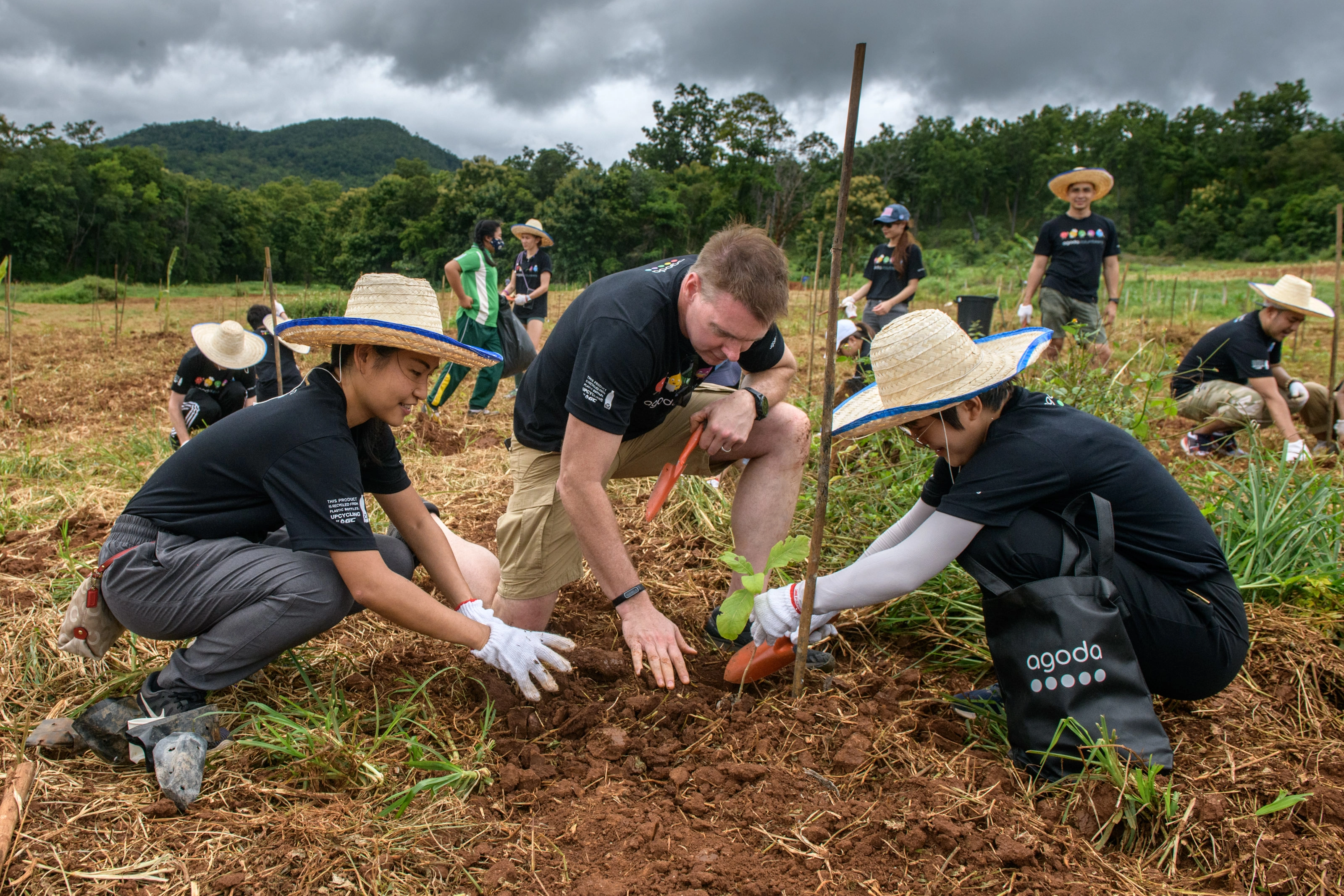 Plants in, plastic out: a more meaningful prize for Gold Circle Award winners
Though one of the most-visited cities in the region, Chiang Mai constantly suffers from issues like flooding, forest fires, and pollution. "Every year around March and April, there's pollution that affects travel in the city. Travelers also complained to us. So I'm glad that we're doing something to help reducing pollution together," shared Jiraporn Srimanut of S17 Nimman hotel, one of the three hotel partners in Chiang Mai who participated in the activity.
"We typically gave our Golden Circle Awards winning partners gifts and swag. But last year, we decided to gift the winning partners in Thailand and China a certificate that says we've planted 11 trees on their behalf," Kevalin Athayu, Manager of Sustainability and Global Affairs, said about the program. "This adds values to our partners in many ways. It involves them in Agoda's efforts to make travel more sustainable and increases the awareness of the customers. When customers visit the hotels, it gives them a sense that the hotel is part of the community."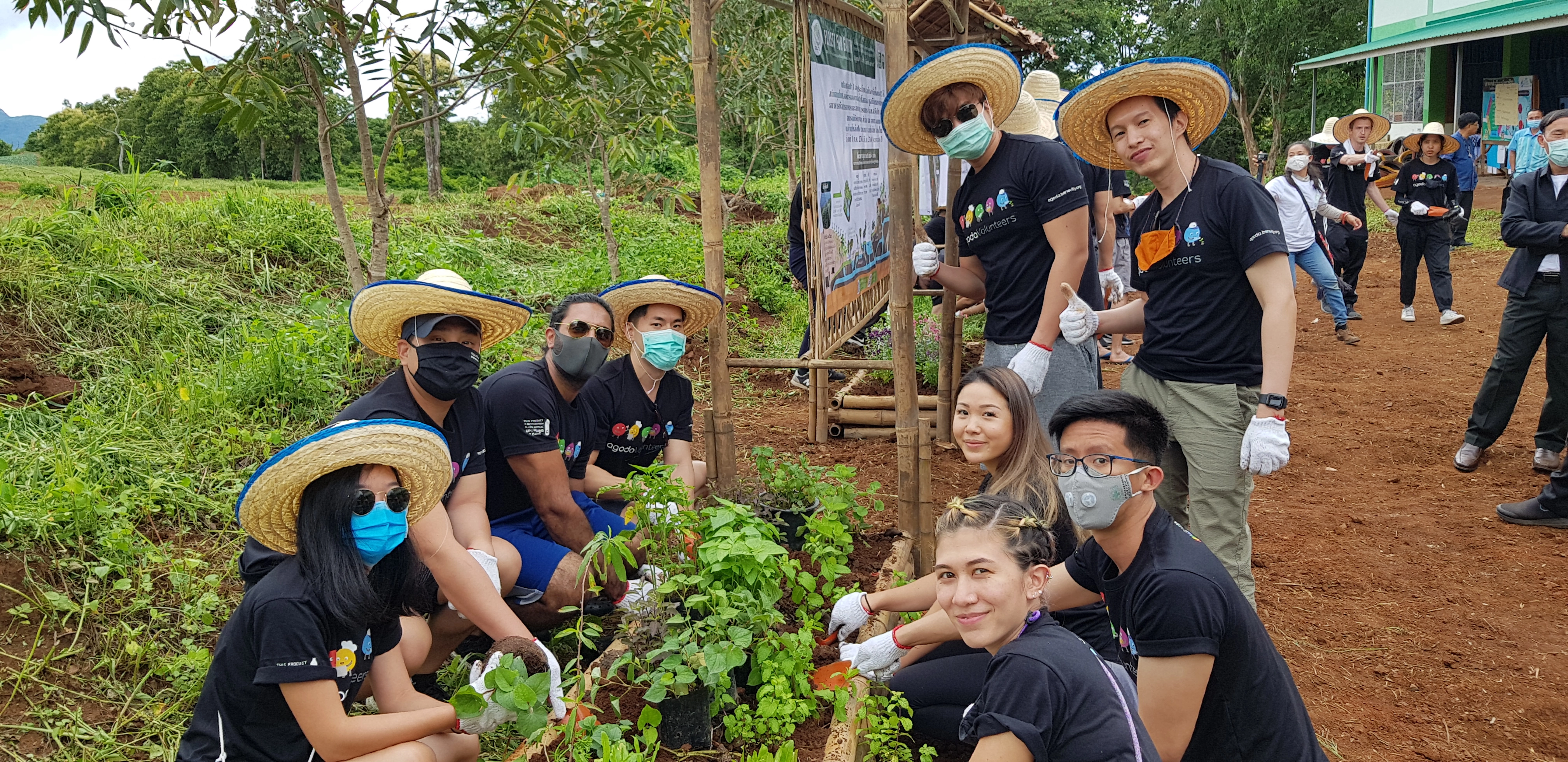 All hands on the same land: taking engagement to the next level
Besides contributing to sustainability and collaborating with our partners, this program also allows us to strengthen the engagement between our colleagues. We encouraged Agodans to use the volunteer paid time-off to participate and meet with colleagues from different parts of the company.
"It was super inspiring to have kids run around helping us plant the trees, showing us what we were maybe not doing correctly. I also got to meet so many people from not just the Bangkok office that maybe I hadn't interacted with, but also people from the Chiang Mai office. Also, our partners and CEO were here too. There's a lot to like about today," said Thomas Rose, Talent Acquisition Partner, Agoda Bangkok.
Waralee Orwatthana, Senior Market Manager, Agoda Chiang Mai added "There was a huge forest fire in Chiang Mai five months ago. As an employee based in the city, I was glad when I heard that Agoda was going to plant trees here. It's a good opportunity for Agoda and our partners to come together, work together, and give back to the community."
Be part of a travel company that cares for sustainability. Join us!