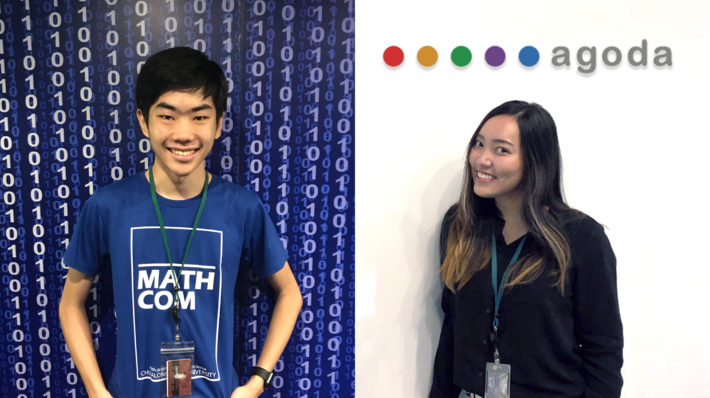 Nawapol (L), a Data Intern, and Mona (R), a Data & Project Management Intern at Agoda.
It's been nine weeks since Agoda Thailand welcomed a new batch of interns. For the past weeks, 25 students from different schools and backgrounds have been working towards a single goal of transforming travel with their knowledge and skills. To give you a snapshot of Agoda's Internship Program, we invited two of our interns to share their Agoda experience so far – Nawapol Chuamvarasart, a Data Intern who studies Computer Science in Chulalongkorn University, and Peerada Looareesuwan ("Mona"), a Data & Project Management Intern who studies Information Systems in George Mason University.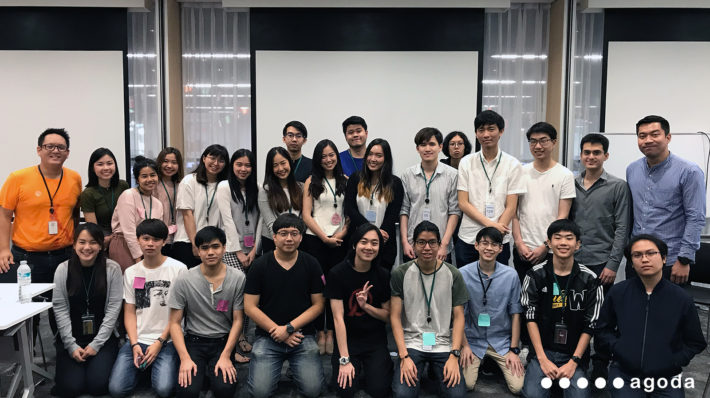 Agoda Intern Class of 2018.
How it all happened
NAWAPOL: If there's one word that could describe how I got my internship at Agoda, that would be "unexpectedly." I honestly had never thought that I'd get it when I applied because Agoda one of the most popular tech companies among IT students. But against all the odds, I made it, now surviving the second month with the Data Team! I think the reason I got the job is not because I was the best programmer but because I was the most eager one to learn in order to become the best.
MONA: I've been studying in the United States for seven years, but I've always come home during my summer break. So I was looking for internship opportunities in Bangkok because I wanted to come home this time too. When I found the opportunity at Agoda, I immediately applied because I loved its data-driven culture and diversity. After the application was all smooth sail, from three rounds of interview to the first-day orientation and the actual intern life. Even the Skype interview at 2am (as I was in Virginia at the time) was perfect for me because I'm a night owl!
What my day-to-day looks like
NAWAPOL: It's hard to describe a daily routine because almost everyday is different. On some days, I'd spend time learning programming from my teammates or books, while on some other days I'd work on the real projects.
MONA: My first week was all about learning. With five other interns in the team, I've learned a lot of information from different people, be it querying the data or the overall mission and the goals of the Customer Experience Group. After then, I've been helping with the implementation of the new system for the team.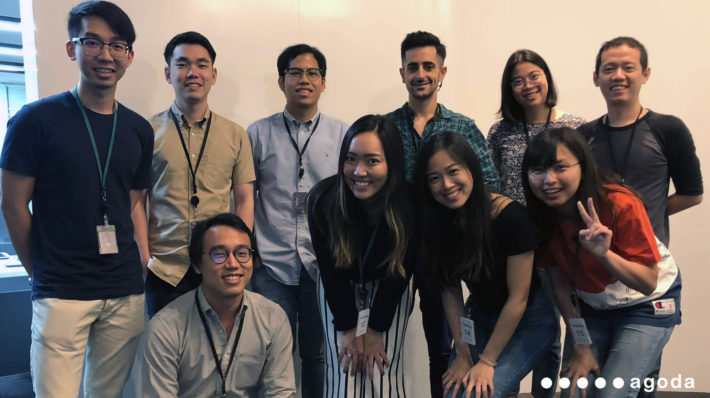 Mona (center of the bottom row) and her team.
Challenges and learnings
NAWAPOL: I had used Windows for my entire life, so I didn't even know how to change the password when I received a Mac as my company laptop. What made things even more challenging were our team's main programming language, Scala, which was fairly new to me. With the great help of the team, however, I learned the new tool and language quickly enough to work on some real projects before the end of my internship.
Learning to ask questions was also a big challenge for me because, in Thai culture, we hardly ask questions or favors. We tend to be shy (อาย) because we're afraid that we might bother others or even make ourselves look stupid. All my teammates have been extremely supportive though, so I feel comfortable asking anything to them. I used to learn myself from practice questions and Youtube videos, but I found that people can also be a great way to learn because different perspectives bring up different solutions.
MONA: The biggest challenge for me was to apply what I learned into practice. I already knew how to use tools because I was taught through lectures and practice questions at school, but I had never worked with real-life situations. So my internship in a sense feels like a lab class to me because my mentor always tips me in a way that I'd figure out myself, rather than giving me straight answers. It's hard but really interesting and fulfilling at the same time.
What I love most about interning at Agoda
NAWAPOL: I can say without hesitation that my team is what I love most about my internship at Agoda. Without such a friendly and supportive team, I wouldn't have learnt this much for the past two months. Working with them has not only improved my technical skills but also taught me how to be more productive and professional. Even though I'm the only Thai in the team and everyone else is from different cultures and backgrounds, they all just feel like brothers to me!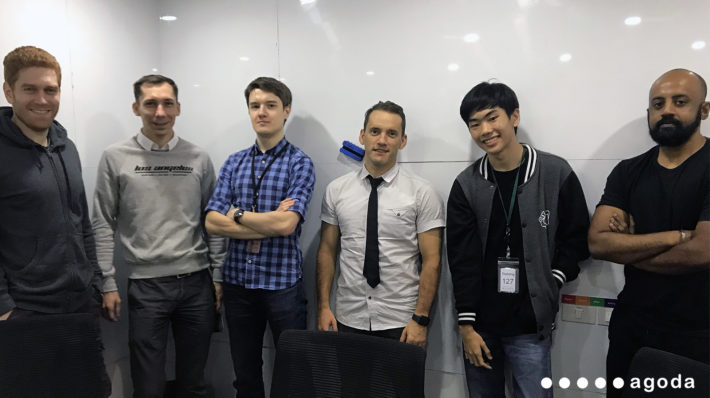 Nawapol (second to the right) and his team.
MONA: I really love the culture of Agoda, in which there is no such thing as a stupid question. Everyone is approachable, so I can always ask and try to learn new things regardless of seniority and verticals. It's also a culture where everyone's feedback is valued. For every task assigned, I was able to learn about its why and how and further share my thoughts with the team, and that's not something you can expect from most companies as an intern.
My advice to the future interns
NAWAPOL: Once you start your internship at Agoda, you'll come across a lot of new people and technologies that you've never seen before. But don't be intimidated. Just be yourself and do your best, and you'll have a great time!
MONA: There's no hurt in applying, so I recommend everyone to give it a try first. Apply, then you'll have a chance to talk to your future teammates, learn about the culture, and see whether you're a good fit to the company or not!
Inspired by the stories from our Summer interns? Our 2021 summer internship program is now opened, click here to learn more!