2021 was a year filled with challenges and changes for us.
Most Agodans continued to work from home in 2021 as our offices took strict safety precautions. But the lack of face-to-face or in-person interaction did not deter us from our commitment to doing good. Instead, it inspired us to approach our volunteering programs more creatively, resulting in brand new initiatives with the same objective: to drive positive environmental and societal change in local communities and destinations around the world.
We continued to support the Agoda community to give back to society through employee-led initiatives, while also getting empowered by Agoda volunteers and our partners in company-level projects. With that, we were able to see several new ways to contribute to society and protect the environment through various initiatives, including online mapping for Missing Maps Projects, sandwich-making for a shelter and a hybrid-model approach to volunteering on Giving Tuesday.
Let us take a closer look at five fantastic volunteering initiatives Agodans worldwide took part in in 2021.
Regional beach clean-up efforts
We heard from the public through Agoda's Sustainable Travel Survey 2021 that the pollution of beaches and waterways was among peoples' top concerns regarding the impact of tourism. Our PR and CSR & Sustainability teams took this forward and rolled out a regional initiative together with local offices.
We arranged beach clean-ups in Hong Kong, Singapore, Thailand, and Indonesia, with the help of 141 volunteers in total. After several months of only seeing our colleagues and team members online, Agodans were super excited about getting together under the sun to do good.
What's more, 100 hotel partner representatives also joined us in Bali for a combined effort of cleaning up the island's beautiful coastal areas.
Some quick figures to highlight: In Phuket, we worked with Phuket Has Been Good to Us to collect 43 bags of trash and sort them into the proper recycling bins at Kamala Beach. The other one was in Pattaya, together with Trash Hero organization, which removed 12 kg of waste from Krating Lai Beach.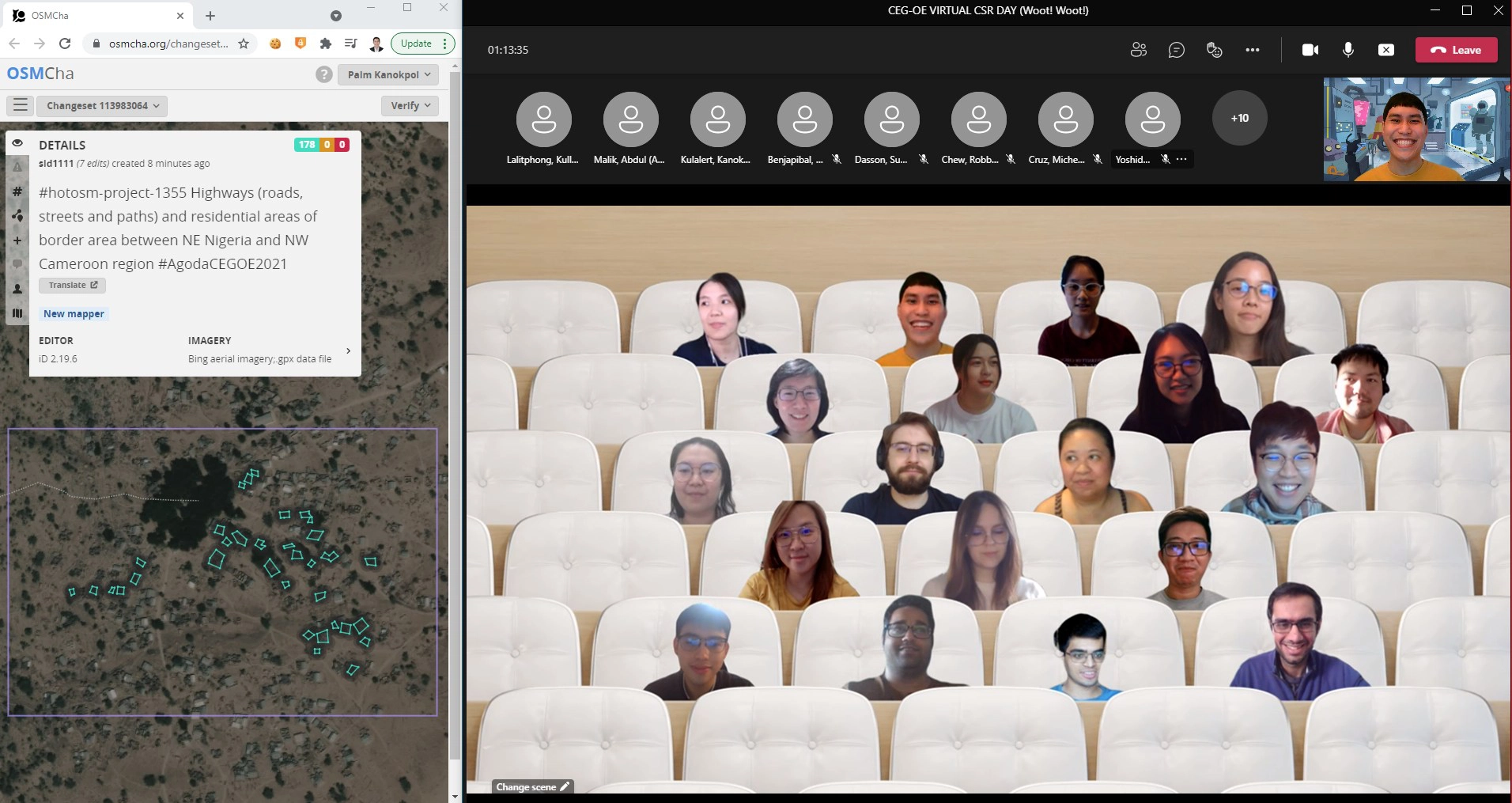 Virtual mapping for a worthy cause
Working from home did not stop the Customer Experience Group's Operational Excellence team from volunteering. While the team could not participate in a physical gathering, they took a different approach to volunteering this year.
The team got together virtually and volunteered simultaneously in a "Mapathon" to help improve online maps and create urgently needed data for vulnerable communities worldwide. Together, they covered 73,999 map nodes and mapped a total of 3,686 sq. km in area, contributing to several causes and having great fun.
Giving Tuesday in North America
Giving Tuesday is a tradition on the Tuesday after Thanksgiving when people are encouraged to participate in charitable deeds. Our teams in North America participate annually, utilizing our Volunteer Time Off (VTO). They typically gather (virtually and in-person in certain areas) to give back and unleash the power of "good" in numerous ways.
In 2021, the North American teams took Giving Tuesday to a new level with a mixture of both on-ground and virtual activities. The Chicago team spent the day preparing food boxes for the Lakeview Pantry for on-ground activities. Not to mention the LA team repairing a mural in a Watts, California neighborhood, by painting over graffiti to bring the stunning and colorful artwork back to life. We also organized virtual activities that Agodans from different cities can join, such as making paper cranes, pet beds, and dog toys to benefit local nonprofits, and a 5K Charity Miles run or walk where participants could help their charity of choice while individually enjoying a day outside taking in the fresh air!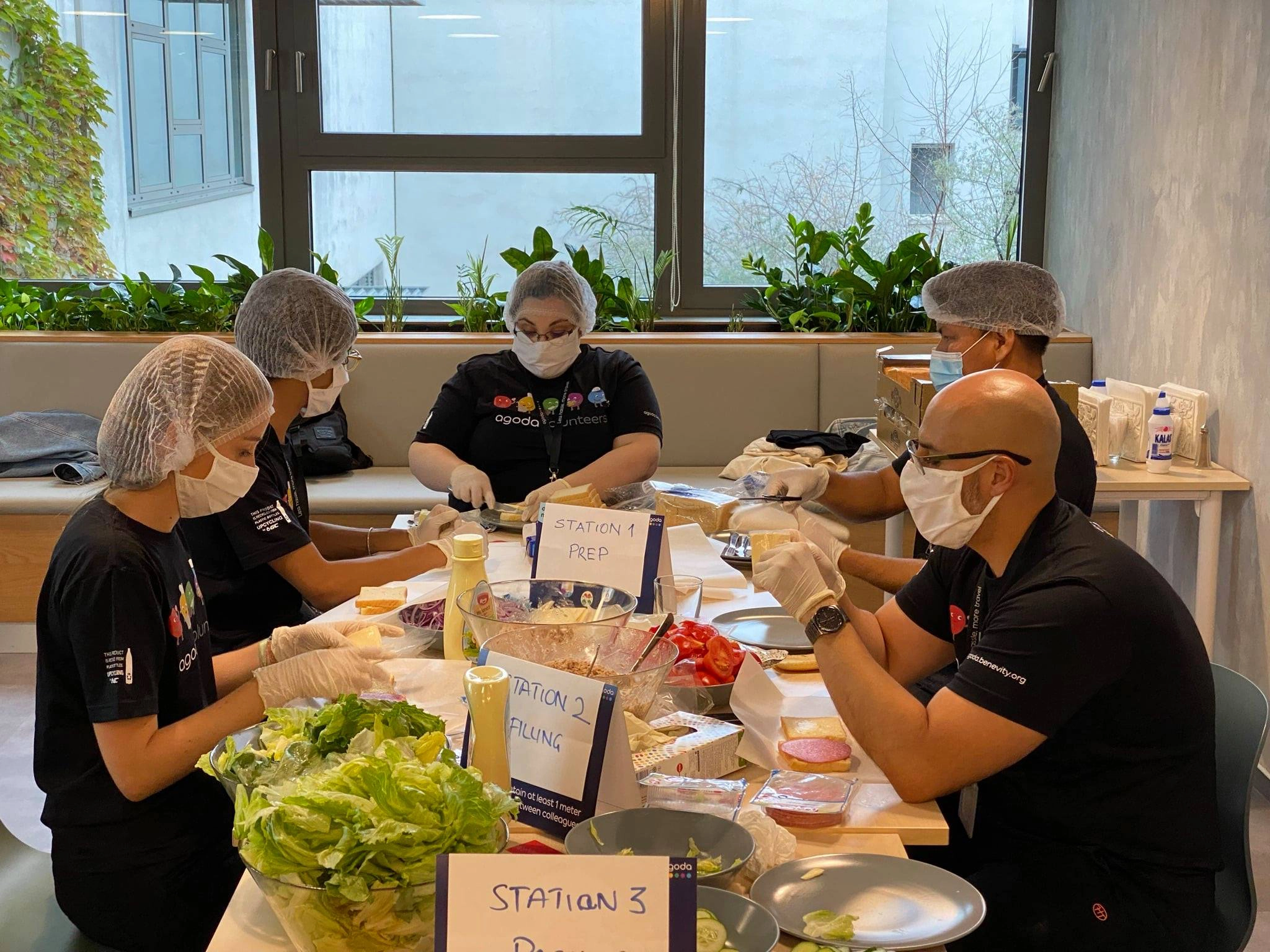 Sandwich making in Budapest
It is easy to think of volunteering initiatives as large-scale projects that transcend borders. More often than not, we tend to overlook the more minor things in life that can drive positive social change. That could be as simple as making sandwiches.
We head over to Europe to take a closer look at the heartwarming sandwich-making activities for the Homeless Shelter Foundation (Menhely Alaptivanvy) in Hungary. Between September and November, our team in Budapest helped support the foundation's efforts to shelter the homeless population during the pandemic. Each time, we prepared 200 sandwiches with tuna, salami, cold cuts, and cheese.
Before ending 2021, the Budapest team established a great relationship with the foundation, learned how to prepare sandwiches effectively, and is planning to continue this initiative in 2022.
Volunteering in Cameroon
Cynthia Ismael, Assistant Market Manager at Agoda London, visited her home country in Cameroon to attend to some personal business as part of our International Family Reunion program. While she was there, she seized the opportunity to volunteer for a library run by a non-profit organization, teaching English and Art to children. Here, Cynthia shares her experience volunteering at the library:
"Afidi is a library opened over a year ago, to help children get better access to education through the libraries' various media program initiatives. There are very few libraries in Cameroon, and most of them are not free. Afidi is making a difference by giving the Cameroonian population free access to books.
During my day with them, we went to promote the library at bilingual schools and organized some activities with the kids. The generosity and nobility of this project profoundly moved me. It is helping a lot of kids and adults who come to consult the books or even take part in the weekly after-school classes (IT / English / Chinese / Sewing / Yoga / French and Math)."
These are just some highlights from the volunteering activities we did throughout the year. Follow us on our social media (LinkedIn, Facebook, Instagram) to see more!