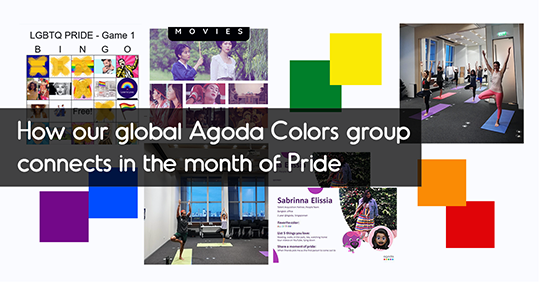 For Pride month this year, our Agoda Colors life group safely celebrated diversity and created more awareness of the LGBTQIA+ community through several virtual activities.  
Agoda Colors is an Agoda Life group for Agodans who either identify themselves as a member or supporter the LGBTQIA+ community. We chatted with a few Agoda Colors members to understand the importance of Pride month and how it was celebrated this year at Agoda.
Understanding the significance of Pride across countries 
Pride is a celebration of diversity and love, and regional diversity is another part of it. The Colors group leads from across regions came together to brainstorm on ideas to celebrate a Global Pride month at Agoda. "While the spirit of pride is more of a celebration of progress in regions like the US, for many parts of the world pride is still deeply rooted in protest and the continued fight for more equality," said Emily Hancock, co-lead of the Colors life group.  "As we planned for activities on a global level, it gave us the opportunity to understand the nuances of different countries, their respective legal landscapes and how everyone is impacted," elaborated Sabrinna Elissia, co-lead of the Colors life group. "The contrast can be mindboggling at times."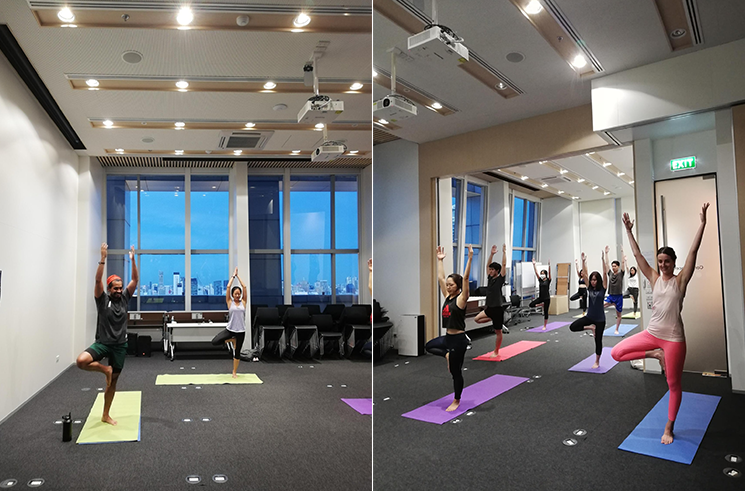 Educate and connect with our employees during the month of Pride
As part of the celebrations for Pride month, the Colors life group rolled out several activities throughout the month of June. "I've shared lists of movie recommendations during this month. Through this format, we showcased how the LGBTQIA+ community is represented across countries and provided a balanced view on the level of acceptance globally. It is also easier to make an emotional connection with people via stories, which in turn created more awareness on the disparity of equality across countries," said Sabrinna.  
"We wanted to end the month with something interactive and fun, and therefore organized a LGBTQIA+ Bingo game night. With game night, we wanted members of the community as well as allies feel more comfortable and included at work," added Gal Eldor, a member of the Colors life group. 
The Colors group also teamed up with Yogoda, our Yoga Life group, to celebrate Pride and International Day of Yoga through movement. "With the recent events around the world, we believe mental health is now more important than ever," explained Radka Smilkova, co-lead of the Yogoda life group.  Given the celebratory theme we added some unique aspects to this special class called "Rainbow Yoga." The session focused on reflection using elements of identity to allow participants to embrace and mentally love themselves just the way they are."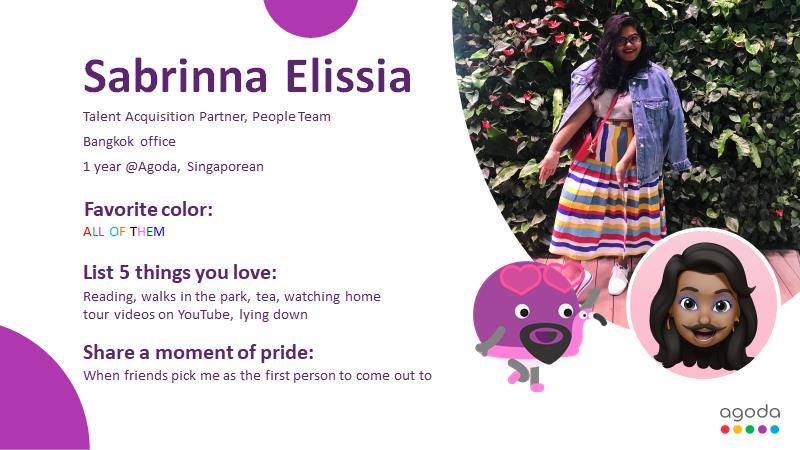 Agoda and the Colors Group
"I love working at Agoda because of the openness of the Colors community. It's one of the reasons why I chose to work at Agoda," said Sabrinna. One of the other activities planned by the Colors group was the "Get-to-know colors activity" which profiles members of the Life group. "By having members fill out profiles, everyone can see the diversity across the organization," said Emily. "Additionally, by some of us choosing to show our pride in being a part of this group we can encourage others to join in as well."  
At Agoda, with support from the Colors life group and senior leadership including CEO John Brown and VP of Business Development Tim Hughes, employees can feel confident in being true to their identities. By fostering and partnering with the various Agoda Life groups, our employees can build a stronger connection with one another as well as with the company.
Additionally, the Agoda Diversity & Inclusion Council, whose mission is to support, empower and enhance inclusivity in the workplace, has recently rolled out "Allyship," a resource center where Agodans can find educational material on understanding the complexities of discrimination and how to combat it.  
Learn more about Life at Agoda, follow us on Facebook, LinkedIn and Instagram.