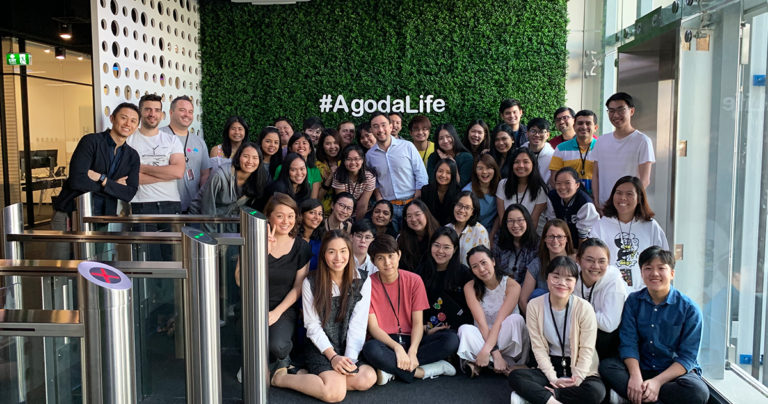 Jeff (center) with People Team colleagues
I never expected to work in the HR field, but it's been the job of a lifetime! In fact, I fell into it by accident after I had a chance to speak with Rob Rosenstein, Agoda's co-Founder and then CEO, who had a very compelling vision for a People function he wanted to build that would be data-driven, consultative and analytical. Before Agoda, I worked in government and consulting, which was a very different world from tech. When I joined Agoda's People Team in 2014, I had never heard of Agoda (I was living in the US), not thought of working in Bangkok, and I most certainly was not considering a career in People.
So what's kept me in the People Team at Agoda in Bangkok? In short, the culture.
But before I tell you more about that, I'd like to share three data points that sum up our culture. 1) We've quadrupled in headcount in the past five years. 2) More than half of us are under the age of 30. 3) We count more than 60 nationalities in our global operating office in Bangkok (and 80+ worldwide).
Here are what those statistics mean for our culture and life at Agoda.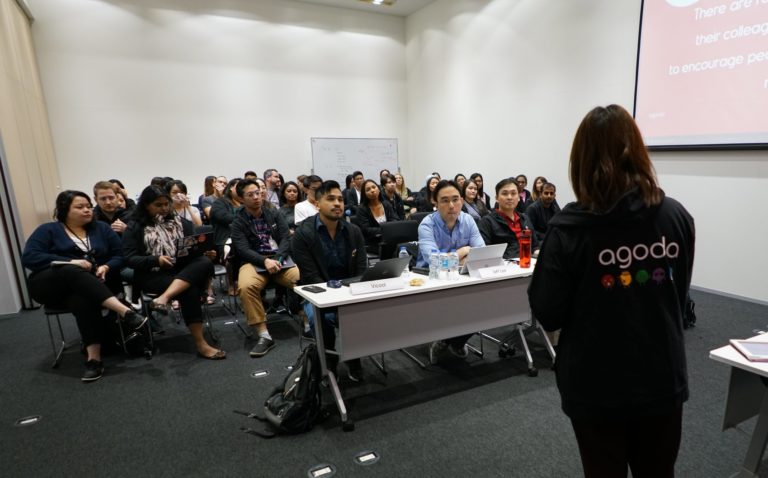 Jeff at a recent People Team Hackathon, where team members pitch ideas for employee initiatives
We're Flat and Direct
Despite having grown a lot in the past few years, we aspire to be a flat and direct culture. Our people are encouraged to speak up even if it's not always comfortable for them. In the fast-changing, disruptive, B2C world we're in, many good ideas come from those closest to our customers, not necessarily from management. As an example, our front-line Customer Service Specialists are often the first employees to identify gaps in our product because their time is spent interacting with customers. So we connect our Customer Service team directly with Product Managers, who are in entirely separate departments, so that they can provide regular feedback to the right people.
We're Hungry
People at Agoda are hungry, both intellectually and physically. No seriously. When I leave work in the evening, I often stop by the desks of people in my team who are still around just to make sure they do not stay too late. I've been amazed to see things like recruiters staying because they are working on a certification in analytics, and facilities people completing excel training courses so they can improve their data skills. I met Gade-Tanisara Pimsamarn, an English major on my team who first taught herself Microsoft Excel skills, then macros, and now she's learning how to visualize data in Tableau. Seeing such an appetite to grow their professional skills has led our team to offer online training courses and the ability to reimburse for professional training as an employee benefit.
We're Diverse
The beauty of having a very diverse workforce has also made Agoda incredibly complex. 80+ different nationalities means many different views about what the "right" approach should be to enhancing benefits. The single, 20-something typically wants a free gym membership while the expat, young parent desires on-site day care and subsidized tuition.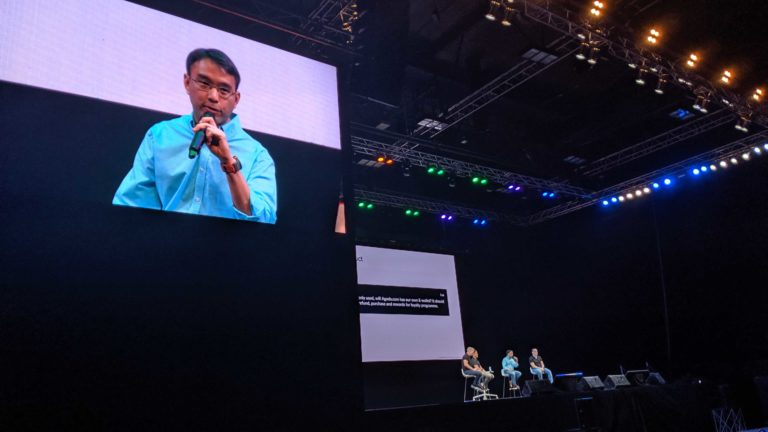 Jeff with Agoda's senior leadership team at a Town Hall Q&A Session
The honest answer is we cannot do it all at once and deliver the value our shareholders have come to expect. So this year, we launched a flexible benefits program, and we still aim to make sustainable improvements to our employee value proposition.
Oh, and on the topic of hunger, our employees are not only diverse in nationality, but also in their food preference. And that keeps us up at night. For example, through a Town Hall Q&A session, where anyone can ask management anything, we heard from many employees that there wasn't enough milk supplied in refrigerators at the workplace. After looking into it, we realized that people had gone from using milk solely for coffee and tea to also having it with cereal in the morning. We have now adjusted both our milk orders and added granola and bananas (and apples) to cater to the ever-changing needs of our employee population.
I've been grateful for the opportunity to help support a company as it scales and evolves its aspirations and culture. We help people experience the world and bring cultures closer together. If you're ready to take ownership of your career, and are seeking a place to grow, to express your own voice, and to learn from a diverse group of smart people, then come join us!
Jeff Lee is Chief People Officer at Agoda. If you're interested in experiencing Agoda's culture, apply to join us here.