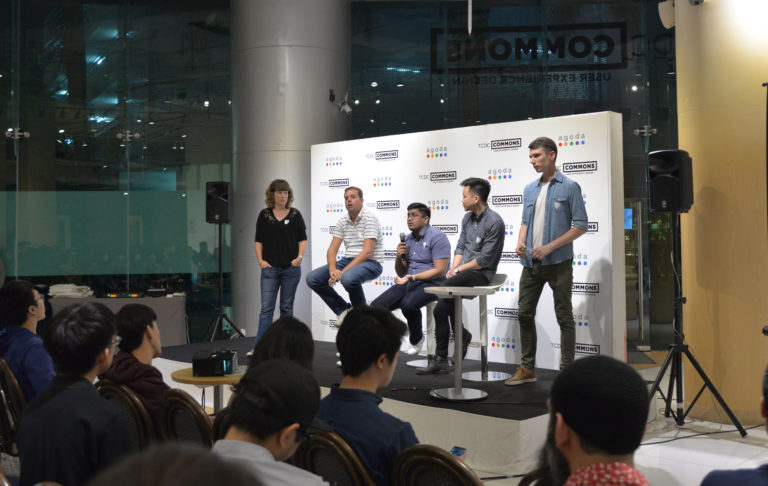 Agoda's UX Research Team (Monica Lee, Alberto Kok, Piyush Sinha, Aaron Moy and Tommy Krcmaric)
Agoda believes in the importance of engaging and sharing knowledge about UX to help build the local UX community around us. That's why, as part of the Bangkok Design Week 2019, Agoda's Design and UX Research team joined forces with TCDC Commons – W District to organize talks about UX Design and Research at Agoda on January 30-31, 2019. If you didn't have a chance to attend, we got you covered.
Here are 6 highlights from our speakers: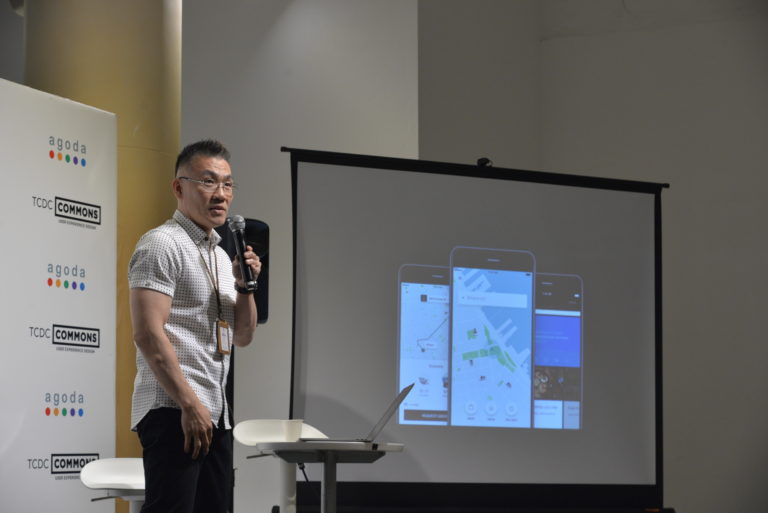 Chris Pak
1. "Enterprise UX doesn't have to suck." Chris Pak
Enterprise software plays a big role in many employees' work, and since they don't have a choice to opt out of using it, having a good UX is worth the investment.
Chris and his team at Agoda have started the process of enterprise UX transformation. By taking a step further from the usual style guide, they have introduced a design element library that also stores codes ready for developers to grab and use. Not only does that mean the style for all buttons and prompts are now consistent, but the developing time is also reduced.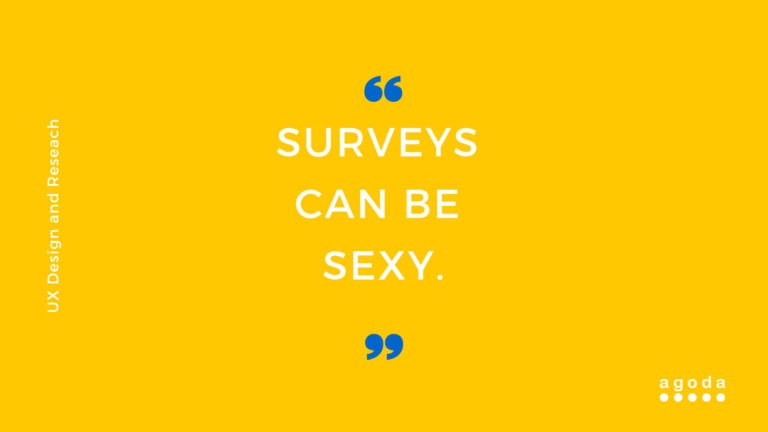 2. "Surveys can be sexy." Tommy Krcmaric
The word 'survey' can easily be visualized as a set of questions with multiple choices, which can be long and boring. But that's not always the case. Tommy shared a few ways researchers can get creative with surveys.
If you are working with a webpage, placing your participants in front of the screen is a good start. The goal here is to mimic the situation that targeted users are in. Then a set of testable hypotheses will play a role here. You can ask participants to click on the first thing that grabs their attention within 5 seconds, and then analyze from the heat map to see what gets attention. You can ask participants to recall content they see within 5 seconds, without having a choice to prompt them, to better understand and improve content visual and hierarchy. Compared to more traditional surveys, these interactive methods provide insights that are more useful for improvement.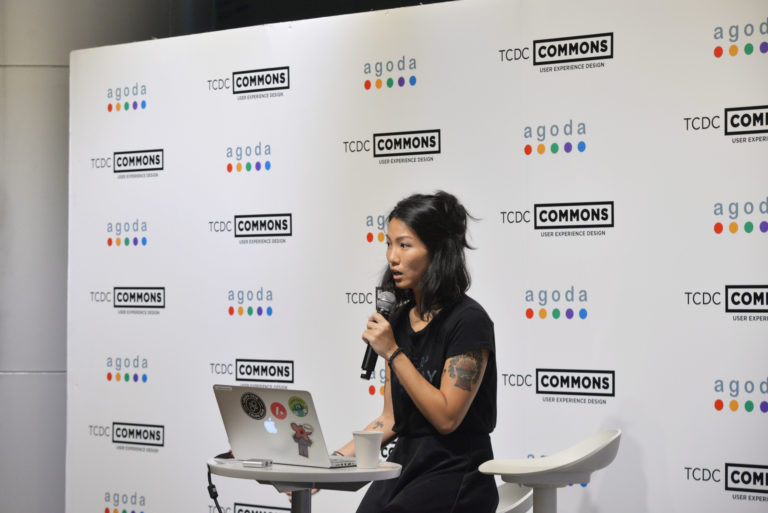 Danielle Liu
3. "In the ideal world, product managers should come to designers with questions, not just answers." Danielle Liu
Danielle shared with us the design process behind the recent Agoda home page redesign project. She emphasized the importance of a two-way relationship between product managers and designers, and the need to establish a mutual understanding that the design process is ongoing and changes in design are backed up by rounds of feedback from data and research.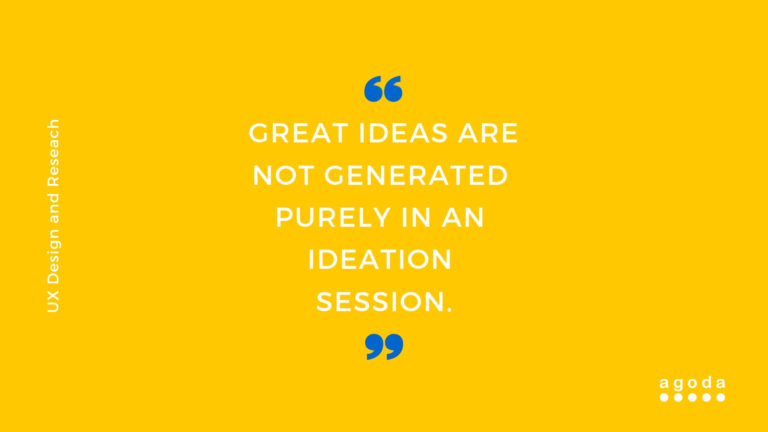 4. "Great ideas are not generated purely in an ideation session." Joshua Zhou
In his talk, Joshua shared the idea facilitation practices that his team uses. He emphasizes that running an ideation session alone doesn't necessarily mean you'll get successful ideas. The best ideas come when you and your team have done their homework before the session, and can connect the dots between design decisions to overall business goals and performance data.
With goals aligned and available data in hands, he and his team also use techniques like brainstorming for questions (Read more on Question Burst method by Hal Gregersen) to approach solutions in the ideation session.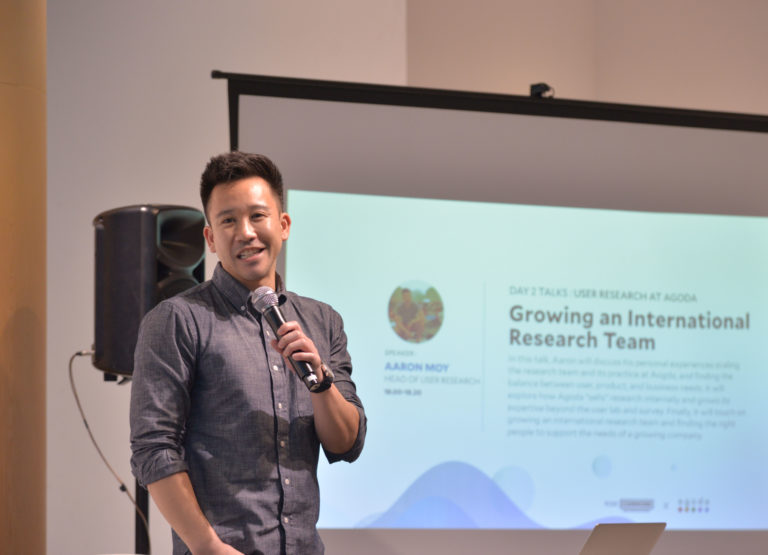 Aaron Moy
5. "How do you measure the impact of research?" Aaron Moy
Though it's one of the most frequently asked questions to researchers, this question doesn't have one clear-cut final answer. For Aaron, to create an impact for research, it is important to communicate with teams, stakeholders and even to the rest of the company on how research can be useful to product development.
But how do you measure how impactful it is? Beyond A/B test results and stakeholder satisfaction scores, they have experimented with asking a series of questions like 'if the research team suddenly disappeared, how would that affect your job?' to keep the team in check about the function of research. While each method has different pros and cons, Aaron advises getting feedback on how useful the research is to direct stakeholders is essential to make research more impactful in the future.
"At the end of the day," as Aaron says, "if it's not helpful, that's ok. We will want to change that. Don't be afraid to ask for feedback and make the impact of your research better."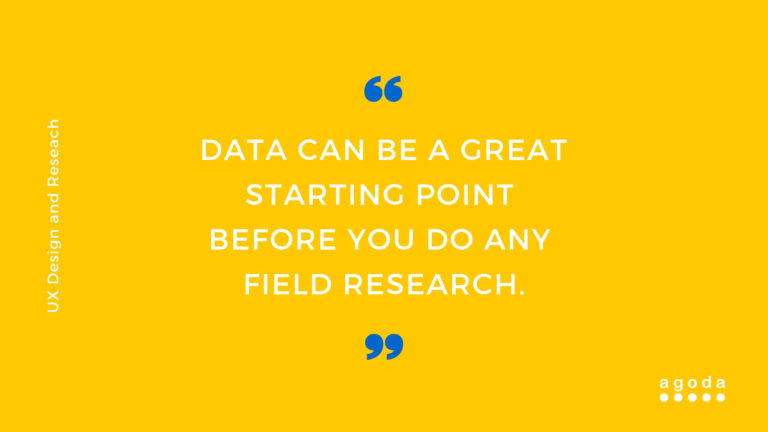 6. "Data can be a great starting point before you do any field research" Piyush Sinha
Before rushing out into the field to do research with users, Piyush advises that it's worthwhile to first take a look through the data available to you. While data analysis can often get overlooked as a good research method, it is fast, low-cost, and allows you to see the bigger picture. However, using just data or a single research method alone may not answer all your questions. It is always good to know a mix of research methods and when to appropriately use them to get answers to your questions.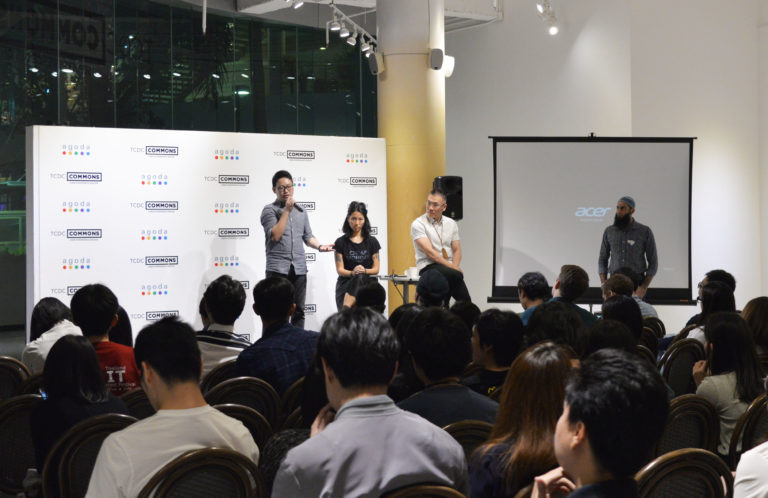 Agoda's UX Design Team (Joshua Zhou, Danielle Liu and Chris Pak)
Is your passion to createbetter user experiences? Join our UX Design and Research team!