It's the start of a new year. Perhaps you've just signed up for a new gym membership, bought a book on mindfulness, or simplified your wardrobe. Whatever your new year's resolution may be: it should definitely include updating your resume.
"Your resume is very important – it's a living snapshot of who you are professionally", says Zuzana Chomistekova, head recruiter for Agoda's Customer Experience group.
"Whether or not you're actively looking for a new job, it's useful to keep it up to date. You might be contacted about a job opportunity or see a very attractive job vacancy – either way, you want to be ready to pounce on it and impress the hiring manager with a resume that looks fresh and sounds relevant."
So where do you start?
Here are 7 quick ways to get your resume ready for 2017:
[Click to display larger infographic]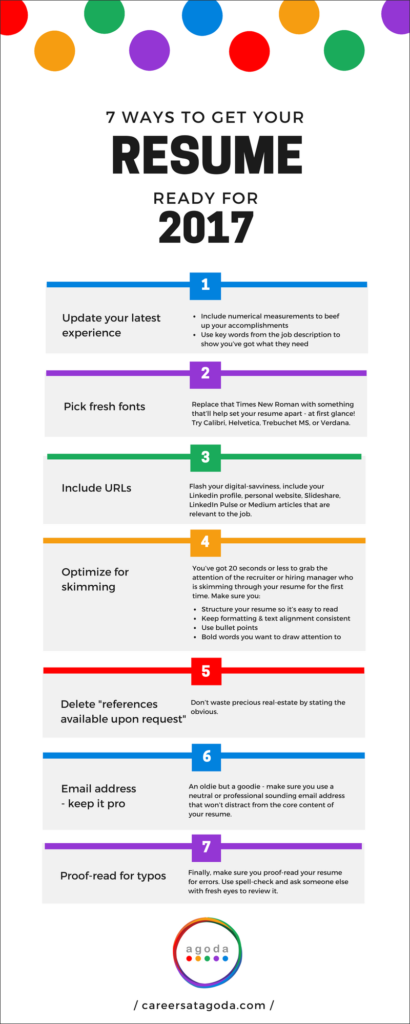 1. Update your latest experience
– Include numerical measurements to beef up your accomplishments
– Use key words from the job description to show you've got what they need
2. Pick fresh fonts
Replace that Times New Roman with something that'll help set your resume apart at first glance! Try Calibri, Helvetica, Trebuchet MS, Tahoma, or Verdana.
3. Include URLs
Flash your digital-savviness, include your Linkedin profile, personal website, examples of your work on Slideshare or articles you've written on LinkedIn Pulse or Medium that's relevant to the job.
4. Optimize for skimming
You've got 20 seconds or less to grab the attention of the recruiter or hiring manager who is skimming through your resume for the first time. Make sure you:
– Structure your resume so it's easy to read
– Keep the formatting and text alignment consistent
– Use bullet points
– Bold words you want to draw attention to
5. Delete "references available upon request"
Don't waste precious real-estate by stating the obvious.
6. Email address – keep it pro
An oldie but a goodie – make sure you use a neutral or professional sounding email address that won't distract from the core content of your resume.
7. Proof-read for typos
Finally, make sure you proof-read your resume for errors. Use spell-check and ask someone else with fresh eyes to review it.