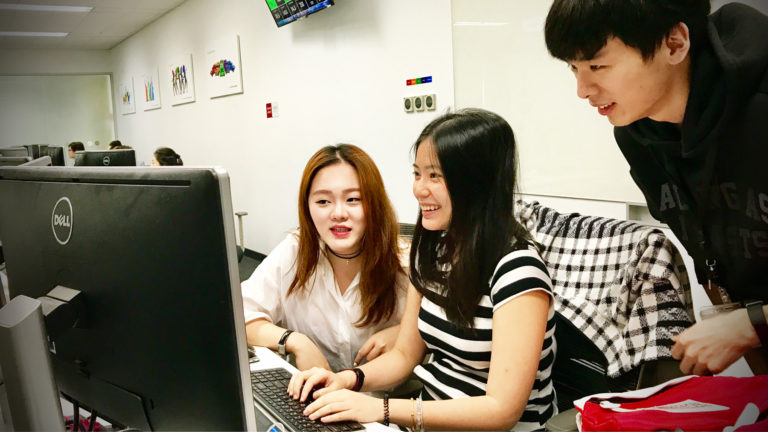 Join the Agoda China team in Shanghai with (L-R) Singer, Reyna and Neil. Today, Agoda currently employs over two hundred people in China across four locations: Beijing, Guangzhou, Sanya and Shanghai.
With bookings from Chinese customers growing rapidly, we are expanding our operations in China – including opening a second office in the heart of Shanghai's CBD and hiring more customer service professionals to join our Customer Experience China Team.
Interested in learning more? We spoke to three of our best – Singer (Team Manager), Neil (Customer Service Specialist) and Reyna (Team Manager) – to get a first-hand account about what it's like to work for Agoda in China and what excites them about the future of our company.
What do you enjoy most about your job?
SINGER: Always having something to do when I come into the office. I have different challenges and goals every day, so I never feel bored.
NEIL: When my performance results show that I did wonderful job, or when a customer leaves feedback like "Thank you so much for your help", or "I really appreciate what you've done for me". These words are very inspiring to me, and makes me feel like my work is helpful and rewarding.
REYNA: I personally enjoy the fast-paced environment at Agoda; this is a company that moves extremely fast with different products launching on a daily basis so I'm always learning new things and new processes. I'm also proud of the fact that Agoda welcomes people of different backgrounds and experiences to join our team as long as they show promise!
Are you excited about the future of the company?
SINGER: Definitely YES. Agoda's business is expanding very rapidly in China and so is our Customer Experience team! We're also moving to a new office in the center of Shanghai, so I'm very confident and excited about our future.
NEIL: I'm very excited about our new office in Shanghai's CBD, I've heard it'll have over 300 seats and is fabulous. I haven't seen it yet, but can't wait to! I also like to check the Agoda website from time to time to see how many properties we are working with all around the world. On my first day in Agoda, it was about 800,000 and today, the latest data shows it's over 1,000,000! This is amazing and incredible growth for our business.
REYNA: Back in 2014 when I first joined Agoda, we only had Chinese language support teams based in the Bangkok and Kuala Lumpur offices. In 2015, we added a small team of about 10 people based China. Today, we have over 130 and are moving the team into a new, larger office in heart of the city. By the looks of things, Agoda is set for strong growth in China and at the moment, there is no slowing down. It's an exciting time to be part of the company!
How is working in Agoda different to the experience in other companies in China?
SINGER: Agoda encourages us to voice our opinions and ideas, even with higher management, and there is always something new to learn – whether it's a new product, service or process.
NEIL: This is only my second job since graduating from university, so it's a little hard to say. But, from my first day at Agoda, I've felt that the company is flexible, values diversity, and has a very open culture.
REYNA: Although I've never worked for a Chinese company before – I moved from Agoda Bangkok to the Shanghai office – I think Agoda is very different in terms of their views and expectations of their employees. Here, employees have more individuality and are given the opportunity to approach things in their own way. We also have a very diverse workforce with people from different educational and cultural backgrounds, and this is great because it means there are different approaches for the same situation.
Why did you decide to work at Agoda?
REYNA: One of my friends who was working at Agoda convinced me to join. She explained that Agoda is part of The Priceline Group, a US-based company that owns many leading travel-related brands, and that the working environment here is much more friendly and open-minded than local companies. I applied immediately!
SINGER: I applied to work at Agoda after I came back from the US. What attracted to me to Agoda was that it's a global company so I could continue using my English language skills and work with people from diverse cultures – things I think are important to building a good career and bright future.
NEIL: I applied for Agoda because I liked using the Agoda website as a customer. I thought the design was clean, intuitive to use and better than other online travel agencies (OTAs). As a place to work, I liked that Agoda was a young company, a powerful OTA and passionate about travel.
What advice would you give to someone who is thinking about joining Agoda?
NEIL: Be prepared to take on challenges; from learning how to navigate our network of systems, to liaising with hotel partners and customers. What helps is if you're eager to learn and improve your customer service skills, communication skills and team work.
REYNA: Agoda is not like most other companies – we value individuality as well as self-learning and motivation. When you join the team, you'll be given the opportunity to take ownership of decisions, solve issues in your own way and adapt quickly to a fast-paced environment. Working at Agoda is very much like the thrill you get riding a roller-coaster at an amusement park!
SINGER: Get ready to take on challenging work in dynamic environment, including dealing with customer queries as well as complaints. You'll learn how to work and live better with a positive mindset and through perseverance, become stronger.
Ready to join Singer, Neil and Reyna? Check our current jobs in China