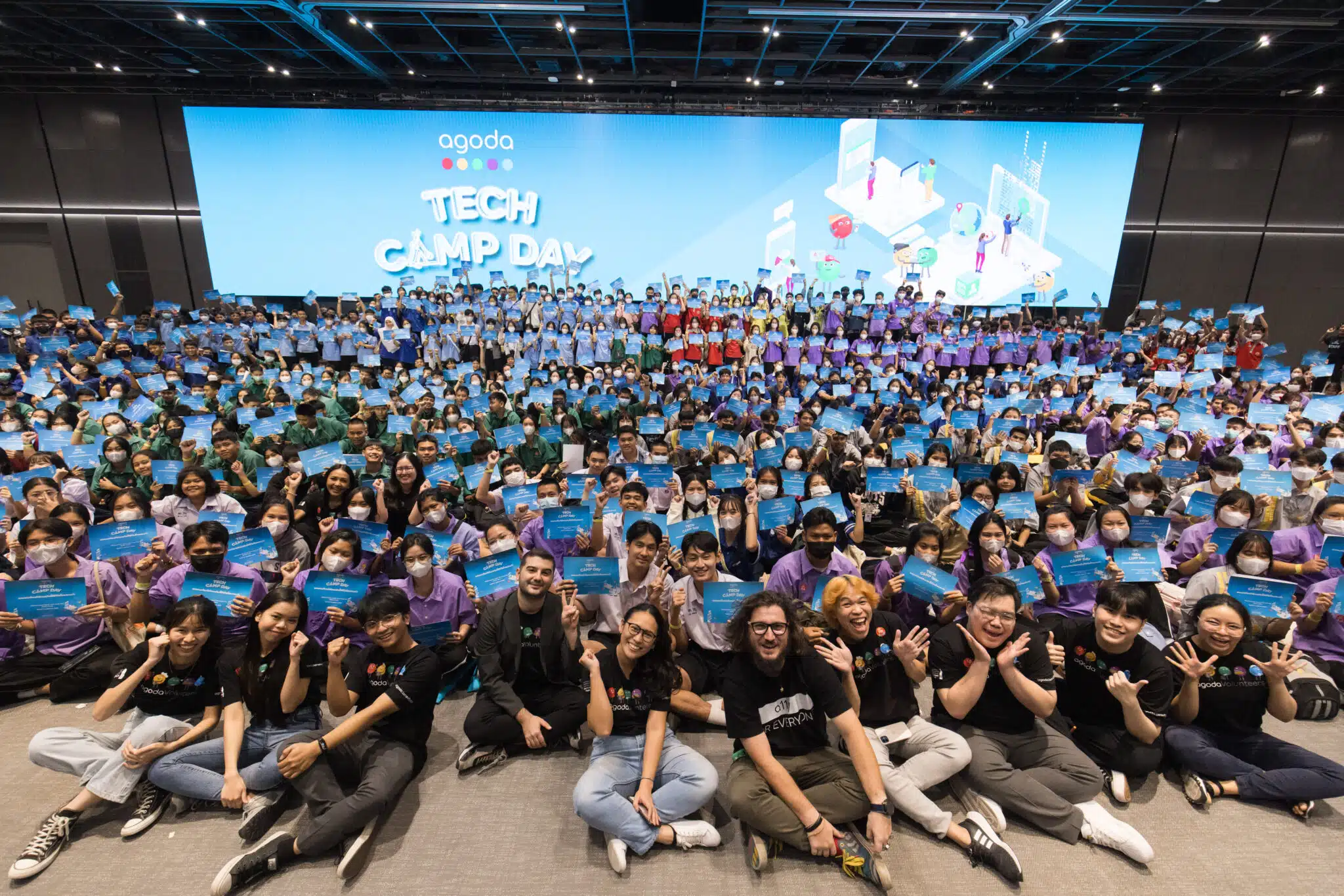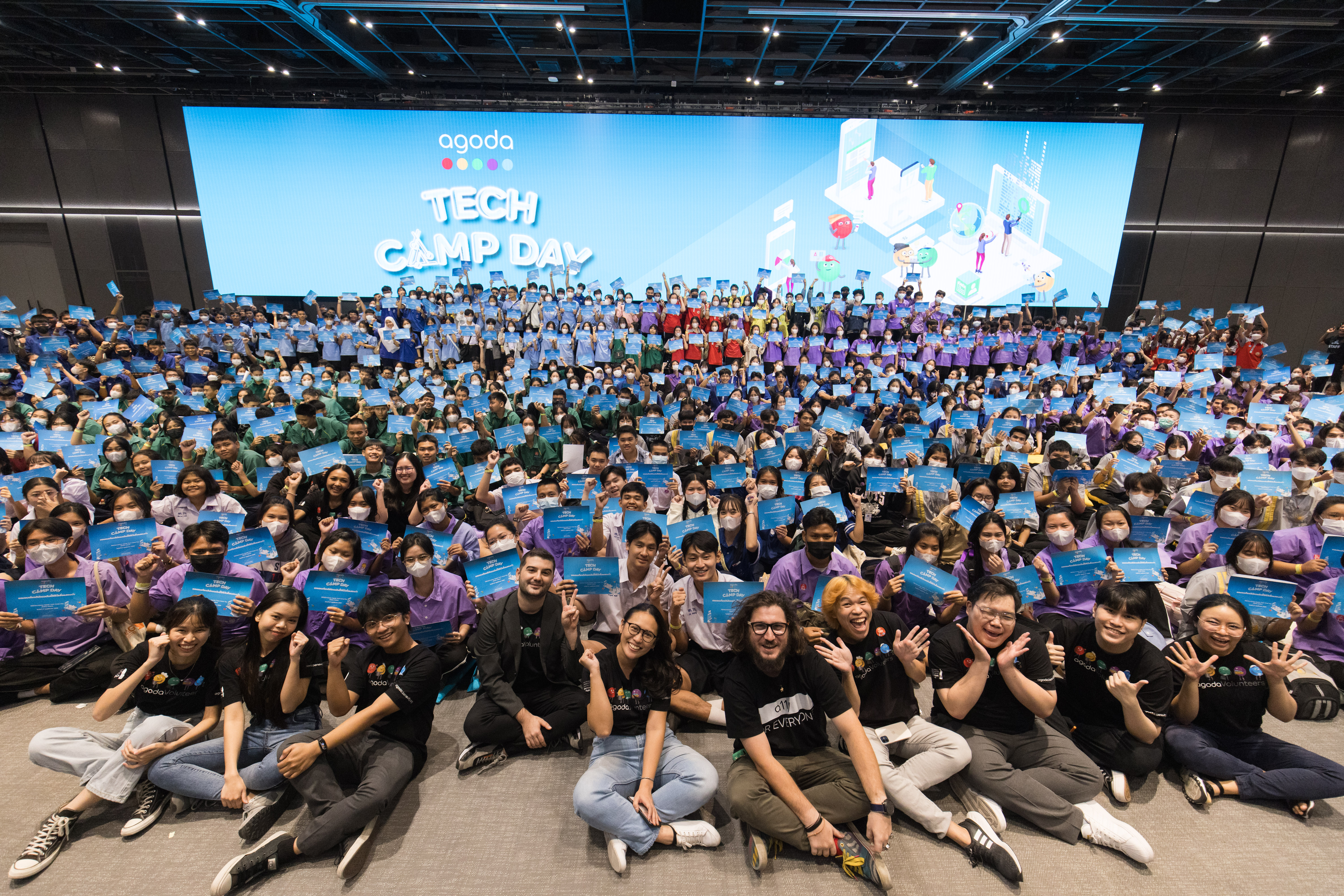 At Agoda, we've seen firsthand the transformative effects of tech education and its ability to open doors and spark creativity. That's why we collaborated with the Bangkok Metropolitan Administration (BMA) to create Agoda Tech Camp Day, a series of in-depth workshops designed to engage high school students and inspire the next generation of tech talent in Bangkok. In November, we welcomed over 1,000 students from nine BMA schools for our second installment of this series, making it one of the largest tech gatherings for high schoolers in Bangkok to date. The students' enthusiasm and clear passion for tech was infectious, setting the tone for a day of eye-opening new connections.
Learning from the best: Knowledge-sharing with Agoda's techies
After our opening ceremony, we headed into three carefully curated workshops led by Agoda's top Thai engineers, covering web development with React and Bootstrap, user interface, user experience, and artificial intelligence, including technologies like ChatGPT. Aimed at providing practical insights, our workshops encouraged students to put their knowledge to the test by applying their theoretical learnings to real-world scenarios, including their studies.
"As developers, coding is our bread and butter, but for such a large-scale event, we knew it was important to offer the students a broad spectrum of workshops across different areas of tech," shared Patipan Dujtipiya (Staff Software Engineer) and Mateusz Matlengiewicz (Development Manager), who were part of the Agoda Tech Camp Day working team. "For our artistically inclined students, we were excited to highlight the possibilities of UX and UI. Most importantly, we wanted to show the massive impact that tech can have on their daily lives, even as students. Nowadays, AI is such a hot topic, and we wanted to help them learn more, while hopefully sparking their interest in our field."
Beyond the classroom: Envisioning a future in tech
With their new learnings still fresh in their minds, we then created a space for the students to ask questions and explore the possibilities of a career in tech. We put together a series of career panels and fireside chats with Thai tech thought leaders, including content creator and gamecaster Toffie is IT Support; Viabus CEO Intouch Marsvongpragorn; young Silicon Valley Software Developer Phumparin Mano, and Agodans Kanokpol Kulsri, Sasithorn Hannarong, Krittapat Wongyaowarak, and Tappasarn Aramboonpong. Each of our speakers brought a wholly unique story to the table, and they each shared candidly about their experiences in the tech space, along with advice they've picked up along the way.
A shared mission
"We truly believe that Bangkok can be the Silicon Valley of Asia, and its success will be driven by the talented and ambitious youth of Thailand. For Agoda, being able to play a part in shaping this future by sharing our team's tech skills and expertise, as well as encouraging students to be more curious and explore tech, is very rewarding," explains Damien Pfirsch (Chief Commercial Officer).
Agoda Tech Camp Day is part of our ongoing social impact and sustainability partnership with BMA, along with our Urban Tree Planting and Community-Based Tourism initiatives. Bangkok is home to Agoda's biggest office, and we're proud to be a part of shaping the future of Thailand through tech and sustainability.
Learn more about Agoda's CSR and sustainability initiatives.