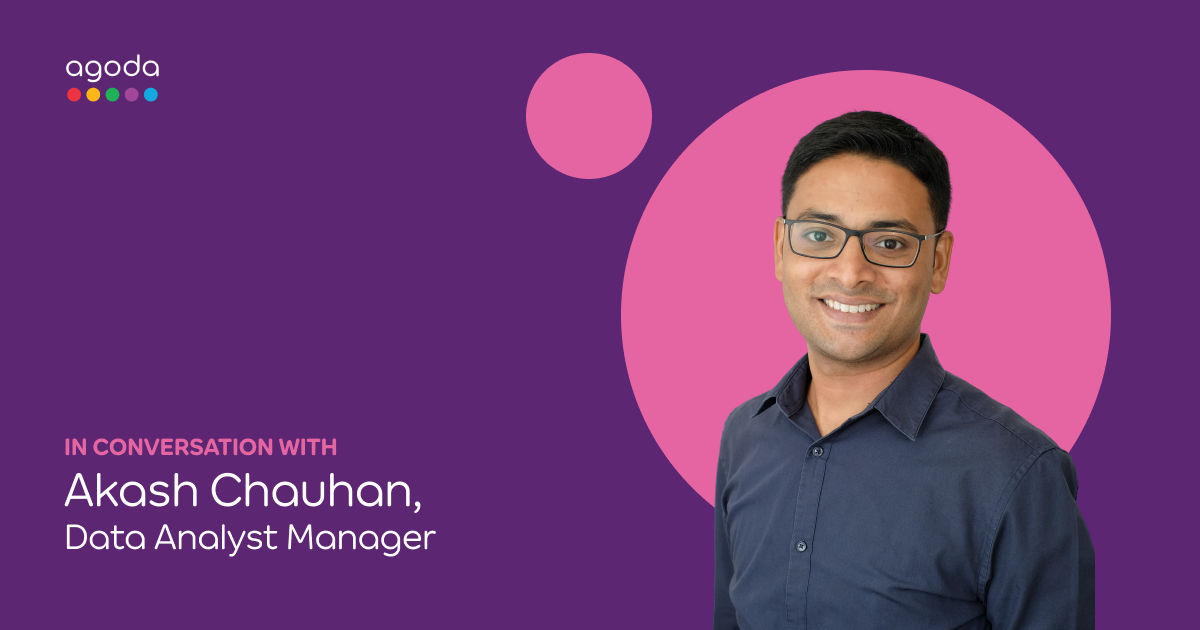 After 10+ years working in the analytics field, Akash Chauhan decided, for the first time in his career, to join a customer experience department as a Data Analyst Manager. To his (delightful) surprise, it is 'one of the best places to work for anyone in analytics.'
We chatted with him about his 1.5-year journey with Agoda and his learnings as an analytics professional and a people manager.
What gets you excited about Agoda's Customer Experience Group?
Usually, when people think about a customer services function or any contact center in general, they don't realize how big of a team is working to support the front-line agents. Agoda has incredibly talented teams and project managers, working on analytics, learning and development, forecasting, managing schedules. And the kind of work these people are doing is very high-end.
Every month, there will be tons of experiments conducted by the Customer Experience Group, trying to understand how we can save cost and time, how we can increase excellence, and how can we make a front-line agent work more efficiently and answer our customers in a faster and orderly way.
It would be very rare that a project or experiment happens where the analytics team is not involved. Either in estimation, measurement, or the final presentation of the results. We will always have a say. And that's brilliant for our team and something I think could be any data analytics professional's dream.
What do you enjoy about being a manager at Agoda?
The people I get to work with. The huge diversity and level of talent here, even junior people, excites me. Unlike many other companies where you only manage people from your location or region, in my team right now, we have 10 people from seven different countries.
Not only can they learn from you, but you also learn from their different backgrounds and thinkings every day, too. It opens up your mind and makes you a better people manager.
In addition, the senior leaders here are very talented and data-driven, every one of them. It is usually hard to communicate data to very senior people in a company, especially those in other departments. But that's not the case at Agoda.
You can't just present anything you senior leaders thinking they wouldn't question because they don't understand. Every time you present your data, they'll challenge you, and there'll be discussions. It helps keep you on your toes and tells you to keep learning and do your best. That's how you grow professionally.
What is your advice to people looking to take a senior role at Agoda?
First of all, a person wanting to join Agoda, especially for a senior role, should be okay to work in a fast-moving scenario where decisions are made every day. They should be curious, opinionated yet open-minded individuals, not afraid to share their vision and ready to work with and manage people coming from diverse backgrounds.
When you reach a manager-level position in other organizations, they expect you to do mostly people management and not a lot of hands-on work. I could find a balance in Agoda between the team management role and hands-on work. Which is something difficult to find for a senior candidate and very important for me personally.
Akash Chauhan is a Data Analyst Manager in the Customer Experience Group at Agoda. Learn more about the team and see job openings here.